A complete recovery
25/02/2020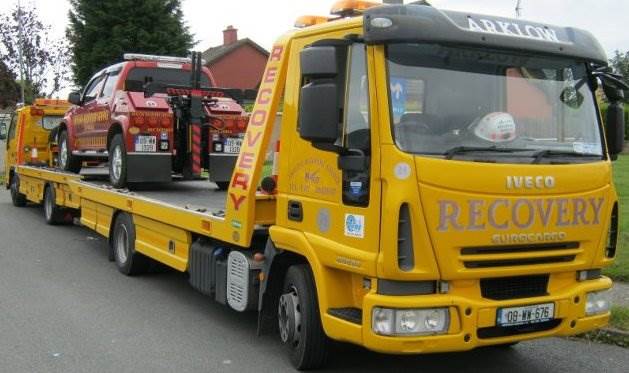 Fronted by the Young family, Arklow Recovery Service provides unrivalled vehicle breakdown and recovery services to motorists across County Wicklow and beyond. Irish Trucker interrupted their busy schedule to find out more about this industry-leading, family-run operation and the exceptional fleet of recovery vehicles at their disposal.
For coming up on two decades, Arklow Recovery Service has been coming to the rescue of motorists in need, providing comprehensive, around-the-clock vehicle breakdown and recovery services, promptly, safely, professionally and at an affordable price.
Operating a versatile and well-maintained fleet of recovery vehicles, they possess the experience, equipment and personnel to offer swift and dependable breakdown recovery solutions for all types of passenger cars and commercial vehicles, from cars and vans to camper vans, caravans and small trucks.
On call literally 24/7 and 365 days a year, the Young family boast a long line of satisfied customers, with demand for their services always strong due to repeat business and positive referrals. As a family business with a keen focus on customer care and attention to detail, invariably providing a personal touch on every job, Arklow Recovery Service is the breakdown / recovery operator of choice in the Garden County.
The business was established by Allen Young in 2000, in conjunction with his wife Marian, who is also a key part of the team. Allen and Marian's daughter Tanya, sons Craig and Graham, and son-in-law John Paul O'Connor are also involved in day-to-day activities, offering top-class services fulfilling contracts for all the leading insurance companies across Wicklow and also travelling nationwide whenever required.
Running a fleet of three recovery trucks, one roadside assistance unit and an all-terrain, all-weather 4x4 jeep, Arklow Recovery Service provides the full spectrum of breakdown and recovery services from accidents and breakdowns to mobile roadside diagnostics, batteries, wheel and tyre repairs, jump starts, lock-outs and fuel drainage.
The recovery units are versatile and wide-ranging, enabling the hassle-free, cost-effective recovery of everything from a motorbike to an LCV, from any location – an underground carpark, the bottom of an embankment or even the Sally Gap in the most inhospitable of conditions (a regular enough winter call-out for the Wicklow company!).
As all the recovery vehicles are checked and maintained on a regular basis, it means they are ready to spring into action at the drop of the proverbial hat at any time of the day or night, be it St Patrick's Day, Christmas Day or a wet and dirty November night.
"We keep everything up to date and fresh," notes Tanya. "The oldest recovery truck in the fleet is an '07-reg and that's Allen's own truck … nobody else is allowed to drive it! The other vehicles are '09, '10, '152 and the service van is '14. They're all kept in perfect condition because you have to be ready all the time and you never know when the phone is going to ring.
"As we work 24/7, it's really vital that the vehicles are looked after and kept in top condition. We do a good bit of work ourselves in-house on anything that's not under warranty."
Needless to say, with a family business there's never any shortage of enthusiasm in making sure that everything is firing on all cylinders!
As for the key to the business' success down through the years, Tanya continues: "Giving a rapid response and being on the ball. We always arrive within 60 minutes max and we pride ourselves on providing a reliable and friendly service. We're very pleasant when dealing with people and we place a huge emphasis on customer service, friendliness and reliability. We don't even take Christmas Day off and I think that reflects the dedication we have to looking after our customers."
Genuine passion and enthusiasm for the work also goes a long way… "Our drivers are very determined and they really enjoy the work. They embrace the challenge of recovering a vehicle or tending to a breakdown. They were reared with it and they love the job. You do get a lot of satisfaction from it and people will always remember when you provide them with a good service."
Indeed, Arklow Recovery Service's reputation for achieving the highest levels of customer satisfaction precedes them. "We've worked with the insurance companies since the beginning and those contracts are always renewed every year, which speaks for itself," Tanya notes. "They will only deal with reputable companies and we always pass all the relevant audits.
"This involves constantly investing and reassessing the business. You have to update your equipment all the time and I'd say we'll definitely be purchasing a new truck again next year as well as keeping all the other vehicles right and making sure nothing is overlooked."
The Youngs are busy all year around and the signs are good that things will remain that way, with further organic growth possibly on the cards for this outstanding family-run recovery operator. "It's growing all the time but we are more than happy to keep it at a manageable size, keep it to family and make sure our levels don't drop," Tanya concludes.
"We have no aspiration to be huge. As we're not city-based, the work volume we have at the moment is just enough for us and hopefully we can sustain that by continuing to provide a good service. I know Dad is hoping that down the line a third generation of the family will get involved in the business and that would certainly be nice. For now, it's increasing steadily every year and the work is there, which is very encouraging."
Arklow Recovery Service,
Templerainey,
Arklow,
County Wicklow.
Tel: 0402 39392
Mobile: 087 2622837 / 3345372
Taken from Irish Trucker & Light Commercials magazine, Nov/Dec 2019, Vol 22 No 7