"We pride ourselves on doing the job right and in good time"
20/02/2020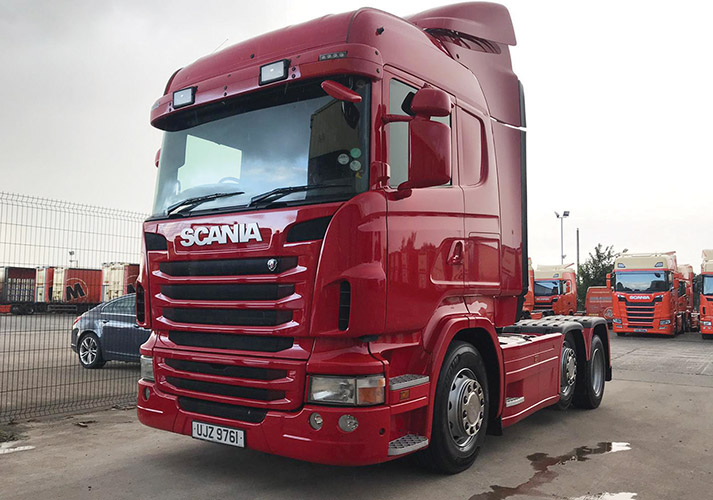 Are you located in Tyrone or surrounding counties and are seeking truck or trailer repairs by an efficient and reliable company? AMT Truck Centre Ltd's highly experienced team can help you in this regard. Irish Trucker & Light Commercials got the lowdown on this customer orientated company from director Paul Donnelly.
Open Monday to Friday (7am to 5pm) and Saturday (7am to 12.30pm), the extensive range of services that AMT Truck Centre Ltd provides its valued clients includes crash repairs, chassis alignment, vehicle branding, truck and trailer refurbishments, shot blasting, PSV inspections, servicing, 24-hour recovery and vehicle sales.
No job is too large or too small - whether it's a small dent, scratch, replacement panel or a full re-spray, they use their specialist knowledge to produce a quality finish irrespective of the size of the job.
AMT has been trading for little over a year having only been set up in June 2018 but it is backboned by years of experience which brothers Paul and Aidan Donnelly garnered while working for their now retired father Seamus' long-established company.
"Aidan and I grew up in the business, we've been in this line of work since leaving school," Paul Donnelly informed Irish Trucker & Light Commercials, "and our father is still on hand to give advice."
When it comes to managing your fleet of vehicles, the single most critical aspect is to perform preventative maintenance. Whether you own or lease trucks and trailers, AMT offers a complete maintenance and repair programme, which will keep your vehicles on the road serving your customers and making you money.
They offer comprehensive maintenance to get you back on the road and you can count on AMT to ensure your vehicle is performing reliably and safely each day.
"We pride ourselves on doing the job right and getting it done in good time," Paul outlined. "No one in this industry wants to be held back by unnecessary delays nowadays. Our staff have many years' experience between them and are trained to the highest standard in the latest techniques."
AMT's experienced staff of six employees is specialised to solve all problems in your fleet. If you are a transport company, you should maintain your trucks on a regular basis to minimize downtime.
The AMT team strives hard to give you the most efficient maintenance and service in order to minimize downtime and unexpected expenses.
The family-run business boasts a long-standing history in the competitive sector and a track record of customer care and excellence. They have built up close relationships with many of their customers who are more than satisfied with their quality and reliable workmanship.
They take great pride in turning out quality work at reasonable prices. They have confidence in their work as their customers always return to them when in need of repair work and you can't get a better recommendation than that!
For example, the likes of Morgan McLernon Refrigerated Transport, Mulgrew Haulage and Lyons Transport regularly avail of their services at their state-of-the-art workshop, which is located at Galbally, Dungannon, and includes two commercial vehicle bays and an up-to-date chassis alignment system.
"Thankfully, we've been very busy since we changed over from dad's company and we are very grateful to the customers who have stayed loyal to us. It has very much been a case of so far, so good and we are always trying to make things better. If business continues the way it has been going, we'll looking at adding more bays over the next couple of years."
Need help and expect an excellent customer service experience? For all your needs required to maintain, service and repair your vehicles please do not hesitate to call Paul and the AMT Truck Centre team at the number below. They are up to speed on all aspects of repair and maintenance of commercial vehicles and pride themselves on delivering outstanding results for all their clients.
AMT Truck Centre Ltd
32 Camaghy Road
Galbally
Dungannon
Co Tyrone
Tel: 028 8775 8736
Email: [email protected]
Website: www.amttruckcentre.com
Taken from Irish Trucker & Light Commercials magazine, Nov/Dec 2019, Vol 22 No 7