Consistency is the name of the game with ELS
12/02/2020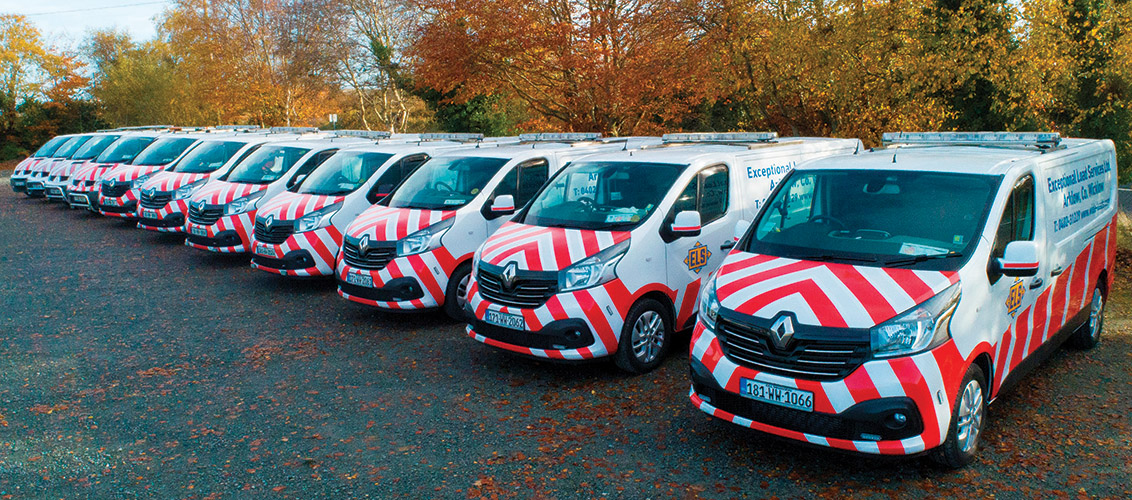 As his company Exceptional Load Services Ltd (ELS) celebrates 20 years in business, Edwin Sunderland discusses some of the issues pertaining to what is a very specialised line of work.
Since 1999, ELS in Arklow, Co. Wicklow has established itself as the leading independent provider of permits, pilot car services, route planning, route surveys, traffic management and project management requirements associated with all types of out-of-gauge transportation. The largest and longest running service of its kind in Ireland, the company is renowned for its high-quality professional services to the heavy haulage industry.
As ELS does not operate its own trucks, it can offer clients a truly independent and confidential service. Working with hauliers, manufacturers and shipping agents as genuinely independent partners offering clients a service that is specially designed to meet their transportation requirements while ensuring a safe journey for both load and road users alike.
In addition to acting as permit agents for all abnormal/oversize loads for the Republic of Ireland and Northern Ireland, ELS offers the same service through a network of similar local agents for the rest of Europe and beyond.
ELS currently operates a fleet of 11 Renault Trafic vans that are each fitted with, custom-made light bars, fully licensed 4 channel two-way radio, safety and first aid equipment, fire extinguishers, safety signs and measuring equipment as well as some driver comforts like night heaters, 220V electricity supply for the kettle or coffee maker and of course a bed!.
All of its senior pilots have completed non-mandatory Advanced Driver Courses and City & Guilds Level 2, while all junior pilots are obliged to complete a designated number of dual escorts before working solo. Most of the senior pilots have been with the company for 15 years or more.
ELS's commitment to safety and good communication led to it investing €27,000 in a top line two-way radio system, with four channels dedicated to traffic alerts and steering as needed, three years ago. The company has excellent skills working with drivers who do not have English as their first language or who may never have driven on the left side of the road.
As a specialist in route surveys, traffic management and project management, ELS can manage every aspect of road movements from point of entry (i.e. the port) to site entrance. Everything it does is planned, managed and coordinated to the finest detail.
An ability to provide a consistent and honest service has been central to ELS's growth and success, according to Edwin.
"Consistency, consistency, consistency… that's our motto. We keep doing the same thing – and do it right – over and over again. Hauliers are assured of the same great service every time they deal with us. Our business has doubled in size in the last six years thanks to our consistent and trustworthy service. Some of our customers have been with us since we started out 20 years ago," he says.
"When it comes to permitting, we command a large share of the market. We processed more than 100 permits in one day recently.
We're a well-known and highly-thought of company that attracts business through word of mouth. People are coming to us rather than us going to them."
Most of ELS's customers are from outside Ireland, with the company ensuring a smooth transition during the application and approval process of all abnormal load permits. We provide permits and escorts for them in the same way as we do for our Irish customers so they are not competing unfairly with Irish haulage companies. While the base cost is the same for Irish and European hauliers, sometimes our European customers would pay more because they can seldom avail of the benefits of annual or multi journey permits and one-offs are that bit more expensive," Edwin explains.
"Our escorting work adheres where possible to European guidelines, but like many guidelines they are not really fit for purpose as they try to cover everything from German Autobahns to the Aran Islands. The exact same criteria is used for older European motorways with no hard shoulders as for our new, and very safe, Irish motorways. Ireland does not have specific private or Garda escort regulations."
The affable managing director has some interesting views on regulations or the lack thereof.
"The industry needs to be regulated. It needs a representative body in Ireland because of the amount of legislation, or lack of, involved nowadays," he continues.
"Very little has changed in the 20 years we have been in business. The permit system is still basically the same – every local authority has their own way of doing things. We're able to provide a one-stop shop to smooth out all these different conditions.
"While our industry works to a very high standard, there is no requirement for driver qualifications or vehicle specifications in Ireland. The Gardai and the County Councils, who we liaise with on a daily basis, have different interpretations of EU legislation. Its' a bit of a mish-mash.
"I don't want to offend anyone, but the lack of regulation surrounding driver qualifications and vehicle specification really bugs me. We take pride in the training our pilots have undergone and the skills they have acquired over the past 20 years. I'll defy anyone to produce better bunch of load pilots, but unfortunately we have to compete with the guy in an 'empty' van and a nice flashing light from the local hardware shop." Each of our vans cost in excess of €10k to fit out.
He continues: "In the main, it's a very safe segment of the haulage industry with many very dedicated and professional operators. The mishap rate is very small which some might find surprising given the 'oversize' nature of what is being moved. You can have a load over 400 tonnes weight or 90 metres long which is the weight of ten standard trucks or five-and-a-half times the length of a standard load."
ELS has been involved in everything from the transportation of LUAS trams to wind turbine equipment; electricity transformers to pharmaceutical and data centre modules in the last two decades, and continues to go from strength to strength.
"Every job we undertake is approached in a professional manner. The downside of the business is that it fluctuates. Your best-laid plans and schedules can go up in smoke when a truck misses the boat or isn't on time due to unforeseen circumstances. That's the nature of the business and you just have to take it on the chin when something like that happens," Edwin concludes.
Exceptional Load Services Ltd
Ballymoyle,
Arklow,
Co. Wicklow.
Telephone: +353 (0)402 31229
Mobile: +353 (0)87 2549601
Email: [email protected]
Website: www.wide-loads.com
Taken from Irish Trucker & Light Commercials magazine, Nov/Dec 2019, Vol 22 No 7