Fleetwash celebrate their 30th anniversary
11/02/2020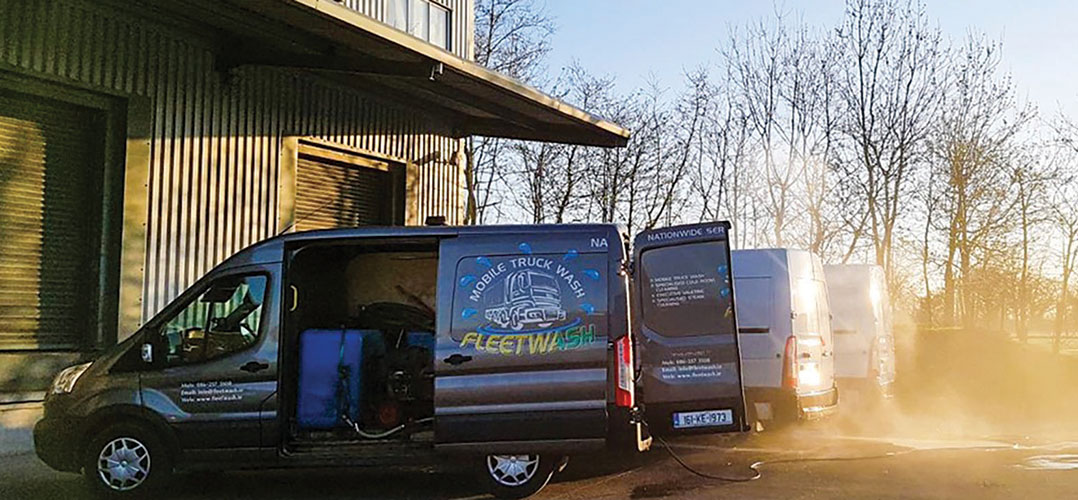 Brand leaders Fleetwash are celebrating turning 30 this year! They have cemented their name as truck washing leaders and now have sights set on Valeting and becoming paint restoration and ceramic coating specialists.
With the introduction of their sister company Five Star Valeting headed up by David Kearns - they are making serious noise in the valeting world. Growing a big following on Instagram (@fsvaleting) showing just how good they really are! Ceramic Coating is ideal for car/ truck lovers who want to restore old paintwork or protect new paint work for up to 5 years. It is the latest in specialist valeting care and is helping to cement their name in the valeting industry.
Fleetwash Executive Valeting is their corporate valeting division which offers an exclusive experience which can be tailored for a company's needs. Paul Kearns, Managing Director of Fleetwash was delighted to give us a detailed insight into why their products are so popular: "Our dedicated teams can tailor packages for your fleet. Getting your vehicles valeted regularly can add value to your fleet and brand image or restore it back to its former glory. Whether you are a director who needs your car kept clean or have a fleet or rep cars we can provide an onsite valeting service in the Leinster area for you."
Fleetwash executive valeting is busy supporting most of the major truck commercial companies both with new and used sales, making sure their new vehicle arrives in perfect order.
"We all know the pride that truckers take in their trucks' appearance and it is an essential part of the day to day running of any haulage company. Fleetwash pride themselves on protecting your paint by not using any detergent that would cause fading or damage to your paintwork over long periods of time," explained Paul.
Not only do the transport firms want their fleet kept in pristine condition, but many of their customers demand it as their fleet represents their brands to tens of thousands of road users every day.
Washing a truck can be an arduous affair both time consuming and requires attention to detail. As we all know, there are massive time constraints in the haulage industry and downtime is expensive. The beauty of Fleetwash is they come to you saving you money sending drivers to que at brush washes. They work around your needs washing your vehicles at a time that suits you.
That is why many hauliers turn to professionals to ensure that their fleet is kept in excellent condition and in that respect, many turns to Fleetwash Environmental Ltd.
For the past 30 years, this family run business has grown considerably from its base in Naas, Co Kildare and from humble beginnings, they have become a nationwide company.
Paul Kearns is the man behind the genesis of the company, and he is proud of what he has achieved over the best part of four decades; speaking to Irish Trucker about the services that he and his team provide.
But first let's take a brief look at the history of the business as Paul explains how it all started. "I was working for a company selling power washing machines and I saw a niche in the market for washing trucks," said Paul.
"I started out as a one-man show just washing trucks, but I quickly gained contracts based on quality and convenience for the customer and from there the business grew. We still carry out work for some of the companies that we began with. These companies value our service and the cost saving impact we have on their business."
These days Fleetwash Environmental Ltd are much more than just a truck wash company as they also provide such services as Fleetwash Executive Valeting, Five Star Valeting which specialises in paint restoration, Cold-wash which specialises in Coldroom cleaning Services and External Building Washing.
"Our truck washing is carried out on site by a dedicated team of professionals using environmentally friendly cleaning products. We follow ISO standards and have several procedures in place to make your life easier such as providing MSDS sheets for all detergent used on your premises, electronic wash reports and reporting any damage we may find to your trucks. We individually tailor our service to each of our customers' needs and supporting them through unforeseen events and audits."
Fleetwash also offers tailor-made packages through their Cold-Wash division to companies who seek cleaning to be carried out in Refrigeration Storage Units. "We can proudly guarantee a level of sanitation that meets the requirements of The Food Safety Authority Inspectors."
Their External Building Solutions also offer tailor made packages from a trusted fully insured company. "We are fully compliant with health and safety laws meaning you are in safe hands."
Paul revealed that they are very busy now as their customer base continues to grow, especially in the area of truck washing.
"We would wash up to 1,000 vehicles a week. We have eight vans on the road covering the republic of Ireland weekly and there are 24 employed in total and growing" explained Paul.
"We are continuously investing in the business whether it be new power washers and equipment or upgrading the fleet which we have done recently, adding two new MAN vans to the fleet.
"The team are dedicated to the work and they know what the customer expects from them. Many of our staff would be with us a number of years now."
Fleetwash is very much a family run business with Paul joined in the business by his daughter Claire who is Office Manager, brother-in law Alfie who is the Operations manager, son Mark and Nephew David, who runs Five Star Valeting.
"We are very much a nationwide company. Our headquarters are in Naas, but we are looking to open a base in Munster in the not too distant future.
"The customers we have take great pride in their fleets, so it is essential for us to provide them with a local the level of service that they expect from us. We are always looking at ways of trying to improve on the level of service that we provide we were the first truck washing company to offer onsite water filtration to customers ensuring all water used to wash the truck is returned to drain completely purified."
Fleetwash are looking to expand all areas of the business going forward based around our customer's needs.
"The aim would be to have fully operational bases all over the country. Our valeting service is not nationwide yet, but that is an area we are looking to expand."
Providing a top-quality level of service has always been high on Paul's list of priorities. "We offer a professional service and the level of experience that we have is unrivalled. We go that extra mile for our customers, and they appreciate that. Hopefully the next 30 years can be as productive as the last 30."
Fleetwash Environmental Ltd
Naas, Co. Kildare.
Office Hours Mon – Friday 9am-5pm
Email: [email protected]
Phone Enquiries: 045 894237
Taken from Irish Trucker & Light Commercials magazine, Nov/Dec 2019, Vol 22 No 7