Leading experts in diesel pumps and injectors
06/02/2020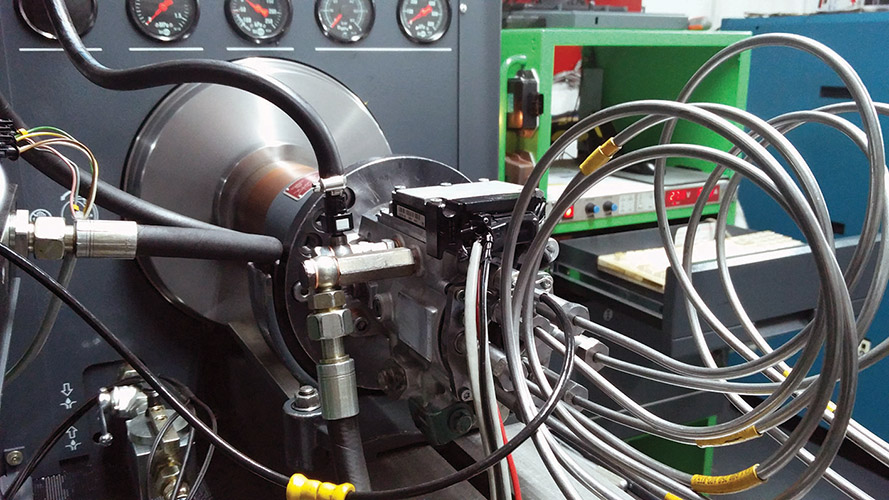 Based in Cashel, Co. Tipperary, Diesel Injection Services are industry leaders in diesel fuel system repair, recondition and recalibration, as well as vehicle diagnostics. The husband and wife team of Liam and Geraldine Gleeson have run the business for almost forty years and have built up a reputation for quality and exceptional service.
Still a family owned and operated business, Diesel Injection Services have a nationwide reputation for carrying out high quality authorised work. To this end, they have consistently kept abreast of every upgrade in standards and technology, as well as investing in people and equipment.
A one-stop shop for diesel repairs, Diesel Injection Services has the capacity to handle nearly all diesel systems currently on the market. They can take in a vehicle, diagnose the problem, remove and refit the pump and injectors and remanufacture them if needed. They can test almost every type of diesel pump or injector using manufacturer authorised equipment.
All repairs are carried out using only genuine parts and if a new pump or injector is needed, Diesel Injection Services, again, source directly from the manufacturers. "We see a lot of problems with non-genuine parts", says Liam Gleeson, "often costing people more in the long run". This is why we have built such long lasting relationships with manufacturers like Bosch, Denso, Delphi, Continental-Siemens and Stanadyne."
All these manufacturers have very high standards before they will authorise repairers, and Diesel Injection Services have worked hard to consistently meet these standards and more.
The European Commission has set ambitious targets for reducing CO2, NOx and particulate emissions from trucks and buses and Diesel Injection Services is playing its part in helping Ireland's vehicles meet these emission standards.
While diesel has been getting more than its fair share of bad press recently, the simple fact is that many new diesel engines are extremely clean and environmentally friendly. New data compiled by the German mobility organisation ADAC (Allgemeiner Deutscher Automobil Club) showing that modern diesel emissions are comparable with petrol and outperform all regulatory requirements.
Indeed, as an example of the progress being made on this front, Denso's glow plugs and common rail system technologies have helped drive down diesel emissions. Recent industry trends may show a move towards electric-fuelled vehicles, but the reality is that diesel-powered vehicles will remain a significant part of the automotive industry for the foreseeable future. As such, the latest innovations from manufacturers are working to reduce emissions and make diesel technology more efficient.
Over the years, technology has helped the diesel engine to become increasingly efficient. Denso, for example, is one company that has achieved a number of key milestones in the pursuit of lower emissions and better performance. The result is that a large proportion of the diesel vehicles on Europe's roads today are significantly more efficient than ever.
"The cleanliness of new diesel engines is something we don't see reported in the media," says Geraldine Gleeson, "but with very stringent Euro 6 emissions standards being met, diesel is cleaner than it has ever been and getting cleaner. As a business we aim to be very clean and environmentally friendly. We do an eco-survey every year and have EcoMerit Environmental Certification.
"I don't see diesel going anywhere any time soon," continues Geraldine, who runs Diesel Injection Services with her husband Liam. With a strong focus on service and providing a personal touch, DIS generates direct employment for a team of ten, including Liam's brother, Eamon (workshop technician) Liam's sister Rosemary and Geraldine and Liam's daughter, Claire, who helps in the busy office.
As well as these family connections, the majority of staff have been here for ten years or more. In particular Geraldine says the experienced duo of Michelle and Noreen, who have worked in the office for nineteen and thirteen years respectively, are integral to the continued success of the business. "The women are known to all our customers as some of the best diesel experts in the country!" says Geraldine.
The company was established as a one-stop shop for diesel repairs by Liam Gleeson in 1981. Fresh from a mechanical engineering course at Carlow IT, Liam decided to start the business, in part because of the poor job market of the 1980's. He bought his first test bench with the help of his late father, Michael, a bus operator who provided great early support to the enterprise.
Liam initially set up shop in a premises at his home place in Ballingarry, Thurles, County Tipperary. He married Geraldine in 1985 and she soon joined him in the business. "It wasn't until Geraldine came on board that the business became successful," says Liam, "I was an expert in the repairs, but Ger is the expert on everything else!"
In 1990, Liam and Geraldine relocated the business to its current premises on Cashel's Cork Road. They continued to expand, including a large upgrade of the facilities in 2007. As well as keeping the business ahead of the competition, Liam has also continued to upskill.
With extensive training from Bosch in both the UK and Germany, he is a Certified Auto Engineer and Bosch Master Technician, widely renowned as one of the foremost experts in his field in the country. He has also undergone extensive training with Denso, Delphi, Stanadyne and Continental-Siemens, making him one of Ireland's most experienced diesel mechanics.
Quality is at the heart of everything Diesel Injection Services do. "That's why we're still dealing with so many customers we've had for years and continue to attract new customers from all over the country," says Geraldine. "We're extremely busy with cars, light commercials as well as a lot of agricultural work. We're based in an agricultural area here in the Golden Vale and farmers know we provide good, reliable service. The man with the van is also back, and we're getting busier with light commercials.
"The business is performing very well in what is an ever-changing market, even with diesel facing a lot of challenges. A lot of things are changing, including the number of vehicles coming in from the UK due to the dip in Sterling. Of course, like everyone, Brexit will affect us, but we have worked hard to prepare ourselves. The majority of our parts come directly from mainland Europe.
"But we are very much holding our own, largely down to the fact that we provide genuine, authorised repairs. We can diagnose the diesel fuel system and will replace only what needs to be replaced. The service we provide is saving vehicle owners a lot of money in the long run and we believe this is because of the franchises we have and the equipment and personnel working here. Our repairs invariably bring the diesel system back to factory settings and everything is good as new again."
The last twenty years have seen an enormous change in the nature of the diesel business and Diesel Injection Services have invested substantial time and money in ensuring that they keep pace with these changes.
"Technology in vehicles is constantly changing to comply with increasingly stringent emissions regulations and to improve economy and performance," Liam stresses. "As a business, Diesel Injection Services has always tried to keep up with technology and we invest in keeping our equipment and people updated.
"Our latest investment allows us to repair Bosch CP4 pumps found in Audi, Volkswagen, Peugeot, Citroen, Hyundai, Honda and Land Rover vehicles. It also allows us to test the current generation injectors up to 2500bar and issue Bosch ISA and IMA codes."
One of only two Bosch Diesel Centres in the country, Diesel Injection Services is required to service and calibrate all their equipment with Bosch every two years in order to meet its high standards. When a Bosch pump or injector comes into the business, they can test it and customers can get a repair in the authorised Bosch Diesel repair workshop or a new Bosch unit can be supplied.
Bosch's most recent innovation is the Quality Scan system, to provide proof of quality. This means all common-rail injectors and common-rail pumps are fitted with special repair ID labels or repair ID clips (in the case of commercial vehicle injectors). All a Bosch customer has to do it download the Quality Scan app, use this to scan the injector or pump and they can then get every detail of the repair.
An important element of injector repair is coding in the injector with the new code supplied. This is a vital step to comply with emissions standards and to prevent unwanted carbon build-up on the intake, EGR and DPF units. Customer can go to www.qualityscan.bosch-automotive.com if they want to access this information.
Authorised, experienced and reliable, Diesel Injection Services is situated in a central location just off Exit 9 on the Cork - Dublin motorway - ideally placed to do work across Munster but - thanks to a network of couriers - they also have customers all over the country. Due to their outstanding reputation for quality, Diesel Injection Services benefit from many repeat customers as well as a steady volume of word-of-mouth referrals.
"We're very proud of the fact that we're employing a lot of people in a small independent garage," Geraldine concludes. "We found our niche in a rural area in County Tipperary during what was a very difficult time for the economy, and we have continued to thrive since. Everyone knows where we are and what we do. We have a very loyal customer base, including many people who we've been dealing with for years, and we're always more than happy when a customer rings us looking for guidance or advice.
"At the end of the day, we're here to look after customers and their vehicles and we find that if you do that, they will come back and do business with you again."
Diesel Injection Services,
Cork Road,
Cashel,
County Tipperary,
E25 FC60.
Tel: 062 61670,
Mobile: 0872546014,
Fax: 062 63056
Email: [email protected]
Taken from Irish Trucker & Light Commercials magazine, Nov/Dec 2019, Vol 22 No 7