McAteer's stunning fleet keeps getting better
06/02/2020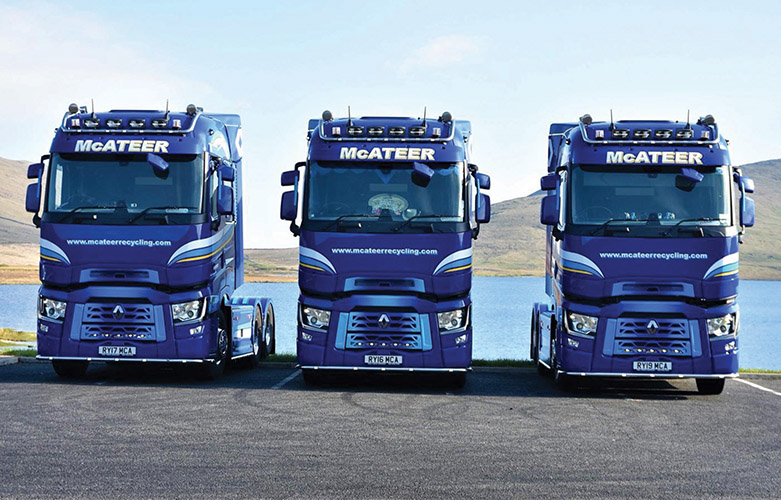 From their base in Mayobridge, County Down, McAteer Recycling operate a truly magnificent fleet of trucks, which was bolstered significantly with the addition of three striking new Renaults this year. We had a chat with founder Eamonn McAteer to find out more about this market-leading family-run business and their sensational fleet.
The trucks on display at Full of the Pipe 2019 in June truly were a sight to behold and one of the fleets that made a lasting impression on the team here at Irish Trucker was the trio of Renault Range-T Highs belonging to McAteer Recycling in County Down - a long established player in the recycling and waste management sector.
Father and son Eamonn and Ryan McAteer run breath-taking vehicles that are maintained in prime running order and immaculate condition at all times.
At present, the fleet comprises some 26 trucks and 32 trailers, with gainful employment generated for a team of 15. Eamonn and his wife Carmel set the business up a quarter of a century ago and it has gone from strength to strength in recent years, with a haulage division added to the core recycling business.
In the past twelve months alone, £1.3m has been invested in the fleet – a statistic which underlines the family's dedication to having the best equipment on the road, resulting in efficiency and dependability as well as environmental friendliness.
"We have the trucks well spec'ed and all the drivers are very happy with them," notes Eamonn. "Finding good drivers is an issue, so you have to look after them. By updating to Euro 6 status, we're trying to do our bit to keep emissions down. As well as having less impact on the environment, the new lorries are more economical and easier to run.
"For us, one of the big things was to get our costs under control. The new lorries also come with a five-year warranty, which gives us peace of mind. All you have to worry about is making the payments. The new lorries won't let us down and we can therefore continue to provide our customers with a reliable service."
Twelve of the trailers in the fleet are dedicated to specialists scrappage transportation work, predominantly BMI HardBox scrap tippers purchased from The BMI Group in Dungannon. Meanwhile, the 26-strong fleet of lorries comprises 15 artics and eleven rigids (for commercial bin and skip collection).
As inferred by the founder, McAteer Recycling are in the process of updating their wonderful fleet of lorries to Euro 6 status in order to reduce carbon emissions. As an environmentally-conscious waste, recycling and haulage operator, 90% of their work is collected and processed locally, which keeps their carbon footprint low. They strive at all times to provide their services with minimal environmental impact at cost-effective rates.
McAteer Recycling is a Co. Down based, family run business, with over 25 years' experience in the waste industry. They have recently expanded into the haulage industry, with Eamonn overseeing the recycling side of the business and Ryan looking after the general haulage.
Haulage-wise, McAteer Recycling have a variety of trailers capable of moving any load, anywhere - from flats and curtainsiders to tippers and walking floors.
McAteer Recycling look after all recycling and waste needs. They can advise on what can be recycled and provide the most cost-effective solutions to any waste-related problems. They can help reduce waste costs by helping customers recycle more. Collecting waste and recycling cardboard, glass and plastics, they have the capacity to accommodate all businesses, large or small.
McAteer Recycling are also one of the few companies in Northern Ireland to hire out (and maintain) balers for cardboard and collect the bales from site.
They sort and grade all types of film plastic including agricultural plastics, baling the plastic on site and transporting it to European markets for further processing. They are also the first local company to offer a polystyrene recycling service and reduce the volume of polystyrene from 50:1 before shipping it to China.
McAteer Recycling provide 240 litre bins to pubs, restaurants etc. for the collection of glass and offer commercial wheelie bins hire. These bins are for general waste and can be collected up to twice a week. Meanwhile, commercial skip hire is available on either a long-term or short-term basis.
The trucks in the fleet are mostly Renaults, alongside two Volvos, two Ivecos, two Mercedes-Benz and two Scanias. Three years ago, McAteer Recycling bought a brand-new, head-turning Actros 630 with Giga Space cab – the first of its kind in Ireland!
The three new Renault Range-T Highs that made such a major impression at Full of the Pipe were the first twin-wheel tag 520s to come into Ireland.
Rory McAteer is a real trucker at heart and he takes tremendous pride in the fleet. Being part of the family business allows him to mix business with pleasure: "He's into the truck big time," Eamonn confirms. "The haulage is a new aspect of the business but we wouldn't be buying new lorries to do haulage alone. We couldn't justify that.
"The lorries would do haulage and also recycling. It's important to have good lorries and the nicer they look the better as it's good advertising and might bring in more business. I find that when you have new trucks they do tend to generate more work."
Eamonn adds that almost all the work is based around waste – recycling, waste collection and specialist haulage for the scrap industry as well as a little container work. Around 10% is general haulage.
The Down man started working in the waste industry as a sole trader 25 years ago and started up McAteer Recycling ten years later. With an excellent fleet of lorries at his disposal, he diversified into general haulage three years ago.
While the equipment is top notch, Eamonn says it would be no good without the right personnel to operate it: "The most important thing you need at the forefront of the business is good men. You also need good equipment and you have to be upfront with your customers. We constantly liaise with them to let them know what time we're going to be there at and if there's any problem we let them know where they stand."
With the haulage division adding an extra dimension, McAteer Recycling is experiencing a period of unprecedented growth: "The business has quadrupled in size over the last four years, including turnover, staff and equipment," states the proprietor. "We try to own as much of our equipment as we can outright as you don't want to be in too much debt, because if the price of scrap dropped you could have a lot of lorries parked up very quickly."
Regarding their eye-catching appearance at FOTP, Eamonn adds: "It was the first time I was up at it and I have to say it was a great weekend … until they started blowing the air horns at 10pm! But, overall, it was good for the morale of the lads and it was well worth the money we spent going up."
In closing, Eamonn says he'd be lost without the input of wife Carmel and son Ryan: "Ryan is 25 now and he's here since he left school. He passed his HGV driving test two months after his 18th birthday and that's when haulage took over for him. He works very hard at it and because he's a young lad himself he has a good way with the drivers. There are no bosses here. Everybody works hard and we are all hands-on.
"Carmel does the paperwork, which is the most important thing of all. I couldn't do it without her. It's a very family-orientated business and everyone plays their part."
And customers are the biggest beneficiaries as they receive unrivalled services with the personal touch and attention to detail that's synonymous with the best family businesses!
McAteer Recycling,
15a Warrenpoint Road,
Newry,
County Down,
BT34 2PF.
Tel: 028 30850113
Email: [email protected]
Web: mcateerrecycling.com
Taken from Irish Trucker & Light Commercials magazine, Nov/Dec 2019, Vol 22 No 7