A full range of truck and trailer parts - with a service to match!
29/01/2020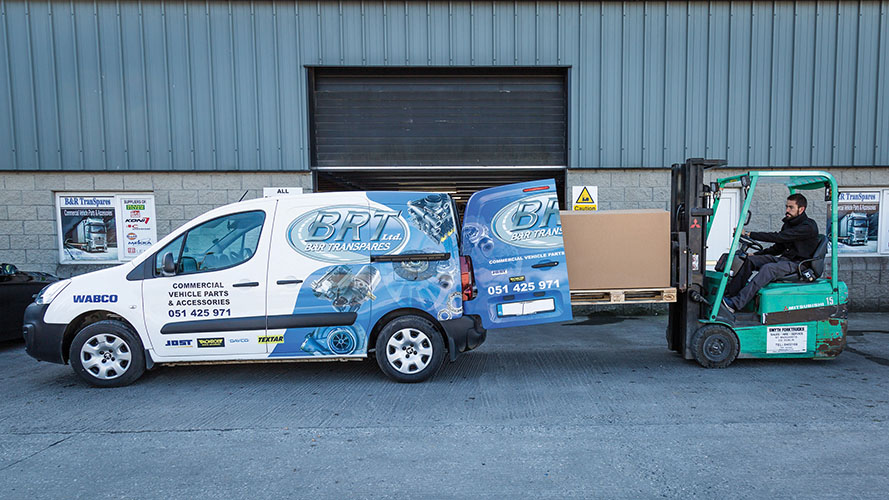 As the south east's premier importer and distributor of parts for commercial vehicles, B&R TranSpares Ltd. have gone from strength to strength since opening for business in 2010. Backing up their comprehensive product range with unrivalled service levels, the New Ross, County Wexford based company's widespread reputation for excellence has seen them shortlisted in the CV Workshop Parts Distributor of the Year category at this year's Irish Auto Trade Awards
Not for the first time – and surely not the last – B&R TranSpares Ltd. have caught the attention of the judges at the prestigious Irish Auto Trade Awards. Complementing an exhaustive range of spare parts for trucks, trailers and coaches with exceptional service, B&R's reputation for excellence precedes them and it was no major surprise to see their name appear once more on the shortlist for a coveted national award.
By ticking all the boxes, optimal customer satisfaction is guaranteed and this has resulted in the business – established by brothers Brian and Richie Minogue almost a decade ago – experiencing steady, organic growth over the years on the back of regular repeat custom and positive referrals.
In any marketplace, combining quality products with outstanding service and customer care invariably represents a winning formula. To this end, Brian Minogue is proud of B&R TranSpares' performance on both fronts, always with a keen emphasis on providing a quick turnaround. "The No.1 thing that separates us from the competition is the service we provide. We go out of our way to look after all our customers," he confirms.
"In addition to that, nobody else in this part of the country stocks the range of parts we stock for every truck, and trailer on the road. Any part that a commercial vehicle owner might need, we'll have it here in stock, ready for immediate delivery.
"If a truck or trailer or van goes in for a test or pre-test and needs parts, 99% of the time we will have those parts in stock and they will be able to have the vehicle re-tested as quickly as possible – be that DAF, MAN, Scania or any other truck or trailer.
"Not only will we have the part but the brand the customer wants will be on the shelf. We only stock the best parts from OE manufacturers, again with the focus very much on quality and value for money."
As the south east's premier one-stop shop for truck and trailer parts, B&R TranSpares have been delivering unrivalled results for end users, garages and workshops since inception and the signs are encouraging that this industry-leading business – which import large volumes of leading brands from across Europe, allowing them to remain competitive on OE quality parts – is well placed to consolidate its place at the forefront of the commercial vehicle spare parts market going forward.
Of course, time is always of the essence. Such is the nature of haulage and distribution that, when a customer needs a part, they generally need it there and then, given the time constraints that are part of everyday life in the transport sector. Downtime is a dirty word and, by providing a rapid and dependable service when dealing with parts, Brian and Richie make sure vehicles are back on the road as quickly, efficiently and safely as possible.
Continuously looking at ways of improving their service to an ever-increasing and always-discerning customer base, the Minogue brothers have invested significantly in their business to ensure the consistent delivery of the stellar service levels for which they are renowned across the transportation industry.
"Over the last few years, we have expanded the range of parts we supply to such an extent that we've had to install a second floor in the warehouse, almost doubling our storage space," Brian reveals, before stressing that their goal is always to provide the best service possible and to offer the widest range of parts for the latest trucks, trailers and buses.
"It really is all about the service and to provide the best possible service you have to invest in stock. Apart from expanding the existing building, we now have three delivery vans and one sales van on the road. The catchment area we are covering is increasing all the time and we always endeavour to get parts to the customer as quickly as possible."
B&R's customer base covers counties Wexford, Kilkenny, Waterford, Tipperary, Carlow, Cork and Wicklow, comprising fleet owners, garages, main dealers, bus companies, waste management firms and couriers.
Parts for Scania, DAF, Hino, Iveco, MAN, Mercedes-Benz, Volvo, Isuzu and Mitsibushi trucks are available, as are a huge range of trailer parts covering BPW, SAF, ROR and MERCEDES, while the company stocks and supplies many OE brands such as Bosch, Knorr Bremse, Textar, Sachs, Wabco, JOST and Firestone.
As for being shortlisted for a national award at the 2020 Irish Auto Trade Awards, Brian notes "It's always nice to get recognition like that. We were nominated for the same award two years ago and we're delighted to be recognised again at that level."
He adds that B&R are constantly striving towards improving their stock range, going to great lengths to source parts for every truck and trailer: "Our purchasing team are continuously working hard with our suppliers both nationally and across Europe to ensure that prices remain competitive and keeping our warehouse stocked with OE and quality aftermarket brands."
Cognisant of the fact that money is potentially being lost for every minute that a truck or trailer is off the road, B&R TranSpares provide secure same-day and next-day delivery nationwide. On the back of giving customers what they want when they want it, they have developed a reputation as the first port of call for truck, bus, van and trailer parts – a status they are determined to maintain.
"As there are so many options available to the customer when it comes to parts and dealers, it is imperative that you continue to offer the best choice of quality parts and back it up with a service to match," he reaffirms.
Despite enjoying an enviable standing at the forefront of the market, the team at B&R are not about to become complacent. To the contrary, they will continue striving to improve their level of service, thereby guaranteeing complete customer satisfaction at all times:
"We will always be looking at new ways to improve the service," Brian concludes. "We are happy with the direction the business is going in and so are our customers. Once your customers are happy, that's the main thing for us."
B&R TranSpares Ltd
Hewitsland,
New Ross,
County Wexford.
Tel: 051 425971
Email: [email protected]
Web: www.brtranspares.ie
Taken from Irish Trucker & Light Commercials magazine, Nov/Dec 2019, Vol 22 No 7