Providing the full range of vehicle testing
28/01/2020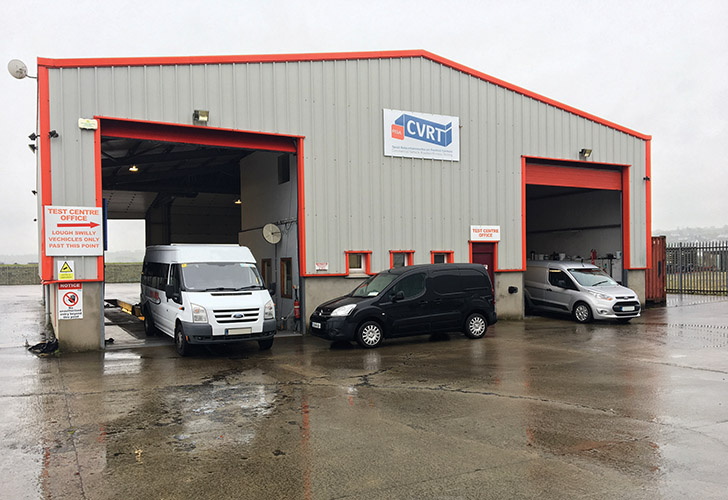 Based on the outskirts of Letterkenny in Co Donegal, Lough Swilly Test Centre provides its customers with the full range of vehicle testing. Irish Trucker heard all about the thriving business recently from its manager Pearse McDowell.
These are busy times at Lough Swilly Test Centre and the plan up in Bonagee, Co Donegal is to keep things that way for the foreseeable future, as they continue to service customers six days a week from their excellent facility in Letterkenny.
First purchased by PJ Doherty some two-and-a-half decades ago, the company has grown from strength to strength to the point where it's now testing well over 500 vehicles on a monthly basis.
PJ's brother Colm has been in charge of the business since 'Day One' and has nourished it into the success story it is today, servicing clientele all throughout the Tir Chonaill County and beyond its borders.
Pearse McDowell, who was good enough to take time from a hectic schedule as of late to fill Irish Trucker in on the history, services and plans for the near future for Lough Swilly Test Centre.
"We're in Bonagee, Letterkenny, Co Donegal and we've been testing here for the last 20 years," explained Pearse.
"There are six staff members here in total, including three full-time testers and myself and Colm Doherty (Managing Director).
"Colm's brother, PJ Doherty, would have bought the company over 25 years ago and Colm came on board to run the company then and he's been at the head of it ever since, basically."
Today, Lough Swilly Test Centre have a full range of Heavy Goods Vehicles (HGV) testing and Light Goods Vehicles (LGV) testing facilities.
Bookings can be made over the phone or online (loughswillytestcentre.town.ie/booking) and clients can be sure of a top class service coupled with excellent customer care.
For Pearse, those two qualities have been the secret to success for Lough Swilly Test Centre down through the years and a large part of the reason why the company continues to thrive to this day.
Services which Lough Swilly Test Centre provide include; Brake Test, Pre-test, Two-year Tachograph Calibration, Six-year Tachograph Calibration, Digital Calibration, Gearbox Tacho Seal, Speed Limiter Sticker and Weights & Dimension Plates.
All re-tests must be conducted within 21 calendar days and within 4,000kms of the initial full test, while appointments for a re-test must be booked at least five days before the 21 days expire.
"We would be testing approximately 500 vehicles every month and we're open six days a week here. They'd be all local customers for us to and repeat business is a big aspect of it for us."
It's getting to the point now where they may be looking to take on new staff at Lough Swilly Test Centre in order to cope with the demand, but Pearse points out that the right employees which are up to the task can often be hard to come by in this line of work.
They've always set a high standard up in Bonagee and its part of the reason why so many clients continue to choose them first ahead of other nearby competitors in the industry.
"I think they choose us first because we give them a good service most of all," said Pearse.
"We look after the bigger companies here and a lot of them will look to try and book slots with us during the week, knowing that they'll be looked after."
Reliability, of course, has been a big factor in the success story too and it's the reason why Lough Swilly Test Centre is part of The Society of the Irish Motor Industry, the Vehicle Testing Network (VTN) and Commercial Vehicle Roadworthiness Testing (CVRT).
Looking towards 2020, Pearse isn't overly concerned about the possibility of Brexit at the moment, stating that there "actually could be some benefits for us when it comes to imports".
Instead, he's just hoping for more of the same at Lough Swilly Test Centre, with one eye on the company perhaps adding to its staff numbers next year.
"We'll just hope to keep our clientele and expand hopefully in the future. We've been in this business a long time and it's always been about customer care for us, so we'll do our best to keep it up," he concluded.
Great to hear.
Lough Swilly
Test Centre
Bonagee,
Letterkenny,
Co Donegal
Phone: 074 91 22873
Email: [email protected]
Web: www.loughswillytestcentre.town.ie
Taken from Irish Trucker & Light Commercials magazine, Nov/Dec 2019, Vol 22 No 7