Doherty recovery - a name that can be trusted to get the job done
14/01/2020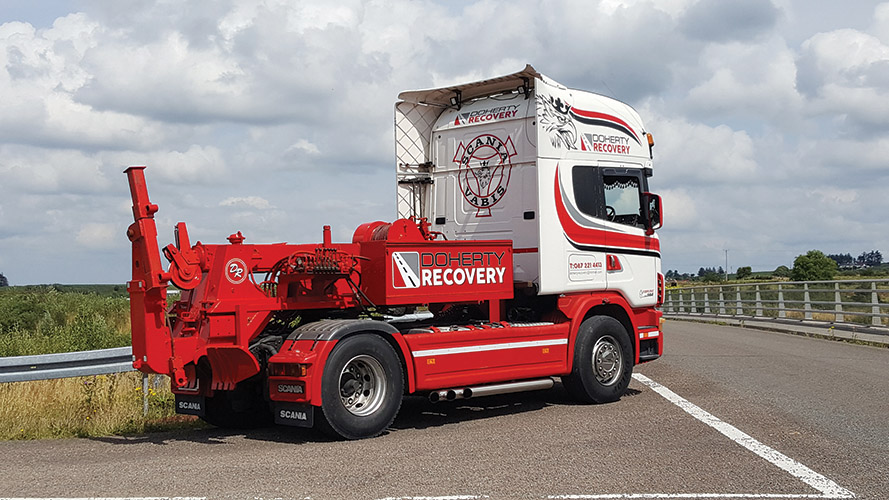 Based in Ballaghadereen, Co Roscommon, Doherty Recovery are regarded as Ireland's premier provider of heavy winching and recovery services. Irish Trucker & Light Commercials caught up with Gerry Doherty who detailed his extensive background in heavy winching, light recovery, commercial and heavy recovery.
No matter what size of machinery and location, when it comes to off road and heavy duty recovery there are few in Ireland that can rival the expertise that Gerry Doherty brings to the table.
Using state-of-the-art equipment and always with a huge emphasis on safety, Gerry has over 20 years of actual hands on experience in the field to fall back on. This experience spans heavy off-road winching, operating on heavy on and off-road equipment, ensuring recovery of stranded equipment regardless of weight, distance or circumstance.
Doherty Recovery also offer specialist heavy recovery services, light recovery and coach recovery services.
No two jobs are the same in his line of work but he proudly boasts a 100% success strike rate and his valued clients can have peace of mind that when they employ his services that their site and equipment will be cleared in a safe and efficient manner.
Put simply, Gerry has the capability to handle any rescue and recovery situation involving any type of vehicle from any type of terrain.
"I've been at off road recovery now for well over 20 years," Gerry revealed in conversation with Irish Trucker & Light Commercials. "One of the first machines I recovered for a client was a Hymac 580BT. I started out with a tractor and hydraulic winch before progressing to a digger and winch.
"Down through the years I've carried out a lot of work on behalf of Irish Divers in, for examples, quarries that went into liquidation. One such job in Tipperary involved winching and craning equipment out of 30m of water. I've also done work on the Shannon and another job that stands out was recovering a digger than sank on a barge 900m off shoreline.
"I do a lot of forestry work and in extremely hard to get to places such as bogs and swamps."
On the back of a proven track record in getting the job done, Gerry has forged long term relationships and a large proportion of his business is returning custom or recommended by previous customers.
Gerry is proud to have established a long list of satisfied customers that includes the likes of the Office of Public Works, forestry contractors, turf cutting contractors, insurance companies and a number of waste companies. He conducts site visits and performs risk assessments before getting down to work while his customers are guaranteed round the clock support in the event of a breakdown, accident or emergency situation.
Today Gerry operates an ex-military Foden 6x6 Recovery vehicle complete with rotating crane and two winches as well as a Scania tractor unit and loader and also a demountable underlift and winch. He has recently been joined in the day-to-day running of the business by his 18-year-old son Ryan.
"It's now Doherty & Son!" he quipped.
Ready to be deployed at short notice, Doherty Recovery operate 24/7, all 365 days of the year. They are one of the few providers in Ireland to provide nationwide, heavy winching and their services are very much in demand at this point in time.
"It's tough work but we are quite busy at the minute," he revealed. "We do other recovery work as well but the off road work is what we take particular pride in."
He added: "Anything I have ever been called to I've succeeded in taking it out regardless of the conditions. Looking ahead to the future, I can see the business growing further because there are not too many at this type of work in the country so I'd expect us to be kept busy going forward."
With specialised equipment and vast experience, Doherty Recovery get the job done correctly and safely when it comes to heavy winching and off road recovery. Contact Gerry at the number below to request immediate service, obtain a quote or find out what Doherty Recovery can do for your operation.
With the many diverse situations he has come across, he can handle what every needs to be winched, lifted or recovered. Doherty Recovery are professional, safe and timely in their jobs and always strive to provide their customers with the best service possible.
Doherty Recovery
Tondragee
Ballaghadereen
Co Roscommon
Tel: 087 2214413
Email: [email protected]
Website: www.dohertyrecovery.com
Taken from Irish Trucker & Light Commercials magazine, October 2019, Vol 22 No 6