Working hand-in-hand
10/01/2020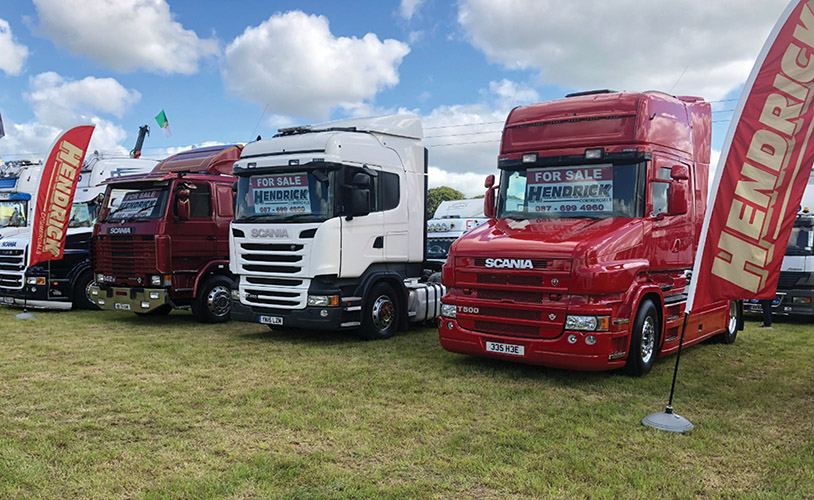 Part of the Hendrick Group which also comprises Hendrick European, Hendrick Logistics UK and Hendrick Polska, Hendrick Commercials and Profleet Services Ltd specialise in commercial vehicle sales and repairs and maintenance, and complement each other on a daily basis.
Hendrick Commercials was set up by Alan Hendrick in August 2017, just a year after Profleet Services was formed by his son Paul. Having originally operated from the same premises as Hendrick Commercials in Oldtown, Co. Dublin, Profleet Services relocated to Balbriggan a year ago after the workshop was extensively damaged by fire. Both companies hit the ground running and have earned a reputation for quality, exceptional service and value-for-money.
Hendrick Commercials stocks a wide range of quality, pre-owned commercials of all makes, models and types. All used trucks, vans and trailers come with a fully service history and warranty. They are put throughout a rigorous pre-sale inspection, while finance is available on request.
"Hendrick Commercials was set up to buy and sell quality used tractor units along with rigids and trailers. There was an opening in the market and we've since sold over 100 units to customers in both Ireland and the UK," explains Alan, who also runs Hendrick European along with his other son, Keith.
"Having Profleet Services is a big help because Paul and his team are able to check over and test each truck before they are sold. Every vehicle we sell comes with a warranty and a top-class back-up service is provided by Profleet Services for added peace of mind. We can paint any truck we sell to suit a customer's requirement, while we also rent out tractor units. If one of Profleet Services' customers has a breakdown, we can rent a truck to them at a competitive price. Profleet Services and Hendrick Commercials go hand-in-hand."
Hendrick Commercials sources most of their vehicles from reputable dealers in the UK. "We try to stick to the leading brands like Scania, DAF and Renault which have less than 500,000km on the clock. Most of our customers come through word of month or repeat business, which is always a good sign. We have also sold a number of trucks to customers of Profleet Services. We insist on stocking only quality approved vehicles," Alan adds.
Profleet Services Ltd has become one of the foremost commercial repair and maintenance centres in North Dublin. Paul Hendrick and his highly-trained and experienced mechanics can carry out all necessary service and repairs to your truck, trailer or van at their state-of-the-art workshop which boasts a full range of diagnostics, including WABCO, HALDEX and full SCANIA diagnostics for all makes and models.
Profleet Services also offers a 24-hour breakdown / recovery service. "We're a one-stop shop for all your repair and maintenance needs and offer competitive rates to independent hauliers, transport companies and large fleet owners. No job is too big or too small. We service and repair the Hendrick European Ireland and UK fleet which accounts for about 50% of our business," says Paul, who is a qualified HGV mechanic.
"We started in the middle of 2016 and have gradually built up a good customer-base. We attract a lot of work through Hendrick European who are a well-known name in the haulage sector. Things are going good and we now have nine mechanics and two apprentices on our books."
Preparing your vehicle for CVRT testing is all part of the service provided by Paul and his team, who will answer any queries before and after the test. Their aim is to prepare the vehicle efficiently and assist the vehicle owner in getting a pass certificate.
Profleet Services also help customers with scheduling their 12-week vehicle inspections and carrying them out to the prescribed standard. In addition, the garage will provide the vehicle owner with instantly accessible maintenance records which fully comply to RSA standards. Also, Profleet Services are Ad Blue repair specialists and also specialise in body repair and accessory fitting, aluminium and TIG welding, and has three fully kitted-out recovery vehicles dedicated to its callout service. They are also stockists of leading tyre brands such as Michelin.
Paul explains how he has invested heavily in new equipment and diagnostics since last year's fire: "The morning after the fire in Oldtown, we moved to the premises we are currently renting in Balbriggan. We have reinvested a lot of money to ensure our customers still get the same great service."
With a modern, multi-purpose fleet of 60 trucks in Ireland, the UK (Liverpool) and Poland, Hendrick European is the biggest player within the Hendrick Group. The company's roots can be traced back to 1970 when Paddy Hendrick, who is Alan's father established Patrick Hendrick & Sons. Paddy passed away in August of this year and had been working away up until recently at the age of 90. He was held in high esteem in the haulage industry and is sadly missed by all in the business and further afield.
Hendrick European has extensive knowledge and expertise in the delivery of a diverse range of goods, including industrial, pharma, agri, construction, food, high-value goods, hazardous cargo, controlled freight and FMCGs. The company delivers low CO2 logistics and has a broad ranging expertise in customs clearance and documentation.
Hendrick European was delighted to receive a Special Award at this year's Full of the Pipe in Punchestown in recognition of its contribution to the popular truck show. The company's distinctive red fleet of vintage and working trucks have become a feature of the show over the years.
For your next quality pre-used van, truck or trailer, look no further than Hendrick Commercials. And the same goes for Profleet Services Ltd for your next maintenance or repair job.
Hendrick Commercials / Profleet Services Ltd
Isabella,
Whitestown,
Oldtown,
Co. Dublin
Telephone Truck Sales: +353 (87) 699 4960
Email Truck Sales: [email protected]

Telephone Workshop: +353 (86) 607 1699
Email Workshop: [email protected]
Web: www.hendrickcommercials.ie
Taken from Irish Trucker & Light Commercials magazine, October 2019, Vol 22 No 6