Donegal Waste & Recycle open new recycling facility
08/01/2020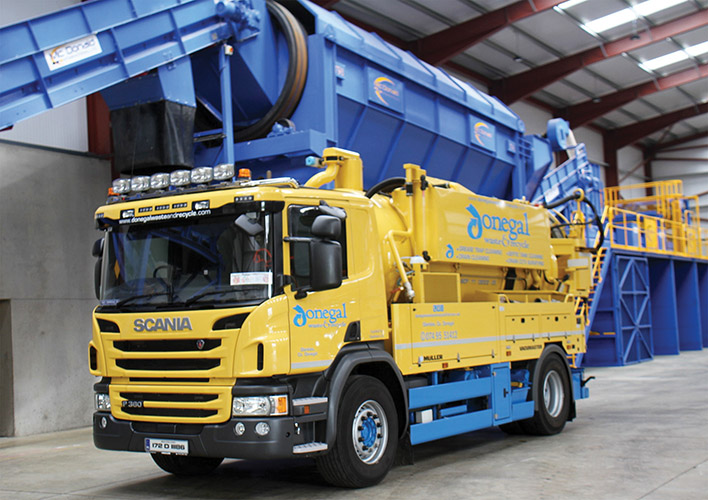 Autumn saw Donegal Waste & Recycle officially opening its brand new state of the art recycling facility in Donegal town. Irish Trucker heard more about the expansion and the thriving business itself from Donna McHugh, who has been with the company over 15 years now.
These are exciting times for Donegal Waste & Recycle as they look set to begin 2020 with a brand new state of the art recycling facility up and running in Donegal town.
An established, family-run business, Donegal Waste & Recycle has been in operation for more than 35 years now and is based in Kilraine, Glenties, Co Donegal.
2003 saw them become a limited company, Shaun Molloy & Sons Ltd, but continue to trade as Donegal Waste & Recycle.
Irish Trucker caught up with Donna McHugh – a valued member of the team at Donegal Waste & Recycle for more than a decade-and-a-half now – to learn all about the business.
"The company is established over 35 years and right now we've between 40 and 50 staff working here," Donna outlined.
"Shaun and Geraldine Molloy are the directors and their sons Shane and Gerard are the future of the company. The boys have a combination of good qualities to carry on the business. My role has been in the office for over 15 years and I feel like part of the furniture now."
That special touch from the Molloys has also carried through with their clients down through the years, as repeat business has been a big part of the company's success.
Going back to the start, the firm was initially set up to sub-contract waste collection work from Donegal County Council. After privatisation in the early 1990s, they dealt directly with all their customers, domestic, commercial and industrial.
As the pressure on landfill capacity grew, and the customers became more environmentally aware, they, in order to offer a complete service, expanded their recycling programme.
The rest, as they say, is history.
"Right now we've 12 lorries on the road and around 25 vehicles in total here," said Donna.
"We're a waste management company on both the domestic and commercial side and at the moment food waste is the new big thing. It's something we're trying to get into in a big way and so far it's been going well.
"We're also the first company in Donegal to carry out blue bin collections and we're branching out to septic tanks as well. We'd also be doing a bit of haulage work as well, so we're kept very busy between all the aspects."
Donegal Waste & Recycle provides its customers with a reliable and prompt skip service as well.
The company has a variety of skips that are available, in varying sizes for residential and commercial use at reasonable rates.
Those skips come in various sizes: varying from 4 Cubic yard to 12 Cubic yards. They can also provide lorry trailer skips if required.
Weekly cardboard collection and glass collection is also provided by the company as they get set to officially open their new state of the art recycling facility in Donegal town.
Donna confirmed. "We had an Open Day in July for people to come in and look around and it was really successful."
Exciting times indeed as business continues to expand at Donegal Waste & Recycle – a company which offers its clientele a reliable and prompt service.
It's all a far cry from when Shaun Molly's father, Sonny, started off the company with a tractor and trailer around the villages of Glenties, Ardara and Dunkineely.
Indeed Sonny introduced the first compactor truck in Donegal and to this day the Molloys continue to gain support from their loyal customers throughout the north west of the country.
Donna, who herself admits is glad to report business is "growing" at the moment as they look forward to opening the new facility.
"It's steadily growing and it's safe enough to say that there's never a dull moment here," she said.
"The boys are always busy and at the minute they'd actually be recruiting. We're constantly recruiting here to be honest and it's a good sign.
"We're covering all over south west Donegal, north Leitrim and Sligo, so it's a good area and we're kept busy all year round."
In 2005, Donegal Waste & Recycle became the first contractor in the country to distribute a two wheelie bin collection, blue for recyclable and black for residual. They were also the first contractor in Donegal to bring in the brown caddy bin service for their customers.
The company remains dedicated to providing its clients with a clean and efficient service, so why not contact them today whether it be for skip hire, waste bin or recycling services?
Once you sign up to the company's website (donegalwasteandrecycle.com) you can conveniently pay your bills online and check out collection dates, as well as info on Pay by Weight, Direct Debit and the customer charter.
Taken from Irish Trucker & Light Commercials magazine, October 2019, Vol 22 No 6