Professional approach pays dividends for Irish Car Express
06/01/2020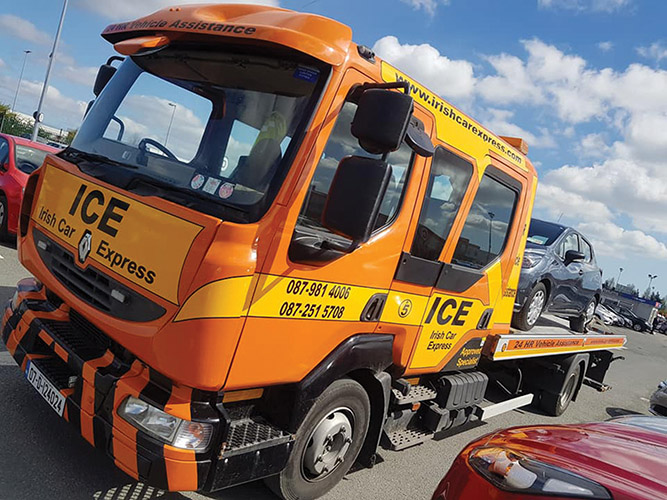 Irish Car Express Ltd in Swords, Co Dublin offers its customers a 24/7 breakdown assistance and vehicle recovery service 365 days of the year. Irish Trucker caught up with company director Jonathan Moulds to learn all about the thriving business.
These past five years have fairly flown by for brothers Jonathan and James Moulds, having taken the decision to set-up Irish Car Express Ltd (ICE) back in 2014.
Since that time the company has developed a reputation as one of Ireland's premier breakdown / recovery operations – not least because they are prepared to take to the road in even the most inclement weather conditions.
Today, the Dublin-based firm operates with a dozen staff and as many vehicles on the road, with its fleet including multi vehicle transport units.
Three generations of the Moulds family have been synonymous with breakdown and recovery: grandfather Tom; father John; and brothers Jonathan and James.
Between them, they boast decades of experience of this specialist area and provide a thoroughly professional service, handling all types of cars and vans, including a specialist high-end vehicle recovery / transportation service.
With all personnel fully-trained and experienced – not to mention deeply passionate and enthusiastic about their work – and a fleet of the finest, most versatile recovery equipment that money can buy, Irish Car Express Ltd is rapidly forging a reputation as the premier breakdown / recovery operator in the greater Dublin area and beyond.
'ICE' has indeed come a long way in a short space of time…
"Me and my brother James started the business in 2014," Jonathan outlined. "They were trying times in this country and we got off to a slow start.
"Between the four of us here, we worked as hard as we could and things eventually took off and we took on additional staff."
Things progressed and now the company offers its customers a cost-effective, professional breakdown assistance and vehicle recovery service, 24 hours a day, seven days a week, 365 days of the year.
With all the required insurance cover in place, Irish Car Express provides an unrivalled solution, with a competitive 30-60 day credit account available to motoring clubs, the car hire industry and garages.
The company's fleet is equipped with on-board diagnostics, allowing the ICE team insofar as is possible to diagnose and repair vehicles at the roadside.
Where this is not possible, the fleet includes vehicles with crew cabs, so that everybody can be brought home safely and quickly.
Irish Car Express is AA-approved company and also operates with fully-insured recovery technicians, specialising in deep ditch and soft ground recovery.
They operate custom-fitted vehicles, including light but powerful all terrain buggies which are fitted with equipment which can easily help recover vehicles when conventional gear just can't get the job done.
2019 saw the company adding a brand new Renault truck to its fleet, bringing the count up to an even dozen.
Meanwhile, the workshop in Swords is also fitted with state-of-the-art equipment, allowing the team to carry out all aspects of vehicle servicing, from oil changes to tyre changes etc., all at a competitive price. Pre-NCT checks are also provided.
Irish Car Express' winch and lift equipment allows them to access vehicles where others fail, including tight driveways and enclosed areas.
As all vehicles can be removed without so much as a scratch, the Dublin 9 based company has forged a stellar reputation as specialists in the transportation of classic and luxury vehicles – all of which are treated with the utmost care and attention.
It helps to ensure that the company are able to handle any recovery or vehicle transportation job.
That kind of excellent service has seen them in good stead by the current state of business, going by what Jonathan has to say.
"Business at moment is mental, to be honest. We're very busy and we're not the only ones either," he stated.
"We've added a new Renault truck this year and I genuinely never thought we'd be this busy when we started up the company five years ago."
So what has been the secret to success? How has 'ICE' managed to grow stronger and stronger with each passing year since its inception in 2014?
Jonathan offered his two cents by suggesting that a lot of it has come down to their professional approach from the very start.
"Maybe it's because we like to put ourselves out there as a professional company," he said.
"I like to think that ICE is its own brand. When we started out I wanted to have it all right with the trucks kitted out and the staff wearing our uniforms.
"I'd also like to think that we are providing a good service here and it's part of the reason why our customers choose us first."
He added: "Apparently the boom is back and, as said, we've been busy and at the moment we're doing a good bit for car hire companies all over Dublin."
And, of course, offering an excellent service at a competitive price remains a key ingredient to this day for Irish Car Express.
"At the end of the day, it does come down to price and there is no end of people who aren't qualified and have no insurance but will take the work off you.
"Even though we run a yard, an office, a workshop and a canteen and are a fully professional operation, 'Fred In The Shed' is always going to be there. That's the reality of it.
"We are the fifth emergency service after the Guards, the fire service, the ambulance and the coastguard, but we're not recognised as such. When you deal with Irish Car Express, you are dealing with professional breakdown service personnel who have vast experience, are fully trained and insured and have all the right gear. There's no substitute for that," Jonathan concluded.
Irish Car Express Ltd
15 Collinstown,
Cross Industrial Estate,
Cloghran,
Swords,
Co Dublin
Tel: 087 9814006 / 087 2515708 / Email: [email protected]
Taken from Irish Trucker & Light Commercials magazine, October 2019, Vol 22 No 6