O'Connor Motors: No.1 in Limerick for breakdown and recovery
17/12/2019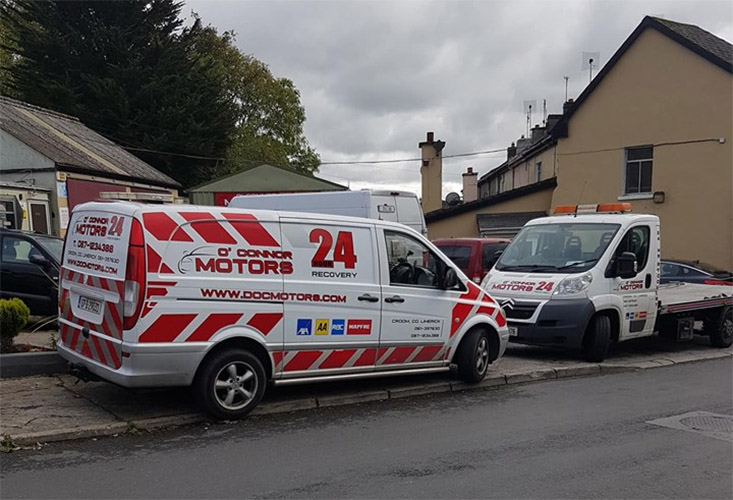 From their base in Croom, County Limerick, O'Connor Motors offer an exceptional 24-hour breakdown and recovery service, with a dedicated team of fully-qualified mechanics on hand to get motorists back on the road again as quickly as humanly possible. We met Damien O'Connor to find out more about this industry-leading family business and the range of services provided.
For three decades and counting, O'Connor Motors have been playing an integral role in keeping the roads of Limerick clear and safe, providing a prompt and professional breakdown / recovery service across the Treaty County and sometimes beyond.
As they also run their own workshop / garage, carrying our diagnostics, servicing and repairs, O'Connor Motors is a veritable one-stop shop for the full package of services from incident response to roadside assistance, towing to repairs.
They cater for every vehicle type including motorbikes, cars and light commercial vehicles up to five tonnes. Specialising in repairing or replacing tyres, they are available around the clock to answer the call, be it for a flat battery, puncture, fuel draining, mechanical problem or a road traffic accident.
Operating a fresh and immaculately maintained fleet of recovery vehicles, manned by qualified and experienced personnel, O'Connor Motors work on behalf of all the major insurance companies, covering Limerick city and county, invariably providing a friendly service with a personal touch and always get the job done with a minimum of fuss, professionally, safely and at a fair price.
The genesis of O'Connor Motors 24-hour Recovery dates back to the late 1980s, when Tony O'Connor established the business. Tony's son, Damien, is at the helm today, having taken over ten years ago.
The fresh fleet of five trucks and three vans comprises a mix of MAN, DAF and Citroën – all of which are maintained (in-house) in immaculate condition at all times. A new Citroën Rally was added this year, while another recent addition is a superb recovery vehicle sourced through Christopher Reeves at Breakdownvehicles in Warwickshire. All vehicles are fitted with GPS tracking and operated by skilled, experienced and motivated drivers / technicians.
At present, gainful employment is generated for a team of four full-time alongside two part-time staff members and Damien makes sure that there's always somebody available for call-outs, ensuring complete around-the-clock coverage, 24/7, 365 days per year.
Over the years, O'Connor Motors 24-hour Recovery have established themselves as the premier breakdown recovery operator on the banks of the Shannon, their success and enduring popularity forged on the back of providing unrivalled service levels to motorists in need.
"In this line of work, it's all about answering calls and getting out to the customer as quickly as possible," notes Damien, when asked about the key to the long-serving company's success. "You have to respond. 50% of our work comes from when others don't answer the phone. We always take the call. You have to be ready to go and then you have to provide a professional service, bearing in mind the predicament the customer is in. You need to act carefully, responsibly and also rapidly."
No two days are ever the same and Damien never knows when he wakes up in the morning what the day ahead holds in store for him. The nature of recovery is such that the work isn't always confined to the local area. A vehicle might need to be collected or dropped off anywhere from Kerry to Belfast, Galway to Northampton.
The Croom-headquartered recovery operation is complemented by the O'Connor Motors workshop, which gives customers the option of also having their vehicles repaired without having to deal with any third parties. But, in many cases, one of the fully kitted-out mobile service vans will be able to get the car or van up and running again at the roadside, without any need for towing.
"We also provide a roadside tyre service," Damien continues. "This is something new that we've added as we saw a need for it. We carry a tyre machine and balancer in the van and we can use it to fit tyres at the roadside. That has proven to be extremely popular and convenient.
"We're very busy at the weekend with tyres and we have access to any make or size of tyre. We carry all the main sizes ourselves but then have access to other people's stocks as well and can get drivers back up and running again if they run into trouble with a tyre.
"We found in the past that if a driver from Dublin gets a puncture down in Limerick on a Sunday, it was almost impossible to get them sorted out so we decided to offer that service ourselves and it has proven to be very popular."
It all comes down to thinking outside the box in order to offer customers the best-possible range of services.
Working closely with the likes of Truckcar Sales in Patrickswell, Martin Murray Crash Repairs in Croom, United Metals and ACE Autobody in Ballysimon, O'Connor Motors have built no end of strong working relationships and invaluable contacts locally over the years, all of which enhances their ability to guarantee breakdown recovery and repair services that cannot be beaten.
"Things are going very well, thankfully," Damien concludes. "We're happy enough with the way things are and we don't want to go too big. We pride ourselves on providing a personal service and that's what we will continue to do."
O'Connor Motors 24-hour Recovery,
Main Street,
Croom,
County Limerick.
Tel: 061 397630
087 1234388
Facebook: www.facebook.com/damienoconnormotors/
Taken from Irish Trucker & Light Commercials magazine, October 2019, Vol 22 No 6