The modular building transporter of choice
21/11/2019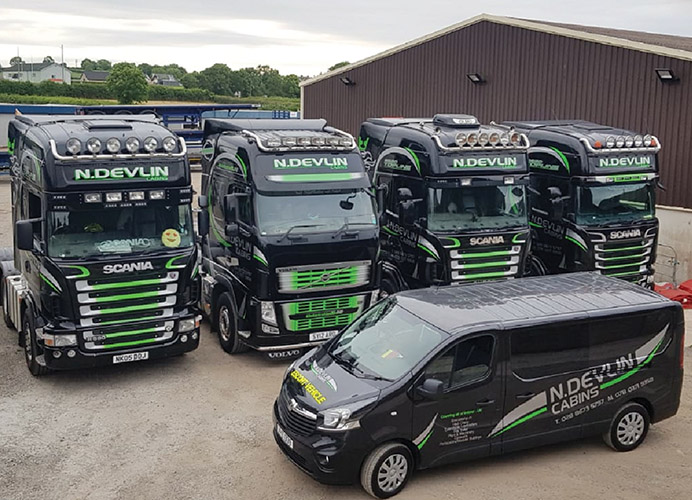 For closing in on 30 years, N Devlin Haulage has been delivering exceptional heavy haulage solutions from its Ardboe, County Tyrone base. As this progressive, industry-leading road transport company continues to go from strength to strength, Irish Trucker renewed acquaintances with proprietor Nigel Devlin to get an update.
With four beautifully-presented and immaculately-maintained trucks – three Scanias and one Volvo - on the road, N Devlin Haulage continues to deliver the goods, having forged an unrivalled reputation as one of Ireland and the UK's premier specialists in heavy loads and container transport as well as being recognised as the modular building supplier of choice.
"We're flat out, doing alright, can't complain," confirms amiable owner Nigel Devlin, who followed in the footsteps of his late father, John, assuming the reins of the family business that was established almost three decades ago.
"At the moment, we're doing a lot of portacabins, sectional buildings, cardboard compactors and Hiab work, delivering and fitting across the UK and Ireland."
With lorries heading to the mainland UK every week, Nigel and his crew are exceptionally busy on both sides of the Irish Sea. No two days are the same and, as there's no end of variety involved, the work can get particularly interesting and challenging at times.
A case in point: as part of his work with regular, longstanding client Ground Protection Ireland in Dublin – suppliers of temporary plastic matting for any event – N Devlin Haulage recently transported temporary ground covering for use on the set of hit television series Game of Thrones. They also deliver materials to the sets of other movies and TV shows.
"We were also at the ploughing championships, where I installed temporary toilets. We do the whole site set-up before a plumber comes in and plumbs them in."
Other activities Nigel is currently busying himself with include delivering cardboard compactors for CK International - the market leader in the design and manufacture of a full range of recycling equipment – in Dungannon, while to supplement his thriving portacabin supply-and-fit business, he has diversified into the rental and installation of sectional buildings for use as office blocks, school rooms, nurseries, etc. … another market that is taking off:
"For this, we basically put a number of portacabins together into what's called a sectional building, for example you'd take ten 40x10 portacabins and build them together into one larger unit, which can be used for a variety of uses. We're very busy with that at the moment, too."
To meet the strong demand for all of these services, Nigel runs a superb fleet of four trucks and twelve specialised trailers – extendable low loaders, extendable flats and short trailers for tight sites. All the lorries are tag axle – two Scania 620s and a Scania 580 alongside a Volvo FH 540.
Investment in replenishing, upgrading and maintaining the fleet to the highest possible level in order to ensure unrivalled service levels is ongoing and significant. To this end, the Volvo was added to the fleet in 2017 and one of the 620s was purchased last year.
Earlier this year, Nigel also took possession of a virtually new four-axle extendable trailer, while a couple of new flat trailers have also been sourced through A Farlow based in Garvagh.
Another big investment was made into the business three years ago when a 62-ton Palfinger crane was fitted into one of the V8 Scania lorries. This has become a very big part of the business, with a lot of new avenues opening up.
Full-time direct employment is generated for two men alongside a part-time driver, as well as indirect employment, including a crew of men from Corr Contracts in Stewardstown, which is operated by Nigel's cousin, Michael Corr. "When we go in with the sectional buildings, they put them together for us on site as part of that business," the Tyrone man points out.
From the heart of Northern Ireland, a complete range of services is provided to a wide variety of clients – from sole traders to blue-chip companies - across Ireland and the UK. As the complete transport and freight management solution provider, N Devlin Haulage is a highly-flexible, customer-orientated company boasting an excellent track record in everything from bulk haulage to general haulage.
The fully-insured, fully-certified and fully-competent company – a proven specialist in the transportation of abnormal and wide loads - has decades of expertise, using industry-leading vehicles with low emissions, each fitted with the latest technological equipment and supported by advanced technologies.
As well as transporting portacabins and modular buildings between Ireland and the UK for esteemed clients including Eco Mod, Portacabin Ireland and Cabinspace, Nigel also sells sectional buildings, buys and sells high-quality second-hand portacabins himself and does a lot of private work transporting containers.
To what does he attribute the ongoing success of the business? "A lot of it comes down to hard work. Not being afraid to work and doing what needs to be done to keep your customers happy. We try to always look after our customers and this is why we have so much repeat business. We've been working for a lot of the same companies for 20 years.
"My wife, Sheena, is also a real driving force behind the business. She helps out a lot with paper work, Health & Safety compliance and risk assessment, which are all crucial elements in running a transport business today so Sheena's contribution is invaluable."
This frees Nigel up to concentrate his full attention on the trucks, which took part in the John Tully Memorial Truck Run in Julianstown, County Meath on June 28th-29th. "John was a great lorry man from a long line of great lorry men. His son, JP Tully, is a mate of mine and he started the truck run last year in memory of his late father. It was an honour to be invited," he concludes.
Devlin Haulage,
31A Kilmascally Road,
Ardboe,
County Tyrone.
Phone: 078 03719358
Email: [email protected]
Taken from Irish Trucker & Light Commercials magazine, October 2019, Vol 22 No 6