2020 an important year for CMP as the company celebrates
14/11/2019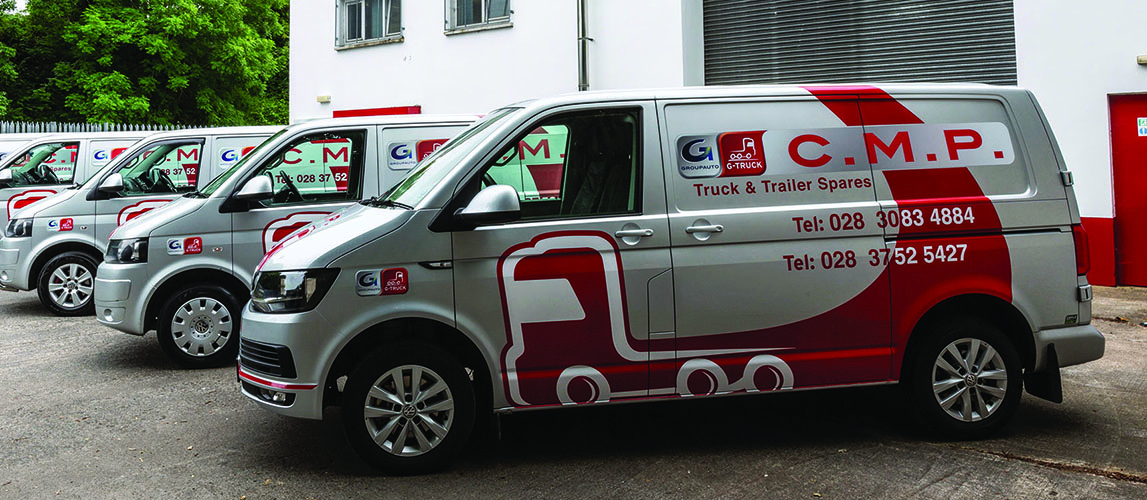 Coming up on 30 years in business, Commercial Motor Products (CMP) Ltd is a privately owned company which specialises in the importation and distribution of commercial vehicle spares. Irish Trucker caught up with Managing Director, Mark Curran to learn all about the business.
CMP was founded by Mark's father the late Paul Curran, who sadly passed away in March of this year.
Established in 1990, Mark took over the running of the business at a very early stage due to his father's illness. The company has gone from strength to strength, moving into its 30th year in business next year.
Mark and his dedicated team of 15 staff have pushed hard at the business over the past 29 years. Now showboating two state of the art premises based in Armagh and Newry, and a fleet of vans delivering from 8.30am to 6.00pm every day, covering counties Armagh, Down, Tyrone, Antrim, Monaghan, Fermanagh and Louth while also delivering overnight to anywhere in Ireland.
Mark says: "Time has flown, it's hard to believe my father started back in 1990 and here we are nearly 30 years on.
"A lot of the customers we supply today are supporting us from our early days. My staff and I have built a strong relationship with both our suppliers and customers over this period."
Truck & Trailer
"We offer a vast range of OEM and aftermarket parts for most makes of lorry and trailer. We are direct suppliers for Dinex, Jost, FAG, SAF, Sachs, Valeo, Lemforder, Meritor, Bosch, WABCO, Hella, Knorr-Bremse, Timken to name but a few.
"We keep a full range of body panels, springs and lined brake shoes in stock ready for free daily delivery, cutting downtime for our customers."
Staff
Mark says: "My staff are most important to me. I know CMP would not be where it is today without the dedication of our team.
"Our staff are all long term and each person specialises in a certain area of our business, but yet working well as a team to suit the customer in question."
Logistics
"Our vans are networking through the local counties offering free delivery every day, from both our Armagh and Newry branches. We can also offer delivery before 8.30am if required."
Body Panels
"We keep a wide range of body panels in stock at all time from mudguard tops and bumper skins to suit most trucks from Scania and Volvo to Mercedes, Man and Iveco.
AdBlue
"We know AdBlue is an extra expense. We keep a full range of NOx sensors and Bosch AdBlue pumps in stock for all trucks. We can get information for you and your vehicle on its AdBlue set-up, leaving it easier for you to diagnose your AdBlue problem. A full range of Dinex Euro5 plus Euro6 CATS are also in stock for immediate delivery.
Computers
"We have a full on line system for checking your vehicle details, with VIN identifaction software we can supply the correct part at a competitive price each time. We can check Scania, Volvo, DAF, MAN, Mercedes, Iveco, Renault, SAF, BPW. We can also supply you free training on Knorr-Bremse, Haldex and WABCO EBS systems on site.
OEM Parts
"We can supply both genuine service kits and aftermarket filters for most models. Genuine steering and clutch components are a must 'we think', therefore we supply original Lemforder steering bars and ball joints along with Sachs and Luk. We supply Knorr-Bremse/SAF/BPW pads, Winnard discs and drums, a full line of genuine WABCO/Knorr and Meritor ABS and wear sensors. Our exhaust range is all Dinex. For every vehicle, over the years we have realised what parts last and what parts don't.
"CMP's investment this year was adding a further three new Transporter vans to the fleet. With the customer base getting bigger, our aim is to have parts delivered within the hour to any of our customers already getting daily service.
"We are adding to our range of parts every day and every week putting in new lines for Version 4 Volvos and S Series Scanias. We have just added a full range of original SAF running gear for low loader and super single set-ups."
CMP has also added a range of genuine turbos and Lucas NOx sensors. Also on the shelf is a full line of Mercedes (discos) running gear, leaving the customer with zero down time waiting on parts.
In a nutshell, CMP can provide you with a good service of quality parts at a reasonable price.
Mark says: "I would like to take this opportunity to thank our customers and suppliers for their support over the years. I hope to continue the trend for many years to come."
Commercial Motor Products Ltd
Armagh Depot:
Station Road Industrial Estate
Loughgall Road
Armagh BT61 7NP
Tel: +44 28 3752 5427
Fax: +44 28 3752 7781
Newry Depot:
Unit 2 Loughway Business Park
Greenbank Industrial Estate
Newry
County Down
BT34 2TH
Tel: +44 28 3083 4884
Taken from Irish Trucker & Light Commercials magazine, September 2019, Vol 22 No 5