Providing superb luxury coaches and minibuses at competitive rates
06/11/2019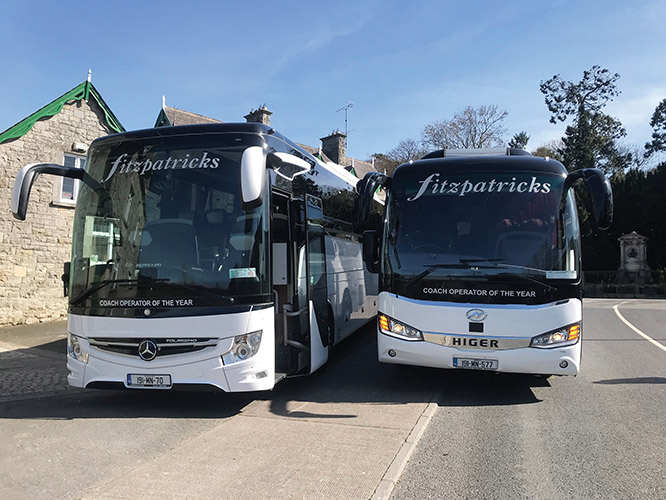 Fitzpatrick Coaches is celebrating an important milestone in the passenger transport industry by achieving 30 years in business this year. Irish Trucker found out more.
The business was originally established in 1989 by husband and wife Larry & Mary Fitzpatrick. It is a family run business and their son Pascal is now the driving force behind the business and the company has successfully developed and expanded over the last five years under Pascal's guidance.
Meadow Tours Ltd t/a Fitzpatrick Coaches are now recognised as one of Ireland's leading coach tour operators.
Fitzpatrick Coaches ethos is ensuring all passengers receive a high quality, reliable, efficient and friendly service from time of enquiry/confirmation of booking to their safe return home.
Fitzpatrick Coaches are a professional company and are members of a number of professional bodies e.g. The Coach Tourism Transport Council of Ireland, 32CC, Failte Ireland etc.
The company and staff receive regular guidance and training from the Freight Transport Association of Ireland to ensure compliance and take full responsibility and ownership to ensure that all staff adhere to regulatory and legislative requirements regarding safe driving and passenger safety is paramount.
All tour coaches are 5* Failte Ireland approved and provide the following facilities i.e. DVD, Toilet, Air conditioning, refreshments, 3 pin plugs, complimentary Wi-Fi and USB charging ports.
The fleet ranges from small vehicles which can cater for a small group e.g. 4-5 people, 18 seaters, 25 seaters, 33 seaters, 39 seaters to a full size coach which can cater for 53 passengers.
The purchase of new vehicles annually and three new vehicles in 2019 ensures that Fitzpatrick Coaches offer top quality vehicles with first class customer service to all passengers.
The fleet of coaches are operated by a dedicated team who are committed to offering a superior service to all passengers.
Pascal confirms that "without their staff the success would not be possible" so Fitzpatrick Coaches would like to take this opportunity to thank their staff for their commitment and contribution to the success of the company.
Fitzpatrick Coaches is located in the picturesque village of Glaslough, Co Monaghan which is an ideal location for airport transfers, city tours i.e. Belfast/Dublin, wedding party transfers and nationwide tours. In addition they provide a private school bus service in their area and hold a school transport contract with a Government body within the North East region.
Company Director Pascal advises that "clients are price conscious and always seek value for money.
"We pride ourselves in providing an excellent service at competitive rates and a large proportion of our customers are repeat business so we are doing something right.
"We believe that by providing a good service and looking after our passenger needs that they will re-use our service which is clearly evident from our customer base."
The customer base is national with increasing focus on the international market with the majority of the work now specialising in the area of tourism. They have been actively working alongside a large US based tour company and the number of travellers to Ireland is increasing year on year.
Pascal is fully aware of the need to continue to develop the company and with the continuing success of SoccerTours.ie he has introduced another business venture under the Meadow Tours Ltd umbrella with the introduction of Dublin Day Tours.ie.
SoccerTours.ie specialises in sports packages by providing travel, match ticket and accommodation for all Manchester United and Liverpool home games.
Dublin Day Tours.ie celebrates the wonderful scenic beauty available in Ireland by way of providing day trips from Dublin city centre to the Cliffs of Moher and the Giants Causeway.
Details of all trips are available on the following websites www.soccertours.ie and www.dublindaytours.ie.
In addition any enquires can be emailed to [email protected], [email protected] or [email protected].
Alternatively, for further details please view our social media platforms Fitzpatrick Coaches, SoccerTours.ie and Dublin Day Tours.ie on Facebook and Instagram.
Pascal confirms that he is "continuously seeking new and innovative ways to improve the business and ultimately the passenger experience by upgrading vehicles annually, the introduction of technology on-board and providing regular staff training to provide the highest standard of comfort and facilities to all passengers."
Fitzpatrick Coaches has been nominated and shortlisted in the JF Dunne Fleet Bus & Coach Awards in recent years and have been finalists in 2014 and 2016.
They succeeded in winning Coach Operator of the Year in 2018 and envisage a nomination for the awards in 2020. The company is most certainly growing from strength to strength on an annual basis.
Pascal's outlook for the future is very positive and his aim for the family business is for continued growth and success and to ultimately increase their market share.
He hasn't forgotten his roots and is committed to keeping the company operating as a family business and they pride themselves in offering a personal and highly professional service with a personal touch for all passengers.
Fitzpatrick Coaches
Toneygarvey
Glaslough
Co.Monaghan
Mob: 087 273 1396
Tel: 047 82 331
(Telephone line is open 24 hours per day)
E-mail: [email protected]
Taken from Irish Trucker & Light Commercials magazine, September 2019, Vol 22 No 5