TTW - the one-stop shop for all truck and trailer services
24/10/2019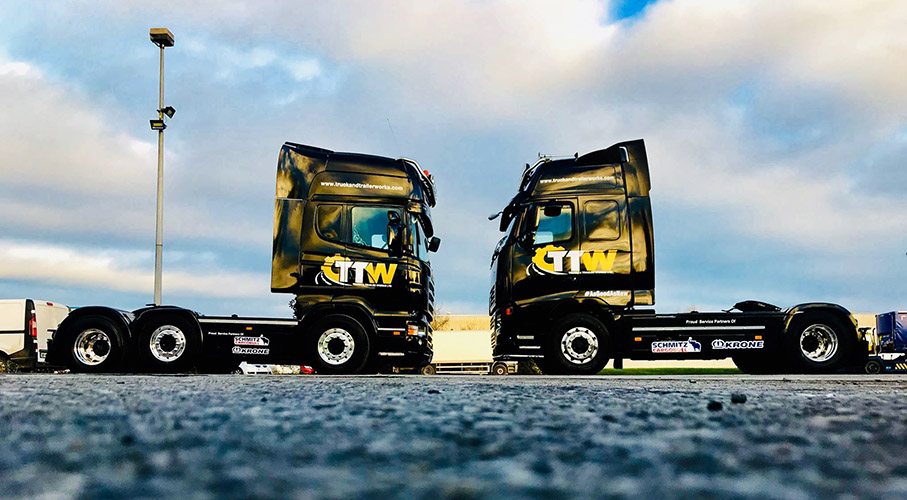 Providing complete truck and trailer services (maintenance, repairs, parts and sales), Truck & Trailer Works Ltd. has made a huge impression during the three years since its inception. We touched base with Operations & Contracts Manager Ryan Smith to find out more about this exceptional operation.
From purpose-built, state-of-the-art facilities in Dublin and Dungannon, Truck & Trailer Works (TTW) is the one-stop shop for providing trailer repairs, maintenance and specialist services to Ireland's haulage industry on both sides of the border.
Established as a two-man operation in February, 2016 by Managing Director Ricky Burke, Truck & Trailer Works now generates direct employment for a team of 32 and has strategically-located workshops at Swords Business Park, Port Tunnel Business Park and Dungannon, just off the M1.
Specialising in trailer repairs, servicing, parts, refurbishments, hire and sales, as well as truck maintenance, TTW is an authorised service partner for Schmitz Cargobull and Krone - the biggest names in trailers and related services in Europe. As service partners for these worldwide brands, they stock a full range of dealer parts to ensure customers' fleets maintain the highest standards.
Strong relationships with key manufacturers ensure that Truck & Trailer Works remain up-to-date with all developments in the transport industry, their dedicated engineers benefiting from ongoing, expert training.
Truck & Trailer Works' in-house mechanic Davy Johnston was shortlisted as Technician of the Year at the 2019 Fleet Awards, while the progressive company was also shortlisted in the Customer Services Excellence category. "We've attended these awards for a couple of years now and we decided to put ourselves forward this time around in those two categories," notes Ryan Smith, Operations & Contracts Manager. "Davy has become an integral part of our package since he joined our team in Armagh. He has 36 years' experience as a mechanic and holds all the Renault Trucks Training UK certificates. As well as his invaluable experience, his workmanship and attention to detail are second to none and he was instrumental in us securing mechanical contracts with leaders in their field of expertise, who expect all vehicles to be fully roadworthy with little downtime.
"We've also taken on a contract with DHL in Mallusk for 26 trucks - servicing and breakdown – and Davy manages that. McConaghy Refrigerated Distribution also came on board with 17 trailers with further expansion and we're currently in the process of tendering for another big contact. Without Davy's experience and expertise, we wouldn't be able to take these contracts on."
Due to Davy's wealth of experience and high-quality work, TTW are embarking on an apprenticeship scheme in conjunction with their local third-level education technical college. Apprentices will be under Davy's tutelage
and will gain invaluable knowledge to set them on their own career paths.
Another key strength of the business is their ability to provide excellent customer service at speed, especially when a client is requesting something that is time sensitive. Invariably, TTW respond to customers in a prompt and timely manner. They pride themselves on meeting customers face to face at any opportunity possible, are transparent and up front at all times and benefit from a large volume of repeat business from loyal customers, who in turn market the business with positive referrals through word of mouth and / or social media platforms.
Truck & Trailer Works' presence in two workshops in Dublin - along with their purpose-built body repair shop in Dungannon – gives them a distinct advantage over competitors as they can provide unrivalled one-stop solutions for the haulage industry.
Since its genesis three-and-a-half years ago, Truck & Trailer Works has enjoyed steady, organic growth. They are focussed on further strengthening their presence in Ireland, while plans are also afoot to add to the 15-strong mobile fleet.
"It's a growing business and we're always taking on new contracts, but we're mindful of the fact that the growth has to remain controlled. To do that, you have to take on the right people and grow in a sustainable way. Potentially, we could add a fourth depot in the Belfast area in the not-too-distant future."
Continuous staff investment and the installation of the most up-to-date equipment is paying off, leading to the ongoing success of the business. This includes having the latest diagnostic and tooling at hand to provide the best repair service to truck and trailer customers.
The dedicated personnel at TTW all bring different skills to the table to ensure that the business remains at the forefront of the Irish transport industry. They have fully-qualified fridge service engineers, welders, painters, and mechanics, supplemented by strong admin and management teams.
The high esteem in which Truck & Trailer Works is held island-wide is apparent from the contracts secured with some of the biggest names in the transport industry, including DHL, Tesco, Zellword, Agro Merchants Group, Woodsides, Dixons, TIP & Trinity Transport Dundalk to name a few. As Operations & Contracts Manager, Ryan can tailor any of TTW's service packs to suit clients' specific needs.
As well as pre-planned service and maintenance contracts, inspections, diagnostics and repairs, an out-of-hours team is on call 24/7 to make sure that customers are looked after around the clock.
Engineers in the dedicated fridge maintenance team are trained and accredited in both Thermo King and
Carrier fridge components. TTW currently have 420 fridge units on service contracts, providing complete 24/7 cover 365 days a year.
TTW's Northern Ireland business unit stands on a purpose-built four-acre site in the town of Benburb, just outside Armagh, offering a wide range of services including state-of-the-art shot blasting; painting services from a bumper to a full truck and trailer; bespoke body designing; full trailer repairs; truck and trailer diagnostics; Schmitz Cargobull warranty work and repairs; truck and trailer contract maintenance; parts; HGV low-loader recovery; and new and used truck and trailer sales.
At the Swords site, meanwhile, conveniently located between Dublin Port and both the M1 and M50 motorways, they mostly carry out mostly trailer repairs and operate three call-out mobile workshops and a HGV recovery truck purpose-built for speedy recovery Ireland-wide. Bespoke maintenance contracts are also operated from here as well as CVRT preps, with experienced engineers available to repair all types of defects.
The Port Tunnel Business Park unit offers truck maintenance to current contract customers. This is a purpose-built truck workshop with three full-size pits and state-of-the-art tooling, also offering recovery, parts, small body repairs and paint work, and used truck sales.
"As an agent for Schmitz Cargobull and Krone, we carry over £100,000 of parts in stock to cover both trailer types. We've also recently had a request from another trailer manufacturer to become their service partner, so we must be doing something right," Ryan concludes.
"It's great to have the big trailer companies getting behind you. We use fully-qualified technicians specially trained by Schmitz to look after their fridge motors, which obviously gives our customers complete peace of mind.
"We have a wide range of companies on our books with anything from two trailers up. Across the three depots, we have 900 trailers on contract for full maintenance, each contract tailor-made to suit the customer's exact needs. We do everything to make sure our customers are fully looked after. For example, hauliers don't want to be getting a call at 4am telling them there's a truck broken down – that's why we provide a 24/7 call-out and breakdown service. Whatever it takes to make their lives easier, we're here to find and provide the solution."
Truck & Trailer Works Ltd.,
270 Battleford Road,
Dungannon,
CountyTyrone,
BT71 7NP.
Truck & Trailer Works Ireland Ltd.,
Port Tunnel Business Park,
Unit 35/36,
Dublin 17,
D17 CK64.
Tel: 028 3754 8418
Email: [email protected]
Web: www.truckandtrailerworks.com
Taken from Irish Trucker & Light Commercials magazine, September 2019, Vol 22 No 5