An award winning vehicle recovery operator
18/10/2019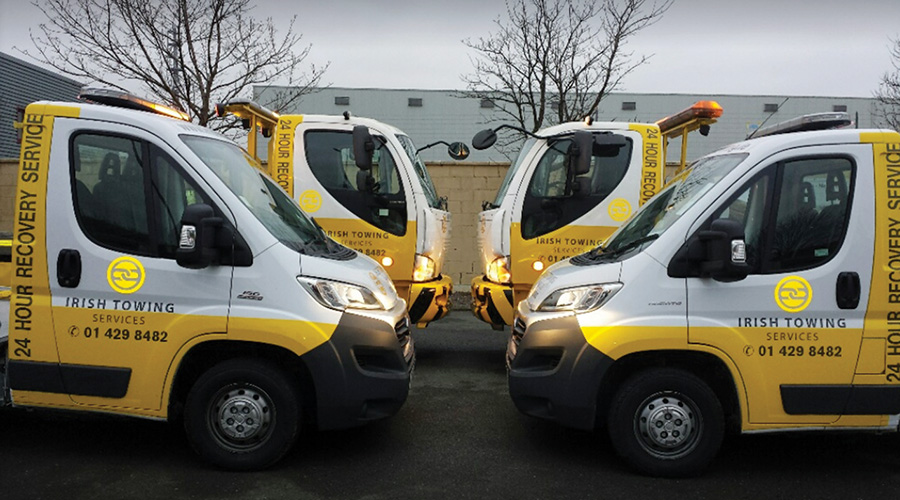 The judging panel for the SIMI Irish Motor Industry awards knows exemplary service when it sees it. That's why Irish Towing Services were nominated in the Vehicle Recovery Operator of the Year category again this year. Managing Director Alan Sherwood and his wife Cora run an impressive operation.
Three years after being crowned SIMI Vehicle Recovery Operator of the Year, Irish Towing Services were, once again, shortlisted in the category at this year's awards.
They may not have emulated their outright success of 2016 but the nomination alone proves that they are consistency personified when it comes to the wide range of services they provide their valued list of clients.
Open to all sectors of the Irish Motor industry, the Society of the Irish Motor Industry (SIMI) annual awards celebrate best practice in the sector and acknowledge the hard work and successful achievements of SIMI members.
This year's annual dinner was held at the Clayton Hotel, Burlington Road on Thursday, February 21st last and the Irish Towing Services team were out in force.
A leader in the field of vehicle recovery in Ireland, Irish Towing Services was established by Alan Sherwood in 1986. Over the last number of decades the company has assisted hundreds of thousands of motorists.
Alan is ably assisted in the day-to-day running of the family-run company by his wife Cora and son Sam who will help him ensure the continued success of this business for future generations.
The reputation of its 24/7 year-round service has been built on the knowledge, experience and expertise gained over the past 30 years. This reputation has helped to secure contracts with Motoring Assistance Organisations, Insurance Companies, An Garda Siochana and as well as Car Franchise Dealers, Fleet Management Companies, Car Rental Companies, and Financial Institutions.
The company's fully-uniformed recovery teams are all trained and qualified Vehicle Recovery Technicians with backgrounds in the motor trade. All Irish Towing Vehicle Recovery Technicians are Garda vetted, carry ID and you can check their qualifications on RecoveryTraining.ie
All their vehicles are regularly inspected and certified in compliance with all legislation and also in compliance with PAS43 which is a recognised "Best Practice" within the recovery industry.
Irish Towing Services has also received ISO-9001 2008 accreditation for providing a quality service.
Irish Towing Services is a Licenced Transport Operator, which allows it to transport all vehicles not only those that have broken down or been involved in an accident. They are a member of the Institute of Vehicle Recovery (IVR), the Society of Irish Motor Industry (SIMI), the Association of Vehicle Recovery Operators (AVRO) and the International Federation of Recovery Specialists (IFRS).
Their mobile mechanics offer the best Roadside Assistance Service to get you back on the road as safely, quickly and as cost effectively as possible while in the event that roadside assistance is insufficient to get you on your way or it is too late in the day for your chosen repairer, they can recover your vehicle into secure storage until suitable arrangements can be made to deliver to your chosen repairer. Their premises provide secure parking facilities with electronically controlled access and CCTV.
Reflecting on the company's nomination at this year's SIMI awards, not to mention their overall win three years ago, Alan agreed that is constituted a recognition and validation of how smoothly the business is run.
As part of the judging process, they took part in a breakdown trial run and were scored on their response. "We passed with flying colours," he told Irish Trucker & Light Commercials magazine.
"We are proud to be recognised as one of the best recovery operators out there and the awards success has helped us to get our name out there," he added. "We run an efficient maintenance and motor repair workshop and we have good lads working for us. Service and quality work would be two things that we take particular pride in," he concluded.
Broken down in Bandon, Ballymount or Buncrana? Mis-fuelled in Mallow, Milltown or Mooreenaruggan? Cut-Out in Clondalkin, Clifden or Carlow? Irish Towing will get you going – with a network of recovery operators throughout the country, they'll have you back on the road or onto a recovery vehicle as quickly as possible.
Irish Towing Services
Turnpike Road
Ballymount
Dublin 22
Tel: +353 1 429 8482
Fax: +353 1 456 9256
Email: [email protected]
Website: www.irishtowing.ie
Taken from Irish Trucker & Light Commercials magazine, September 2019, Vol 22 No 5