Wexford couple retire and transfer Adamstown Oil Distributor, J&M Oils, to Valero ownership
03/10/2019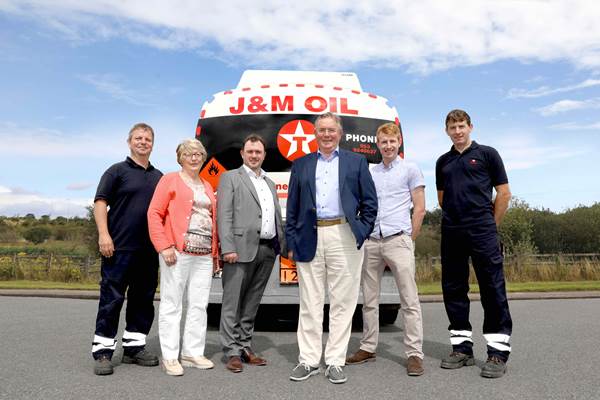 Wexford couple Jack & Mary Galway have announced their decision to retire and transfer the ownership and operations of their Adamstown-based J&M Oils to Valero Marketing (Ireland) Limited, the company who markets fuels under the Texoil brand in Ireland.
Having devoted 34 years of service to the business since its establishment in 1985, their decision was influenced by a wish to see the high level of service to its customers maintained, without interruption and with a long-term prospect of continuity.
"Moreover, with our daughter and three sons each pursuing successful careers and no clear line of succession, it became inevitable that a new arrangement needed to be found" Jack said.
Long associated with home heating oil distribution in the South East, J&M Oils serviced an extensive domestic and farm customer base throughout Wexford town and county and into south Kilkenny and east Waterford.
Before setting up J&M Oils, Jack had built-up some 8-years' experience in the oil business, working as a Texaco driver from their depot in New Ross. The impetus to 'go it alone' came when Texaco gave its drivers the chance to branch out and set up their own businesses - an opportunity seized upon by Jack and Mary.
In a further comment, Jack and Mary said: "we have dedicated our lives to bringing the business forward, to delivering warmth and comfort to a legion of loyal home heating oil customers and to providing a vital fuel supply to local farming communities".
"Our decision to pass the reins to Valero is one that will ensure the J&M Oils tradition lives on and that customers can look forward to enjoying the same high level of service and competitive pricing they had come to expect from J&M Oils" they added.
Henceforth, deliveries will continue to be made by experienced drivers Pat Hennessy (from Tullogher, Co. Kilkenny) and Barry Clare (a native of Wexford town now living in Chapel, Clonroche).
Through the new arrangement, the company pledges to provide what Frank Staples, Commercial Manager South East, of Valero Marketing Ireland Limited says will be "a continued high level of customer service supported by competitive prices that are amongst the best in the market".
"Specifically, customers of J&M Oils will continue to benefit from continuity of service and a competitive market approach that being part of a larger network will bring" Mr. Staples said.