Premium performance guaranteed with A1 Transport
02/10/2019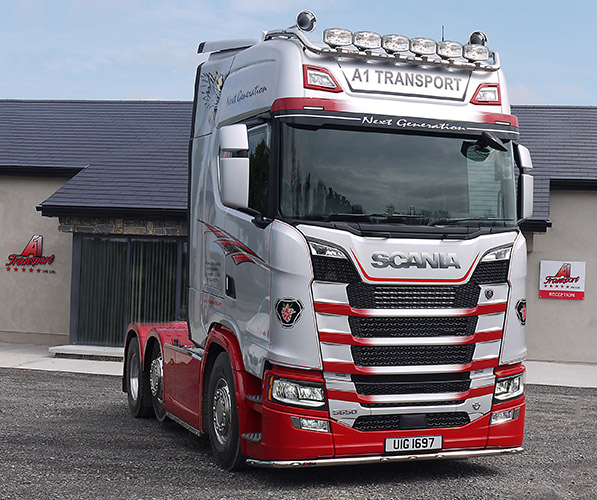 A1 Transport (NI) Ltd is a leading transport company based in Northern Ireland that provides 24 and 48 hour transport solutions across UK and Ireland. They also provide international transport solutions across Europe and recently diversified into Commercial Vehicle Repairs.
Established in Northern Ireland in 2001 with just three lorries by proprietor Anna Sembhi, A1 Transport has grown to become a well-known and trusted company in Ireland and the United Kingdom, with a fully operational fleet of Lorries providing Road & Sea Haulage & Transport Services across Northern Ireland, Republic of Ireland, UK and Europe.
''The company is very different today than when it first started out on the road," Anna outlined. "It has grown substantially in terms of size, employees, premises and customer base. We currently employee a total of 60 people between the Transport and the Commercial Repair business. I very much drive home the importance of team work. I believe that working as a team delivers much more effective results. We have promises to keep, traffic to beat and miles to go before we sleep - together everyone achieves more.''
Anna continued: "We are on the go 18 years and I first got interested in trucks and haulage as a teenager. Later I developed a passion for logistics and Transport, it was then I decided I wanted to get into this business sector.
"It was around then I decided to go and buy a couple of trucks. Not that it was that easy but eventually I did manage to convince the bank to give me some money and I started out with three trucks. I found that I enjoyed logistics and planning which is key in this business and essential to running an efficient service. I currently spend a lot of time planning routes every day."
A1's new head office is located in Derrylin, an ideal and central location to direct their logistical operations. Not only is it close to the borders between Northern Ireland and Republic of Ireland, but it is halfway between the major cities of Belfast and Dublin. This means that they utilise all the major ports and shipping companies that links Britain and Ireland ensuring maximum efficiency and excellent delivery costs and times.
A1 Transport operates a fleet which consists of articulated tractor units and curtain side trailers. Their trailers are custom made high curtain side trailers with 3m loading clearance through the curtain which ensures maximum value for their clients' transport costs. All tractor units are fitted with a GPS navigation tracking and a fleet management system.
The Fermanagh-headquartered company recently commissioned brand new high specification curtain sided trailers to provide increased load efficiency.
They provide secure parking in Derrylin and in Preston, Lancashire, United Kingdom for their fleet guaranteeing ample security for overnight loads.
"The fleet of trucks is predominantly Scania but we have quite few Volvos and a couple of Mercedes as well as one Renault so you could say we have a bit of a selection. All trailers are mega curtain siders which enables us to offer maximum volume to our customers," Anna revealed.
"Our brand is well known and trusted throughout Ireland and the UK and our trucks stand out on the road. We regard our fleet and brand as the biggest sales tool we have.
"We recently took delivery of our first Scania S Series S650 and we have another two S500s arriving at the end of the month. We added 20 new curtain siders to our fleet a couple of months ago with a further 15 on order. These are additions, not replacements, to our fleet as we have expanded the fleet quite considerably in recent times to help us cope with the steady growth in business."
A1 Solutions provides cost effective, UK and Ireland transport and haulage solutions that their clients' can trust. Premium performance is guaranteed.
"Our aim is to be a trusted leader in Ireland and the UK," Anna outlined. "At all times, we strive to provide a quality service that exceeds the expectations of our customers and we receive quite good feedback from our customers in regard. We have built up long standing relationships with our customers. A lot of our new business is as a result of recommendations from our customers. This is down to the service we provide to our existing clients. We are cost effective and reliable in what we do."
Three years ago, AI Transport added another string to its bow with the setting up of a Commercial Vehicle Repairs division. "Initially, the thinking was that the Vehicle Repairs garage would complement A1 Transport and provide a support service," Anna stated. "The garage is fitted out with all the latest equipment and technology. Not long after that we started to get enquiries from outside customers. It is going well and has also experienced steady growth in the last years."
A1 Commercial Repairs provides a wide range of repairs, servicing, maintenance and break down services.
The uncertainty that hangs over the transport sector due to the uncertainty surrounding Brexit is a cause of concern for Anna but she said: 'I have no doubt that if the UK leaves the EU without a deal it will have a major negative impact on our business, this is a huge concern. We have planned to be as prepared as we possibly can for a worst case scenario. We have systems set up that can deal with that eventuality but, of course, we're hoping that scenario doesn't materialise.
"Driver shortage is another worry across the sector. We are very fortunate to have long standing drivers, who are dedicated and passionate about what they do but the lack of young drivers coming into the sector could have a negative effect on expansion plans further down the line. Keeping costs to a minimum is also proving to be something of a challenge in the current climate."
A1 Transport (NI) Ltd prides itself on offering reliable, flexible and cost effective cargo services to a broad range of clients across Northern Ireland and the UK.
Personal service is at the heart of their operations and Anna and her team ensure that every client regardless of international or local delivery destinations and load size is provided with prompt, reliable and friendly service, every time.
Contact A1 Transport today for a free quote on their services or contact them for a call back.
Taken from Irish Trucker & Light Commercials magazine, September 2019, Vol 22 No 5