Your total compliance solutions partner
01/10/2019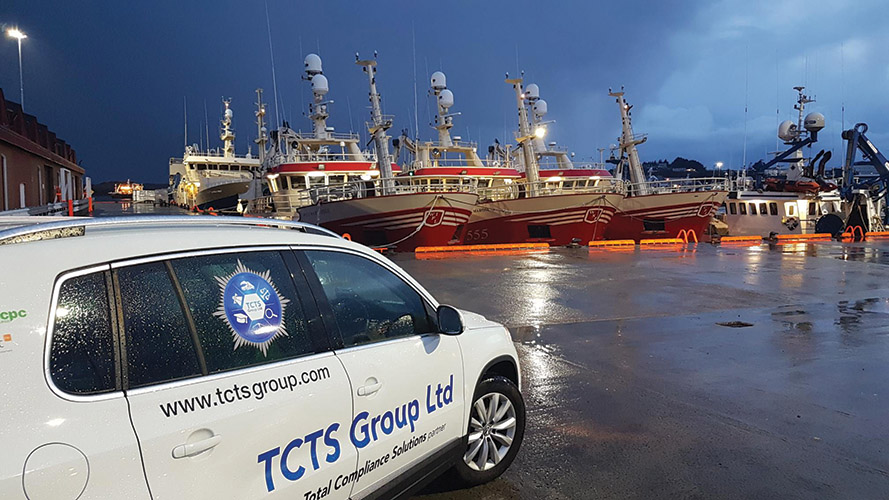 TCTS Group Ltd. is Ireland's premier specialist Transport Compliance, Tachograph Analysis, Training, Vehicle Examination, Health & Safety, Investigation and Road Safety company. Irish Trucker & Light Commercial visited the company's head office in Lisnaskea, County Fermanagh and touched base with founder / Managing Director Stephen Smyth to get an insight.
Covering the island of Ireland, the UK and Europe, TCTS Group Ltd is the leading proactive Transport Compliance, Investigation, Road Safety & Training organisation. By implementing sufficient, measurable and adequate systems of controlling and monitoring all activities of a company, its staff and vehicles, TCTS Group ensures that all the undertakings and conditions of operators licence and Health & Safety are adhered to.
Stephen Smyth established Transport Compliance, Training & Technical Specialists (TCTS) in 2014. At first, he operated six different companies separately but in May 2016, he set up a private limited company and brought all companies together within one group - TCTS Group Ltd.
The six different divisions – which combined provide total compliance solutions – are: Compliance for Road Haulage; Transport Law; Investigation; Compliance for Passenger Transport; Training; and Road Safety.
Although headquartered in County Fermanagh, TCTS Groups' influence has spread across Ireland, the UK and indeed Europe to the point where they also have remote offices in Newry, Derry, Belfast, Dundalk, Kilkenny, Durham, Chesterfield while also recently breaking into Amsterdam and Portugal markets.
The reason for this growth is that TCTS Group is totally unique in that it can provide complete compliance solutions under one roof, helping its customers to retain their operator's licenses and remain in business, allowing hauliers, passenger transport operators and businesses to concentrate on doing what they are good at!
Everything is looked after, from tachograph analysis to tracking systems, fleet inspections, vehicle examination, Health & Safety, investigations, remote tachograph downloading, remote driver defect reporting application, paperless maintenance applications and complete paperless compliance solutions as well as on-site compliance & training support.
Meanwhile, training is provided across a whole range of areas, including Transport training, Driver Training manual handling, abrasive wheels, forklift and material handling, risk assessment, fire training, first aid, vehicle loading, warehouse & logistic staff training, record retention, Health & Safety, accident procedures, operator licence awareness training, Transport Manager CPC and refresher, vehicle / fleet inspection and roadworthiness techniques, working at height / MEWP, workshop safety, drivers hours, driver assessment, etc. In total, TCTS Group runs over 90 different training courses and specialises in the development of company bespoke training.
These training courses are provided by TCTS Training and Development along with the company's newly opened Transport & Logistic Academy, and form part of the client's Continuous Professional Development (CPD), as well as continued adherence to their operator licence with all trainers fully-qualified, experienced and recognised by official awarding bodies.
TCTS Group provide specialist services in all the main legislative requirements that come under the conditions of an operator's licence, i.e. compliance, vehicle inspection, driver checks, vehicle roadworthiness, tachograph analysis, vehicle daily checks, record retention, training, authorisation of vehicles on a licence, convictions notification and operating centres.
"We cover all aspects of the operator's licence from applications to granting to renewal and then protection of the licence, which is our main focus," states Stephen, who has over 20 years' experience in the specialist fields mentioned above, including twelve years' service with both NI & GB Civil Service in the roles of Government Vehicle Examiner, Accident Investigator, Forensic Vehicle Examiner, Transport Enforcement / Roads Policing Officer and Lead Senior Covert Investigator. Within this time, he has also worked as a Lecturer in Automotive Engineering, Transport Law, Operations Management, Vehicle Examination and automotive engineering assessors award.
Throughout this, he became a specialist trainer with both the transport and industrial sectors in areas such as International Transport Management, Tachographs, Forensic Route Tracing, Operators Licence, Driver Training, Emergency first aid, blue light emergency driver training, Forklift, & material handling equipment, manual handling, fire evacuation, etc.
Stephen started his career as an HGV mechanic and then progressed to a Fleet Engineer, Diagnostic Technician and then into Forensic Vehicle Examination and Accident/Collision Investigation. To allow him to finance his career development to become an accident investigator, he drove commercial vehicles & coaches over 10 years pulling a variety of loads such as fridge, flat, curtainside, ADR and low loaders from Ireland to the UK and Europe.
During his time with the Driver & Vehicle Agency, the Fermanagh man noticed that while doing his job of enforcement & investigation which would lead to prosecution, as well as conducting investigations on behalf of the Health & Safety agencies, there was extremely limited, help, support or guidance that was specific or relevant within the marketplace in relation to protecting transport operators, drivers and businesses.
"The plan when I set up TCTS Group was to try to help the transport industry transition from old school practices of "It'll do rightly" then panic when VOSA or RSA came knocking, to "There you go officer everything is in place", he notes. "Once I realised from my own time in enforcement that there was a complete lack of support and education for drivers and operators when it comes to compliance & enforcement, I knew something had to change. It really was a cloak and dagger situation and operators didn't know what was going on with the immense changes to legislation. This coupled with the fact that every man and his dog were all of a sudden a 'Transport Compliance, Tachograph and Transport Law specialist' but had absolutely no experience or background apart from doing a course, however, when dealing with the operator or driver from the enforcement side these 'specialists' all of a sudden disappeared!!" he continued "I wanted to change that and make sure operators, drivers and businesses had the right consistent protection and support going forward, leaving life easier for them."
Thus, Stephen made the decision to go from part-time / freelance trainer and transport consultant and leave his full-time civil service government job to becoming self-employed to fulfil an obvious need in the market place. TCTS Group was born and has become the premier total compliance solutions partner to truck and bus operators in Ireland the UK and now Europe.
As well as road haulage, passenger transport, taxi and commercial business sectors, TCTS Group also provide services to professional sectors such as Solicitors, Barristers and organisations with large fleets of vehicles & staff, police, ambulances, aviation and cruise ships.
With extremely tight legislation governing all vehicles and operators, the compliance services provided by TCTS Group are invaluable. Through the provision of both remote and on-site compliance support, where they go into the client's premises every x months and completely take over all aspects of their compliance to make sure all requirements are being met. It's not unusual for Stephen and his team to take over massive fleets of units, trailers, coaches, vans and response vehicles, saving vast amounts of money for their customers along with the peace of mind.
Direct employment is currently generated from his team of professional staff and, with a recruitment drive ongoing at the time of writing, Stephen projects that staffing figures should rise to an additional 20 plus by the year's end, and this will be complimented by their active Agent Partnership programmes and the confirmation of franchise opportunities being rolled out in the near future.
"One of our aims going forward is to modernise the industry through the use of our electronic applications, remote downloading and paperless solutions and to streamline every part of an operation wherever we can," he concludes. "However, one of the main reasons why we dominate this sector is because the operator needs face-to-face and on-site services and support, which we provide on cycles such as daily, weekly, monthly, bi-monthly, quarterly and yearly. We meet people face to face and maintain personal contact.
"If you go fully into innovation and technology, without providing onsite, face to face services, you won't have that personal touch which leaves the client confident that 'you've got their back".
When we asked Stephen what exactly is it you do, he jumps in passionately to state "we are YOUR TOTAL COMPLIANCE SOLUTIONS partner".
TCTS Group Ltd.,
150 Lisnagole Road,
Lisnaskea,
County Fermanagh,
BT92 OQL.
Tel: 028 677 23930
Mobile: 075 489 36941
Email: [email protected]
Web: www.tctsgroup.com
Taken from Irish Trucker & Light Commercials magazine, September 2019, Vol 22 No 5