Fuelling Northern Ireland since 2002
27/09/2019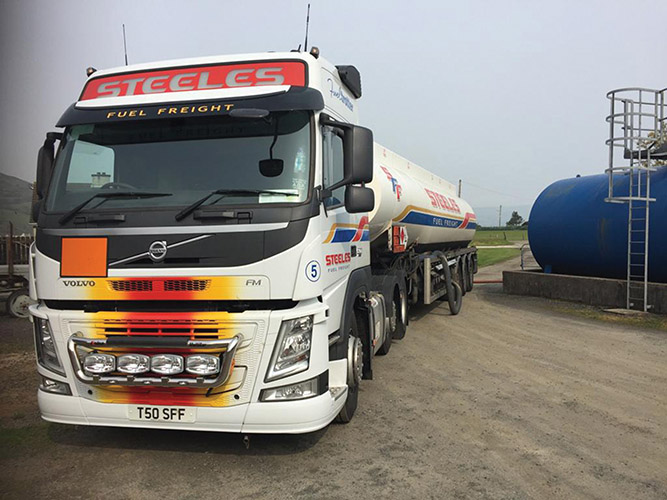 Steele's Fuel Freight Ltd is a leading family-run oil distribution business based in Larne, Co. Antrim.
Initially set up as Steele's Fuel Freight in 2002 by Daniel Steele, it became a limited company 10 years later and continues to go from strength to strength by distributing oil fuel across Ulster. Distributors are the link in the service chain which join oil suppliers with domestic, farming and commercial consumers. Operating to the highest standards of safety and fuel quality, while offering consumers great value-for-money, Steele's Fuel Freight Ltd prides itself on providing an efficient and top-class service. The company also boasts a reputation for honesty and transparency.
Coming up on his 60th birthday, Daniel Steele has held a HGV licence for over 35 years, having been involved in the oil fuel distribution industry for most of that time. He worked as a long-distance driver in England and Europe for five years before joining Conoco Oil where he spent 16 years learning about the oil distribution business, developing his customer service skills and honing his skills as a driver.
Following his redundancy in 2002, he set up Steele's Fuel Freight Ltd where he has established a solid customer-base and shared his expertise as a driver and of the industry with his employees and customers. Daniel's team of drivers have over 100 years' combined experience in the oil distribution business. Each of his five drivers maintain their knowledge and skills by attending annual training. In February 2015, Steele's Fuel Freight Ltd became an SQA approved centre for PDP Driver Practical Assessments.
Daniel, whose wife Maureen is also a director of the company, runs a fleet five Volvo FM Globetrotter lorries and four petroleum tankers. The lorries consist of three FM-460s, a FM-440 and a brand-new FM-500, 6x2 Globetrotter which the company took delivery of from Dennison Commercials in Ballyclare in April. His sons Daniel Jnr and Martin are also involved in the business.
"It's the third Volvo we've bought new from Dennison Commercials and we're very happy with it. Volvo are a great truck and Dennison Commercials provide an outstanding aftersales service. It's vital to have good backup when you're providing a 24/7 service. We can't afford to have any breakdowns," Daniel explains.
Having excellent suppliers is essential to the running of a business such as Steele's Fuel Freight Ltd, and with this in mind, Daniel has always used Charles Hurst Ltd, Belfast and A One Tyres, Dromore, Co Down, for the supply and fitting of wheels and tyres. Both companies provide excellent, reliable service and keep the lorries on the road. Daniel has used Michelin tyres since setting up in business.
The main products Steele's Fuel Freight Ltd deliver are kerosene, gas oil, derv and petrol. The fuels are collected from the Puma Energy, Inter Terminals (formerly NuStar) and Valero terminals in Belfast Port and distributed to domestic and commercial oil suppliers across the province. Kennedy Fuels in Ballymena, Co. Antrim, Safe Fuels in Camlough and Keady, both Co. Armagh, Toner Fuels in Kilrea, Co. Derry, Fuel Lubricants in Enniskillen, Co. Fermanagh, McHugh Fuels in Ederney, Co. Fermanagh, James Fitzpatrick Fuels in Kilcoo, Co. Down, Strangford Fuels in Downpatrick, Co. Down and Milligan Oil in Ardglass, Co. Down, Alan Lyttle, Larne, Co Antrim and Morgan Fuels, Newry, Co Armagh are among the company's regular customers.
"We have built up very strong relationships with our customers down through the years. When they call, we deliver," says Daniel, whose parking facility in Mallusk is within easy reach of Belfast Port.
Since starting the business, Daniel has benefited from expert accountancy advice and guidance from Moore Stephens, Larne branch, who have advised him and guided him from day one as a sole trader and through the transition to a limited company.
As an SQA (Scottish Qualifications Authority) approved centre for PDP Driver Practical Assessments, Steele's Fuel Freight Ltd provides practical assessment for petroleum tanker drivers who must have a PDP (Petroleum Driver Passport).
The PDP scheme sets a benchmark in competency against which all road tanker drivers who are loading, transporting and offloading petroleum fuel products in road tankers in the UK are measured. Competency is assessed using both classroom and practical techniques.
A qualified PDP instructor, Daniel works in conjunction with Gareth Dunn of Dunne Training Solutions in Belfast. Gareth has been involved with the transport industry throughout his life, with his parents establishing their family road haulage company in 1972. Gareth worked in the family business as a transport manager before progressing into training and consultancy within the transport sector. His purpose-built training facility is located on the Ravenhill Road in Belfast.
"I provide the practical assessment, while Gareth provides the classroom training," explains Daniel.
"Oil tanker work is very specialised and that's why those involved in it have to have a PDP. Gaining a PDP isn't easy. Candidates have to put the work in to get one. Health & Safety and contamination are huge issues. There is no margin for error with either," the affable fuel distributor concludes.
Steele's Fuel Freight Ltd
28 Whinfield,
Larne,
BT40 2LD.
Telephone / Fax: 028 2827 5045
Mobile: 0776 647 8233
Email: [email protected]
Web: www.steelesfuelfreightltd.co.uk
Taken from Irish Trucker & Light Commercials magazine, July/August 2019, Vol 22 No 4