Moving with the times
19/09/2019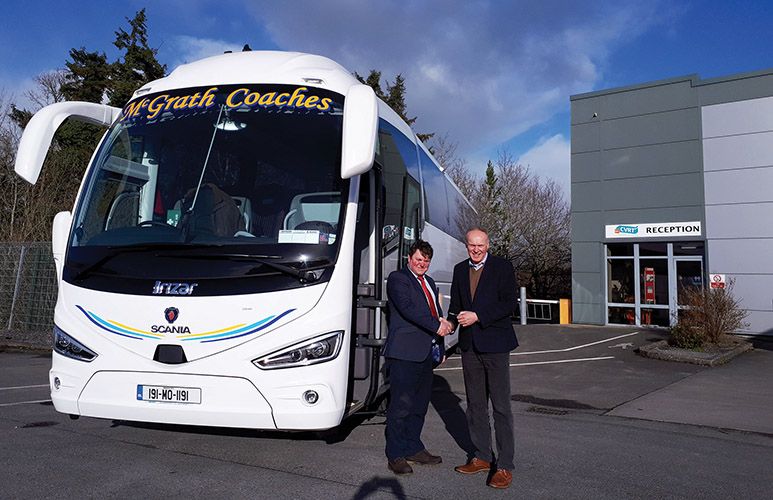 McGrath Coaches is one of the premier coach hire companies in the west of Ireland and one of the reasons for this is their willingness to invest in the business and move with the times.
This family run business has never been one to shy away from investment as company MD Tom McGrath explained to Irish Trucker.
"We have invested heavily over the past five years and the reason for this has been too not only modernise the fleet, but the operation as a whole," said Tom.
"Technology has become a massive part of business now and we know that unless we keep up to date with everything, it makes life that little more difficult to compete.
"In March, we took deliver of a brand new 53-seater Scania Irizar i6s from Westward Scania. The fleet now contains Scania, DAF, Mercedes and Volvo buses. We have 25 vehicles in total which is a large amount in the west of Ireland."
Providing daily scheduled local services, coach tours, school transport, private hire, contract hire and a whole lot more, McGrath Coaches have built their reputation by providing a quality service that is second to none and is currently working through the third generation of the family, while the fourth generation are also being introduced to the business.
"This work is in our blood and it dates back as far as 1923, when my grandfather was issued his first hackney plate so you could say we have a lot of experience in the coach hire industry," joked Tom.
Another string added to the company's bow came in February this year with the launch of Cancer Care West's, the West of Ireland cancer charity, new bus service for Mayo Cancer patients who have to travel to University Hospital Galway to receive treatment for cancer.
The service, commenced in early February, will transport patients to Inis Aoibhinn, Cancer Care West's residential facility on a Monday and home again on the Friday, after their week's treatment.
Every year approximately 250 people from Mayo have to travel to University Hospital Galway to receive Radiotherapy treatment. Radiotherapy treatment is generally 6-8 weeks duration, with one treatment per day. Cancer Care West runs its own 33-bedroom residential service, Inis Aoibhinn, on the grounds of UHG, which provides accommodation, Monday to Friday, for radiotherapy patients who travel long distances from home for their treatment.
The new 29-seater Iveco Turas will be run by McGrath Coaches and Tom is delighted to be involved in such a worthy initiative.
"We were approached about operating the bus service which was financed following a fundraising drive and I had no hesitation in getting involved. We will supply the driver for the bus while we will also look after the maintenance of the vehicle.
"The bus will transport patients to the University Hospital Galway on a Monday and pick them up then on the Friday and take them home."
Safety is a priority for McGrath Coaches and the team are trained to the highest standard possible in line with the latest regulations and legislation in the industry.
"All our drivers go through all the necessary training and safety is paramount. A lot of our investment has had safety in mind with all our vehicles having the latest technology available as well as being well maintained."
Tom is pleased to the direction of the business as he revealed that they offer wide range of services that not only serve the local community but others as well.
"It's mixed work. We do the local daily services , school transport, community transport, daily Route Services for Bus Eireann we do transportation of the Irish students for Colaiste Acla. We also do tours of Ireland working with different tour operators within Ireland as well as the UK and the US."
To ensure total safety and reliability, the fleet is maintained in-house in the family's own workshop. The workshop was built in the mid 1980's to facilitate for the larger coaches and the original workshop is still used as a store dating back to the 1950's. A new yard and parking area were added to facilitate the fleet in 2007, while a further upgrade of the garage is ongoing at the moment to cater for the larger coaches that are now part of the fleet.
Tom McGrath enjoys all aspects of the business from being Operations Manager to Mechanic to driving. "It's a vocation," he notes. "You're involved up to seven days a week during the busy periods and you can't take your eye off the ball. You have to have a lot of patience and understanding and you also have to have an understanding partner because a lot of hours go into it".
Tom feels that the West of Ireland is still unchartered territory, despite the rise of the Wild Atlantic Way as he feels it is an untapped source for not only tourists, but Irish people in general.
"The genesis of the Wild Atlantic Way has certainly opened up the West of Ireland to the rest of the country and even more so to tourism, but a lot more can be done and it needs to be promoted even more."
Traditionally, McGrath Coaches bought quality second-hand coaches but there have been big changes in the transport sector with there being a shortage of quality second-hand vehicles out there so going forward they are purchasing new vehicles.
Regarding the need for regular investment in the fleet, Tom adds: "You have to keep spending. We had had a tendency to hold onto vehicles and keep them for a long time. When we decide to let a vehicle go, we like to know it is going to a good home.
There are many overheads in the industry so every decision has to be made with the utmost caution and Tom admitted that one area that concerns him at the moment is Brexit.
"These are challenging times with the threat of Brexit looming over us. No one really knows what will happen. It is certainly a situation that we are monitoring closely.
"You have to look down the road and adapt as services and technology change. New coaches are a major investment - but bring with it new opportunities of expanding your work into other areas."
McGrath Coaches
Glenamoy,
Ballina,
County Mayo.
Tel: 097 87842/M: 087 231 3029
Email: [email protected]
Taken from Irish Trucker & Light Commercials magazine, July/August 2019, Vol 22 No 4