Southeast CPC pass the test with flying colours
09/09/2019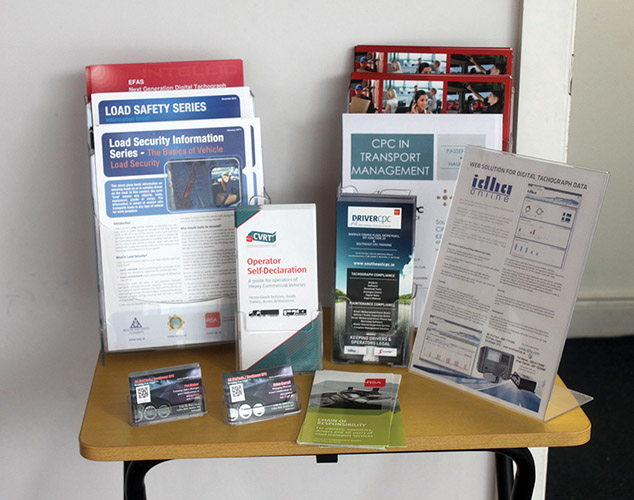 Southeast CPC will celebrate 10 years in business this November and they have many strings to their bow when it comes to road transport training, compliance and engineering. Proprietor Brian Carroll and his 'right hand man' Pat Maher talked Irish Trucker & Light Commercials through the services they provide and the key attributes that the progressive company prides itself on.
"I'm a mechanic by trade," Brian Carroll revealed as he looked back on how Southeast CPC first came into being back in 2009. "From 1989 to 2008, I was working in the motor trade, I started as a mechanic and got involved in commercial vehicle testing and tachographs shortly afterwards. I then moved into commercial vehicle sales. In all I worked for four different companies, both main and independent dealers. I have to say that I learned so much from those employers and I am extremely grateful to each one. Unfortunately, due to the recession, I was let go in 2008 and with very little choices I decided to upskill, move in a different direction and started South East CPC.
"I started out doing Driver CPC Periodic training initially and the other limbs of the business literally grew from there. Everything we do is road transport focused and broken into three different areas, training, compliance and engineering."
The extensive range of services that Southeast CPC provides its clients includes: Driver CPC Periodic Training for new and experienced Bus and Truck drivers, Initial CPC Training including Case Studies preparation for drivers intending to enter the industry and acquire a full Truck or Bus Licence with full CPC status, Driver Daily Walk-Around Check Training, Tachograph and Driver's Hours Training, Commercial Vehicle Roadworthiness Compliance Training for Transport Operators and Managers, Transport Management CPC Training for anyone intending to become a transport manager, Manual Handling and First Aid Training. We were approved last year by The Chartered Institute of Logistics and Transport to deliver the Transport Management CPC at our Operating Base in Cillin Hill, Kilkenny.
In addition to training, they stock Digital Tachograph Download equipment and Tachograph Analysis Software. The company also provides Tachograph Analysis and Reporting for transport operators as well as Training in the area of tachographs compliance. We can set operators up to manage and analyse their own tachograph data or we can do it for them. The system's we can offer are the most user friendly on the market explained Pat. They are also extremely well priced. The customer can also opt out anytime they choose, they aren't restrained with a contract.
Another specialty is Training in Load Securing and the company will also supply Load Securing Equipment - straps, chains etc. This is in light of recent changes in load safety management.
With their office opened Monday to Friday and a half day on Saturday there is always someone there to help or assist clients or potential clients any way they can. "We pride ourselves on the 'personal touch'," explained Caroline Fogarty. This certainly has been beneficial over the years. Southeast CPC Training Centre and their offices are located at Cillin Hill, Dublin Road, Kilkenny with two other registered training centres at Barrack Obama Plaza, Moneygall and The Maldron Hotel, Newlands Cross, Dublin. "We intend having a second Driver CPC training Centre in Kilkenny in the coming weeks," explained Pat Maher. "This is to facilitate night classes."
Brian is assisted in the day-to-day running of the business by Pat Maher and Caroline Fogarty while they employ the services of freelance trainers to help them meet the demands of their training courses. Brian's father, John Joe, also helps out regularly. "To be honest," remarked Brian, "I couldn't manage without Pat and Caroline. They go beyond the call of duty so often and as for my Dad, he has been fantastic.
"Business is quite good from a training perspective due to the fact that the Driver CPC deadline for truck drivers with acquired rights is coming this September," Brian revealed. "We provide training to clients from both the public and private sectors. We work with a good many Local Authorities as well, delivering various types of transport training, including CPC. We are always at hand to give advice on licencing, vehicle specification and transport safety matters for everyone concerned.
"We have approximately 3,500 people attend our courses every year and we also provide Driver CPC Initial training to the ETBS. Approximately 200 people attend those programmes every year."
Brian added: "We have about five specialist trainers who work with us on a job by job basis and they are all very qualified and knowledgeable in their respective fields. We wouldn't be where we are today without their contributions. We also encourage those trainers to keep themselves up to speed with the industry."
Pat Maher oversees the smooth running of the Digital Tachograph Analysis side of the business as well as keeping an eye on the overall running of the business.
"Brian is out on the road most of the time doing a lot of the training and developing new courses so I look after that," Pat explained. "I must say, Caroline shares the burden and we work extremely well together.
"We provide analysis software to the end user which they can subsequently manage themselves and we show them how to do that. Alternatively, we can do the analysis for them and report back to them on a monthly basis. We also supply various types of digital tachograph download equipment."
The personal touch is what separates Southeast CPC from the competition, according to Pat.
"For example we provide lunches with our Driver CPC courses which is something that distinguishes us from others. Plus, we are always available at the end of the phone for enquires and that is something that our clients appreciate."
Meanwhile, Brian revealed that there are ambitious plans for expansion in the pipeline as he looks ahead to what the next decade might hold in store for the ever-burgeoning business.
"We've been in operation for 10 years now and there is a drive to broaden our horizons all the time. We'd be hoping to move into a bigger unit eventually and also branch out further into more bespoke training, training tailored to suit the needs of other industries that are transport related, the motor trade for example, as well as engineering companies and the legal profession. We are in advanced talks with a number of suppliers in order to add Remote Tachograph Downloading as an option for our clients. We'd also hope to add two more Driver CPC training centres in the next 12 months.
"We would like to take this opportunity to thank all of our clients, individuals as well as companies and organisations, suppliers and those that simply helped out, thank you all so much. Your support is truly appreciated."
So, it's very much a case of onwards and upwards for Southeast CPC!
Southeast CPC
Unit 2F, First Floor,
Cillin Hill, Dublin Rd. Kilkenny
Office: 056 7751686
Mobile: 087 9215564
Email: [email protected]
Website: www.southeastcpc.ie
Taken from Irish Trucker & Light Commercials magazine, July/August 2019, Vol 22 No 4