Mercedes-Benz vans go electric
09/09/2019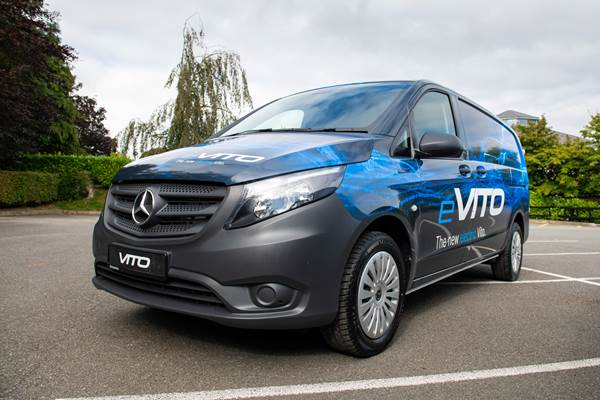 Mercedes-Benz has brought electric drive to its van fleet with the arrival here of their new mid-size eVito van. The first vehicles will enter prospective customer's fleets in the coming weeks.
Described by Mercedes-Benz commercial vehicles sales manager, Fergus Conheady as: "a van designed for a global marketplace and a new generation of operators, the new eVito is especially appealing for the benefits it brings in terms of economy of operation and eco-awareness".
Based on five cornerstones driving the introduction of electric power – a holistic approach to vehicle development, industry expertise, profitability, co-creation and technology transfer – the new eVito, like its eco-drive stable mates, is a van suitable for everyday use that is both economical and meets transport needs in a highly competitive fashion.
With an installed battery capacity of 41.4 kWh, a range of around 150 km, top speed of up to 120 km/h with 85 kW output and up to 300 Nm torque, a payload of around 1000 kg and cargo volume of up to 6m3, the mid-size eVito is perfectly configured for city-centre use by delivery companies, trades people and public transport providers.
In terms of top speed, the eVito can be configured with two options: A maximum speed of 80 km/h in city traffic and urban areas while conserving energy and increasing range, and a higher 120 km/h in circumstances when more speed is needed.
One wheelbase is offered: a long-wheelbase version with a total vehicle length of 5,140 mm, with a maximum payload of 1,015 kg and a maximum gvw of 3,200 kg – and a battery located beneath the vehicle – operators have the unrestricted usability of the entire load space.
The product of a €500m investment programme currently being undertaken by Mercedes-Benz to create vehicles to counteract the problems of increasing urbanisation, growing traffic levels, stricter air purity requirements and demands for sustainable mobility, "the new eVito gives customers, especially large corporate clients, a platform on which to demonstrate their sense of corporate social responsibility," Fergus Conheady said.