99 not out for Halpenny Travel
09/08/2019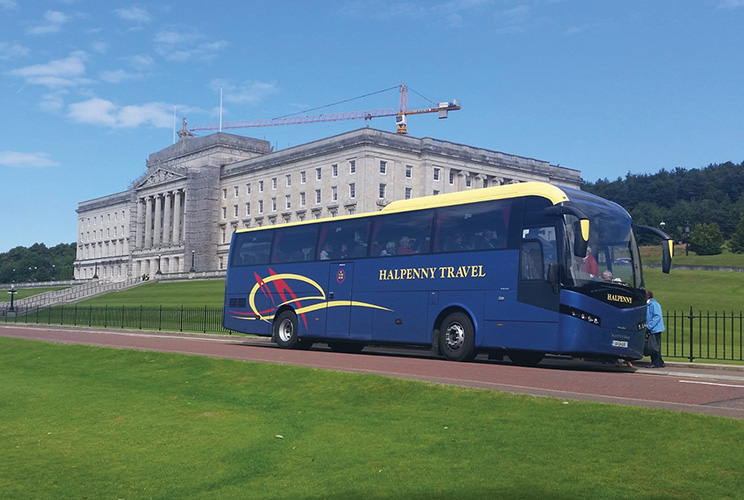 Coming up on 100 years in business, Halpenny Travel in Blackrock, Co. Louth is one of the oldest and most-respected private luxury coach operators in Ireland. At the wheel of the operation is John Halpenny, who was recently elected chairman of the Coach Tourism & Transport Council of Ireland (CTTC).
John is the third generation of the family to run the business which was established in 1920 by his grandfather Joe Halpenny. It was originally known as the 'Violet Bus' Service as Joe also owned The Violet Pub in Blackrock, from which he ran a transport service to and from neighbouring Dundalk. Sadly, The Violet Pub is no more after it was demolished in 2017.
The family business expanded from there and today Halpenny Travel offers a full range of services with a particular emphasis on serving the local community by continuing with the original daily service to Dundalk in addition to a Dundalk town service and a daily Dundalk-Newry service. Halpenny Travel also provides a school transport service and other services on behalf of Bus Eireann and also specialises in corporate tours, school tours, transport to concerts, festivals and sporting events as well as airport transfers.
John's wife Cheryl is also involved in the day-to-day running of the business which employs 20 staff. The staff is a mix of drivers, mechanics, administration and cleaners.
"Cheryl runs the office and I'm the transport manager," John explains.
"We have great people working for us who ensure we're still going strong after 99 years. Our drivers are skilled, reliable and friendly. They go out of their way to make sure passengers are comfortable and relaxed, and get to their destination on time."
Halpenny Travel operates a modern and mixed fleet of 14 vehicles which range from 77-seater double-deckers down to 19-seater mini buses. In between, there are 53, 49 and 29-seaters. The double and single-deckers are used for town services and school bus runs, while the 30 and 19-seaters are used for transporting smaller groups. The 53-seaters are touring and private hire coaches. The Halpenny fleet is dominated by Volvo Bus using a mixture of Jonckheere and Sunsundegui bodywork. There is also one Scania in operation, while the executive-style 19 and 29-seat mini and midi coaches are Mercedes-Benz. At the time of writing, John was due to take delivery of a new Iveco 33-seater.
To say that the fleet is luxurious would be an understatement. The larger coaches boast toilet, WiFi, TV / video, air conditioning and tea / coffee-making facilities along with reclining seats. These coaches are spacious and comfortable with large luggage capacity. Safety features include seat belts and ABS braking systems, while most of the vehicles are wheelchair friendly. Whether travelling on a long or short journey, passengers will arrive at their destination feeling relaxed and stress-free.
All vehicles are regularly maintained and serviced both inhouse and by main dealers Dennison Volvo in Newry and Mercedes-Benz Truck & Van in Mallusk as well as Louth Commercials in Dundalk and Dublin. In addition, many compliance issues such as vehicle records, tachograph monitoring and driver training are overseen by the TCTS Group, which is an independent third party.
A recipient of the Fleet Bus & Coach Operator of the Year (Commuter) Award in 2011, Halpenny Travel has always enjoyed an excellent working relationship with the National Transport Authority (NTA). The family business shows its appreciation for the support it receives from the local community with its sponsorship of the Louth ladies football championships and Dundalk RFC.
"We have been sponsoring the ladies football championships for the past four years and we also do a bit of sponsorship for the rugby club. It's our way of giving something back to the people who use our services day-in, day-out," the affable bus operator says.
In February of this year, John was elected chairman of the CTTC in succession to Joe Donoghue from Galway. John has been a member of the executive for 12 years, during which he served four-year stints as treasurer and vice-chairman.
The CTTC has 72 members nationwide who are engaged in many aspects of tourism, from day tours to extended touring and private hire. Increasingly, members are engaged in scheduled services as the regulations surrounding Ireland's public transport system slowly become liberalised.
CTTC members have been at the cutting edge in the transformation of inter-urban and local public transport by road over the last 30 years. They have always provided safe, efficient and value-for-money transport services. They do this without State subvention and in competition with sub-vented operators. Many members, including Halpenny Travel, provides school transport services both under contract to Bus Eireann and under contract to schools or families.
CTTC members operate in excess of 1,500 coaches and employ over 3,500 people across Ireland. This means their combined fleet is equivalent to that of Dublin Bus and close to double that of Bus Eireann. The CTTC provides representation and leadership not only for its own members, but also for the wider private coach and bus operator community. They welcome new members and seek to become a unifying and strong voice for all family-owned private coach and bus operators in Ireland.
Among the CTTC's objectives are to present members' interests at all appropriate levels to all external bodies on matters relating to the coach tourism and public transport industries, to liaise with Failte Ireland to ensure a code of minimum standards for coach operators, and to ensure the basic viability of its member and to promote their greater profitability.
Asked what the main issues facing the CTTC membership is, John replied: "Coach parking in Dublin is a huge concern at the moment. We don't think it's fair that we should have to pay for parking as we reduce traffic congestion and fuel emissions by providing a service where people can take the bus rather than the car into the city. The NTA know our feelings on this issue. It is also disappointing to see plans to reduce the number of cruise ships coming into Dublin Port. This will hit some of our members' business hard.
"Young driver recruitment and insurance, PSV certification and privatisation are also on our agenda. It costs €3,000 to get the (driving) test and that's putting off a lot of young people. There is also a need to update CPC courses. None of this will happen overnight, but we're hoping that the good relationships which we have with the RSA, Department of Transport, NTA and others will help to speed things up."
John and Cheryl combine running their business with raising a young family. Roll on 2020 when Halpenny Travel, whose catchphrase is 'Together We'll Go Places', will celebrate its centenary.
Halpenny Travel
Blackrock,
Dundalk,
Co. Louth.
Telephone: +353 (0)42 9322023
Email: [email protected]
Taken from Irish Trucker & Light Commercials magazine, May/June 2019, Vol 22 No 3