Dysart Motors wins major award
08/08/2019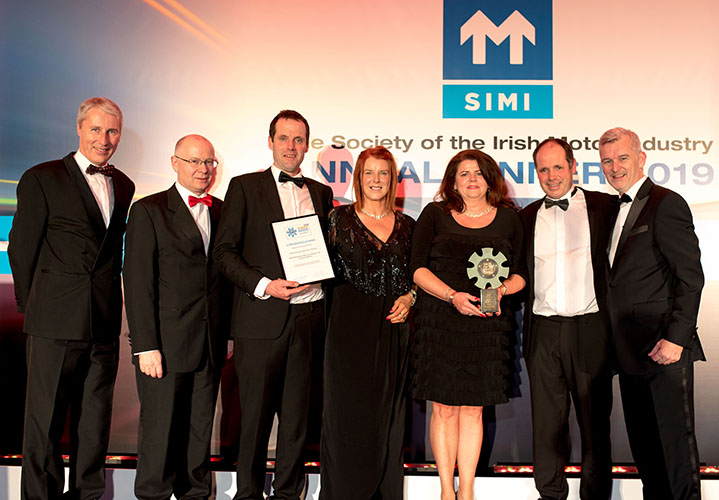 There were jubilant scenes at the 2019 SIMI Irish Motor Industry Awards which were held in the Clayton Hotel, Ballsbridge on Thursday, February 21 last when Dysart Motors (Dysart Breakdown Recovery Repairs Ltd) was named Vehicle Recovery Operator of the Year.
The Portlaoise auto repair and breakdown specialist was one of 10 award recipients at the ceremony which was attended by over 700 motor industry figures and guests. Each of the winners demonstrated an award-winning level of excellence and best practice over the last 12 months, as adjudicated by an independent panel.
"We were delighted," smiles Jimmy Fitzpatrick, who runs Dysart Motors along with his brother Mick and five staff.
"It was brilliant to win such a prestigious award… great recognition for our team and for what we do. We pride ourselves on our exceptional service. Last year, we were runners-up to Hamill's of Mullingar for the Vehicle Recovery Operator of the Year award, so it was nice to be to go a step further. The competition was fierce with Jim Sullivan from Navan and Irish Towing in Dublin also on the shortlist."
Jimmy is full of praise for his five staff, consisting of mechanics, recovery truck drivers and administrative personnel, who he says "contributed massively" to the success.
"I cannot praise them enough. When you provide a 24/7 service like we do, you need good, reliable staff in order for it to succeed. Our staff tick all the boxes in that regard and have also been very loyal to us down the years. Anthony Cox has worked as a mechanic with us for 22 years, while his brother Mikey, who is also a mechanic and truck driver, has been with us for 13 years. Eileen Quigley and Mary Dunphy have worked in the office for 19 and 13 years respectively and Paddy O'Shea has been with us for three years. PJ Prendergast retired last year after 13 years of service.
"In addition to that, Mick (Fitzpatrick) and I have 52 years' combined experience in both roadside assistance and the workshop. It's a real team effort."
Dysart Motors was set up by Jimmy in 1993, with Mick joining him a year later. Since 1995, the brothers have run their award-winning recovery breakdown and garage repair service from the New Road in Portlaoise. The state-of-the-art workshop is located close to both the town centre and the M7 Motorway.
"Our location is one of our biggest selling points," Jimmy explains.
"We're based beside the Portlaoise Retail Park Roundabout, which is within walking distance of the Railway Station and Bus Stop. We're also just off the M7 Motorway and are only a short drive away from the M8 Motorway. Our central location enables us to attend to breakdowns quickly and efficiently. We cover all of Co. Laois as well as parts of Offaly, Kildare and Kilkenny, and our response time is usually less than 45 minutes."
Dysart Motors provides complete roadside assistance 24 hours a day, 365 days a year for all makes and models of vehicles. Upon arrival at a breakdown location, they quickly assess the situation and immediately ensure the safety of the stranded motorist before proceeding with roadside assistance or recovery. They can also provide a taxi or car rental service if required.
Recovery services provided include lockouts, jump starts, wheel change, out of fuel, fuel contamination and RTA. All drivers are fully trained in recovery procedure, holding valid up-to-date CPC certs, Manual Handling certs, Driver's card and IFRS training.
Dysart Motors runs a fleet of four recovery vehicles and two service vans. Up-to-date with DOE certs and winch / spec lift certs, the recovery vehicles consist of three tilt and slides (two Iveco 10-tonnes and one DAF 7.5-tonne) and a Mercedes-Benz spec lift crew cab. The service vans are an Opel Combi and a Citroen Berlingo. The RSA has carried out audits of the fleet with positive results.
In addition, Dysart Motors provides an efficient and friendly office service that includes receiving breakdown calls, liaising with truck drivers, liaising with members to be rescued and completion of all necessary documentation. Customers who are brought back to the breakdown specialist's base are comforted by staff and provided with tea / coffee.
"Most of the breakdown calls we receive can be diagnosed over the phone," Jimmy says.
"If it's a more serious issue, we make it our business to get out to breakdown site as quickly as possible and we look after everything from there. Eileen and Mary in the office deal with the member over the phone and we have found that a woman's voice helps to calm people down and to take the stress out of the situation for them.
"As well as providing a breakdown service, we offer a car and van rental service and a full auto repair / service. The three services complement each other in that you can avail of a rental vehicle in the event of a breakdown or if you're having your vehicle repaired. We can even arrange a rental car while we're on our way to attend to a breakdown. Bring your car into us and we can put it through the same tests as any VTN Test Centre conducts. We have all the latest diagnostic equipment and provide a complete repair service."
Car and van repair / servicing are a key part of the service provided. Dysart Motors can service all makes of vehicles and stocks everything from wipers, bulbs, oil and coolants to engine and fuel system cleaners. Other services includes brakes, steering and suspension repairs, timing belts, clutches and exhausts, vehicle diagnostics, tyre and wheel balancing, battery health check and replacement, petrol emission testing and pre-VTN and CVRT checks.
On the issue of roadside safety, Jimmy has the following message for motorists: "We would encourage road users to always take into consideration the safety of recovery operators and emergency workers at the scene of a breakdown. It's vital to reduce speed when approaching a breakdown.
"Please slow down when you see hazard lights and emergency beacons. And where possible, leave as much space as you can safely allow in order to allow emergency personnel go about their work."
Dysart Motors is recognised by all the major breakdown clubs, including AXA Assist, Allianz Global Assistance, Ireland Assist, RAC, MIS, AA and Crash Services. The company is also a generous sponsor to local organisations and events.
Jimmy concludes by saying: "We receive excellent feedback on a regular basis from our recovered members, showing their appreciation for the outstanding and reassuring service they received in their time of need."
Dysart Motors (Dysart Breakdown Recovery Repairs Ltd)
New Road,
Portlaoise,
Co. Laois.
Telephone: 057 862 0613
Email: [email protected]
Web: www.dysartmotors.com
Taken from Irish Trucker & Light Commercials magazine, May/June 2019, Vol 22 No 3