A special addition to the JD fleet
02/08/2019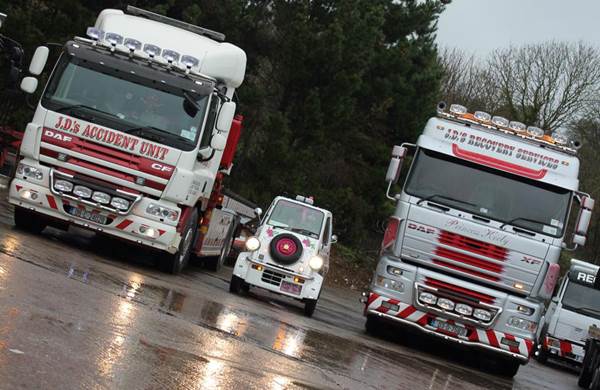 In his capacity as the founder and proprietor of JD's Recovery Ltd., John Dalton has commissioned and purchased a lot of exceptional vehicles down through the years but none have meant as much to the Cork man as the brand-new, customised, one-of-a-kind Renault Master acquired in January, 2019 and presented to his daughter, Keely, upon her joining the family business.
Since establishing one of the largest and most successful recovery operators in the south of Ireland 21 years ago, John Dalton has invested heavily in commercial vehicles and specialist equipment to ensure that JD's Recovery continues to provide the highest standard of service possible.
Every acquisition is carefully considered, the pros and cons of each addition weighed up, the financial viability assessed and analysed before an order is placed. The arrival of a new unit is always a big deal; at no point is one bought on a whim or ordered as an afterthought.
However, as much as every truck and van purchased by John and his wife Rachel over the years has meant a great deal to them, they all pale into significance compared to the new 191-reg Renault Master recovery unit acquired early this year to welcome daughter Keely into the family business.
Purchased from Munster Vehicle Sales and completed with a customised body courtesy of Thomas Small & Sons, this particular vehicle carries massive sentimental value, as John reveals:
"I had the new unit specially built as a surprise for my daughter, Keely, and it's a very special one. It's a 3.5 tonne Renault Master, brand-new off the shelf and fitted with a Thomas Small body. The body they put on it is the first of its kind … they had never done that before. It really is top of the range for this size of truck. It comes with a different style of flyer, skirts and a lot of other extras."
When it comes to his only child, John is never shy in pulling out all the stops… "Keely recently expressed an interest in joining the business after she finishes her Laving Cert, so I made the decision to get the new truck for her.
"I didn't tell her about it; it was a surprise. Her real passion is ponies but she wants to try out working with us to see how it goes and we decided to offer her our full support and start her off on the right foot. We're getting her trained up and we're looking forward to having a new addition to the team as well as a new addition to the fleet."
John is a proud and deeply relieved father to see his daughter making such progress in life, considering that Keely was born 13-and-a-half weeks premature and faced major challenges in early life. "I just want to give her the best chance in life that I possibly can," he continues.
"She did have a difficult start in life and I just thank God that I'm able to do this for her now. When she said it to me that she was interesting to coming on board, I got the idea of the new truck into my head and I couldn't stop. She's up around the yard all the time anyway and is already a big part of it. As this truck is only 3.5 tonne, you can drive it with a car licence, so I'm sure she will be well able for it."
Running a fresh and flexible fleet of ten specialist vehicles, all PAS 43 certified and fitted with the latest recovery equipment, including cranes, lifts and top-booms, JD's Recovery is firmly established as one of the premier vehicle breakdown / recovery operators not just in Cork but in Munster and island-wide.
All vehicle types are catered for, from motorbikes and cars up to vans, heavy commercials and buses / coaches, with a friendly, competitively-priced 24/7 service provided, including long-distance towing if required. Roadside assistance is offered as part of the service, while garage repairs can also be provided by experienced, fully-qualified technicians at the company's own state-of-the-art workshop, where the in-house fleet is also painstakingly checked, serviced and maintained.
JD's Recovery secured the An Garda Siochana contract for Cork city in 2010 and continues to take on landmark new contracts, with the contract for recovery in the Jack Lynch Tunnel inked as recently as October, 2018 – particularly handy as their yard is located literally 90 seconds from the mouth of the tunnel.
John learned the ropes from his father, Frank Dalton, who worked in the industry for over 40 years. Frank started out with Chris O'Mahoney's – now Turners Cross Motors – and has taught John everything he knows. At 86, he still keeps a close eye on the place and comes in every day to make sure everybody is pulling their weight.
General manager John Morrison is another big asset to JD's Recovery, responsible for overseeing the Garda compound and day-to-day operations.
As well as Garda work, John and his trusty team – all of whom are fully IFRS trained - also work regularly for main dealers, haulage companies (including he likes of AOC Commercials and Walkers Truck Rentals) and the private sector, both collecting and delivering in addition to recovery work.
"90% of our work is in and around Cork city," John states. "But, when the phone rings, you don't know where you are going to be going. You have to be ready to go wherever your customer needs you to go, be that Dublin, Donegal or even the UK." This demands a great deal of dedication and discipline. On Christmas day, for example, John handled seven call-outs and ate his dinner in the yard!
"I'm lucky to have great people working alongside me in the business and it wouldn't be possible without them," he adds. "Rachel looks after all the paperwork and the day-to-day running of the business, while John Morrison is the manager who looks after the compound and oversees the Garda work. There are eleven people working here and they all make a massive contribution to the success of the business."
While John Dalton clearly holds all his staff in very high esteem, methinks the newest member of the JD's Recovery crew is his favourite!
JD's Recovery
Unit 2, North Esk Business Park,
Glanmire, County Cork.
Tel: 021 4354252
Mobile: 087 7414327
Fax: 021 4354874
Email: [email protected]
Web: jdrecovery.ie
Taken from Irish Trucker & Light Commercials magazine, May/June 2019, Vol 22 No 3