Beirne express - the best in the west
26/07/2019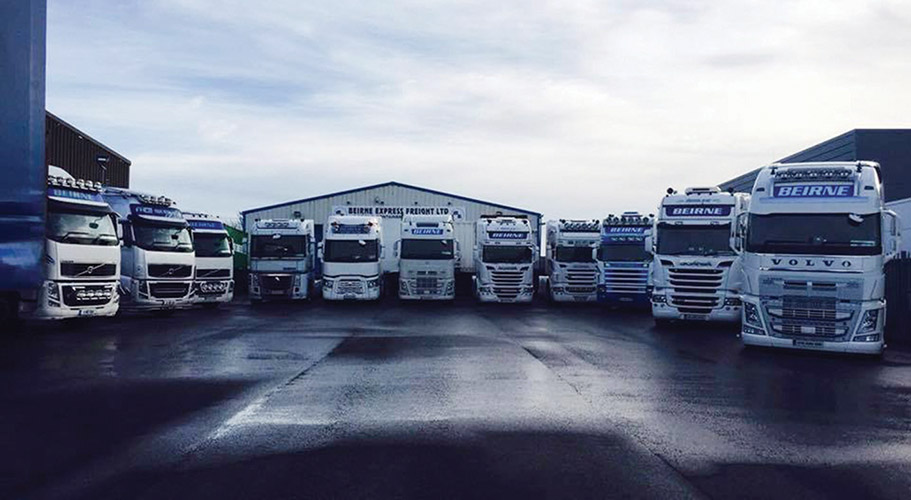 The current calendar year got off to a flying start at Beirne Express Freight as their stunning fleet of trucks was bolstered by the addition of a magnificent new Renault T520 High Cab followed quickly by an equally striking Scania S580. We travelled to their well-appointed Westport, County Mayo HQ and touched base with co-founder Martin Beirne to find out more about this outstanding family-run national and international haulage operation.
Established in 1987 by Martin and Gerardine Beirne, in conjunction with Martin's brothers Kieran and Seamus, Beirne Express Freight has – over the past three decades and more – grown into one of Ireland's most experienced and trusted national and international haulage contractors.
Beirne Express Freight offer unrivalled transport, storage and distribution solutions, working continuously to develop and strengthen relationships with existing customers whilst also seeking to broaden their customer base.
As a longstanding member of the IRHA, fully-certified to ISO 9001:2015 quality management standards,
Beirne Express provides industry-leading services to a large and diverse range of clients. By consistently delivering prompt, dependable and cost-effective solutions, the County Mayo headquartered company benefits from a high volume of steady, repeat business.
Their dedicated fleet of fresh, immaculately-maintained trucks and trailers provide full and part load services to the Irish, UK and continental European markets. The family also ensure that they have the expertise in place to guarantee that even the most delicate consignments reach their destination in a secure, compliant and timely manner.
All drivers and staff are fully trained and there are a range of haulage solutions provided. These include refrigerated and temperature-controlled distribution, dry cargo, pharmaceutical transportation, air freight, hazardous goods, containers and general haulage. The company's modern 16,000 sq ft warehouse perfectly complements the transportation side of the business and enables them to offer complete logistical solutions for all distribution needs. They cater to companies in various different industries including the pharma, packaging, industrial and engineering sectors.
At the heart of every thriving transport operation is a top-class fleet of trucks and trailers operated by experienced and conscientious personnel. Beirne Express Freight excels on both fronts.
Co-founder and Managing Director Martin Beirne still remembers quite vividly collecting the keys to his first two Iveco's some 32 years ago. Today, the Beirne's run eleven trucks in total, including two beautiful 191-reg additions to the already-splendid fleet.
"I traded a 132-Reg Renault Magnum for the new T520," he reveals. "I really like the appearance of the new truck – there's plenty of space in it and you really can't fault Renault. The Magnum gave us no bother whatsoever and I'm confident the new one will be the same. My brother, Kieran, is driving it and he's very happy with its performance.
"It's a very well finished truck with an excellent spec. It was one of the first of its kind to be sold in Ireland and it comes with a whole host of extras. We're extremely happy with the truck and with the service we got from Anthony McGing in Shaws Commercials in Castlebar. We also have a 161 Renault and we have had no cause for complaint."
Regular fleet replenishment ensures that customers receive the best service levels possible at all times. This is an area that Beirne Express Freight take very seriously and, to this end, they added a second new truck in January. "We got a new Scania S580 from Westward Scania in Strokestown. We bought this on a two-year service contract and again we are delighted with both the lorry and the customer service from the garage," says Martin.
"We try to change one or two of the units every year. At the moment, we're running a mixed fleet, with the two Renaults, four Volvos and five Scania's."
Maintaining the full fleet in top condition is absolutely paramount and an in-house workshop ensures that there is very little down time for the vehicles.
"Once a service contract is complete, we like to look after the repairs & maintenance ourselves. Typically, we'll keep a truck for four or five years and then replace it with a new model," Martin continues.
"Each driver is given his own vehicle and he is responsible for looking after it. As well as being maintained in optimal running order, it also has to be kept clean and we would be renowned for our tidy and presentable trucks, which is very important and something we pride ourselves on."
To survive in haulage for more than three decades, a company needs to be flexible and versatile, prepared to move with the market as the economy fluctuates and transportation needs change and evolve. "At the moment we're mostly doing container work – from Dublin to Mayo, Galway and Sligo both Import & Export. We also have regular weekly/fortnightly trips to the continent. Thankfully, we have a good, reliable core of customers and it's all regular dependable work. We've worked for the same companies for more than 20 years. They look after us and we try our best to make sure we look after them with the best possible service."
With a 35 strong assortment of trailers, Beirne Express Freight are ideally placed to offer flexible transportation solutions and also boast the capacity to take on any and every type of logistical work as required. .
The fact that it's a family business means customers are guaranteed a strong personal touch literally around the clock. Martin and his wife, Gerardine, are joined in day-to-day operations by sons Lorcan and Craig as well as Martin's brothers Kieran and Seamus, and nephew Jack. In total, direct employment is generated for a team of 14, all of whom are long-term employees.
"It's a tight-knit team, with a lot of family members and everybody knows what they're doing," Martin concludes. "Seamus, Craig and Jack are doing the continental trips now and Lorcan is taking a bigger role in running the logistical side of the business. Lorcan and Craig will be managing and growing the business in the future but our main priority will be to look after our existing and loyal customers."
Beirne Express Freight,
Lodge Road,
Westport,
County Mayo.
Tel: 098 25999
Fax: 098 26150
Email: [email protected]
Web: www.beirneexpress.ie
Taken from Irish Trucker & Light Commercials magazine, May/June 2019, Vol 22 No 3