Kelly - the big name in towing
15/07/2019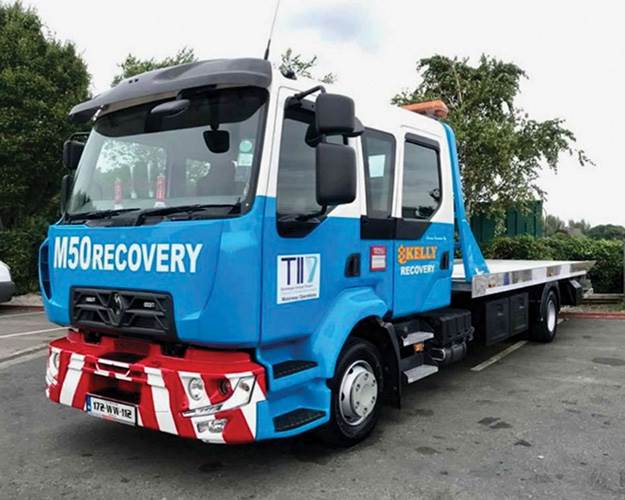 Over the past four decades and more, Kelly Recovery has evolved into Ireland's largest breakdown / recovery operator, with a vast, ever-expanding fleet of specialist recovery vehicles at their disposal, ensuring that every possible job can be handled professionally, safely and with the minimum of fuss. We touched base with director Keith Kelly to get an update on this exceptional, family-run business, which is contracted by M50 Concession Ltd. to provide a 24-hour emergency response
service along the M50 motorway.
With over 40 recovery vehicles on the road – and new units being added on a regular basis to ensure that every conceivable breakdown, clearing up and towing challenge can be met in a swift, safe and efficient manner – Kelly Recovery is firmly established as Ireland's premier recovery operator.
The growth and success of the County Wicklow headquartered company, which holds the contract for dealing with all breakdowns on the M50, has been achieved through painstakingly developing their services in response to demand.
By expanding and diversifying their customised fleet of recovery vehicles, Kelly's can now offer a prompt 24-hour breakdown recovery / towing service tailored to the exact requirements of each specific situation and have the capacity to recovery any vehicle, from a motorbike or car to a coach, bus or truck and trailer.
Kelly Recovery's management staff and operatives are highly-trained, experienced and fully-qualified to consistently offer diverse, specialised services tailored to the requirements of the job at hand.
The stunning, flexible and highly-versatile fleet is at the heart of the operation and this is being refreshed, upgraded, enhanced and expanded all the time as Kelly Recovery offers both the freshest and most-capable collection of recovery vehicles in the country. For example, they added a new 191-reg DAF – with Boniface recovery trident at the start of the year, bestowed with a superb paint job by PC Commercials - while the genesis of their purpose-built, all-terrain specialised winch vehicle (Unimog) – conceived and developed in-house over the winter – ensures that there is literally no breakdown that can't be accessed, coping effortlessly with snow, ice, flooding and all off-road situations.
Director Keith Kelly is pleased to confirm that business is booming, with more than 40 recovery vehicles on the road at present: "Most of our work is in the greater Dublin area but we'll go anywhere in the country and also out to Europe for insurance companies following accidents and thefts. We've been over in Switzerland and France in recent weeks, for example," he notes.
"The fleet ranges from fully-kitted-out service vans for breakdowns using fully-qualified mechanics to a motorbike van, off-road recovery vehicles and heavy recovery vehicles."
Demand for these vehicles is extremely high: "We're taking calls 24 hours a day. It's a mammoth task but our lads are very good and they make it easy for us. We have a big number of long-term staff here and they are excellent workers, who really know what they are doing. We've a team of 37 at the minute – five in the office and 32 drivers."
As well as recovery, Kelly's – through M50 Concession Limited - provide a dedicated 24-hour emergency response service on the M50 motorway as well as parts of the N1. N2, N3, N4 and out as far as Junction 9 on the N7 to ensure a safe travelling environment for motorists, responding swiftly to emergency situations and, where the need arises, towing vehicles to safe locations to reduce traffic congestion.
"Since the M50 contract was extended out those other routes, we have 300km of roadway to look after, clearing all accidents and debris. When you are working on such a large scale and your response has to be as quick as possible, you have to get every bit of the puzzle right. Even something very simple can throw you off and it can all go wrong in the blink of an eye."
Keith is a director in the thriving family business, running the company alongside his wife Laura and father Eamon. The late Liam Kelly set up Kelly Recovery in 1976, with other members of the family on hand to ensure a personal touch and the smooth running of the business
To keep the business performing at the highest level, an inordinate amount of investment – both in terms of money and time – is required. "We invest in the fleet literally every week," Keith continues. "If we see something that we need, we'll go for it and make it work. We bought a 50 tonne / metre DAF truck and low loader in January. It's something we probably never thought we would need but it's amazing what we can do with it. We had a very complex job in early March where a fully-loaded artic snapped away from the tractor unit. We were on the scene within 15 minutes and the trailer was on its side, while the truck travelled another 60 metres down a slope. Within two-and-a-half hours, we were back in our yard with both the truck and trailer. The 50-tonne crane and specialist truck recovery unit with top boom made light work of that job.
"The other new DAF we have on the road is a real head turner and Boniface did a great job with it. We gave it to them in September and they put on a custom-made body with equipment brought in from the States. PC Commercials in Malahide painted it magnificently in just seven days in January, painting the chassis, axles, cab, body and all the equipment – the complete job. This is our new flagship vehicle with all the mod cons, including a personalised reg, stiff legs and outriggers, and the longest and lowest possible underlift, so it can lift a coach with ease. It also comes with an extra top boom with more reach for recovery and two 50-tonne winches.
"All the vehicles are state-of-the-art and we keep them right. The oldest lorry is '08 and that's as clean as the '19 lorries. You have to keep them right because the first thing people do is look at your equipment to see what it looks like. To commit to buying this equipment takes big investment, but you have to do it.
"We have five men out on the road every day in the service vans and we've had them painted in the theme of popular kids' characters for an extra little touch. When you go out and there are families in a car that's broken down, the kids can be crying and upset. It calms them down and cheers them up when they see Super Mario or the Minions. And that makes our job easier.
"The response to those vans has been overwhelming. It relaxes parents and put everybody at ease. If we can't get the car back on the road there and then, they are crew cabs and we can bring everybody back safely. We try to do our best to make the experience good for everybody because even a puncture or flat battery can be stressful and will be remembered by those affected so we might as well make it as positive an experience as possible.
"Myself and Eamon designed and built the new off-road recovery vehicle when the snow hit. It can go through the snow and get people back out of Sally's Gap or wherever they are stuck. It's been a big success and we've had calls from some English companies asking us to build similar vehicles for them. That vehicle is going to be a huge asset to us as it will sail through six-foot-plus of water. It's old but it's very good."
Meanwhile, the future of e-car recovery is here. A first of its kind in Ireland, Kelly Recovery also operate a totally bespoke electric vehicle (EV) recharge roadside rescue vehicle to provide solutions to recharge electric vehicles from a portable system.
Eamon Kelly had noticed a significant increase in call-outs to recover e-cars. His only previous solution was to tow the vehicles away on a flatbed truck – a result not sustainable from either a driver or manufacturer perspective. Now, thanks to this new EV roadside recharge system, any Kelly Roadside Assistance e-cars with flat batteries can simply plug their vehicle into the rescue vehicle, and within 15 minutes, have enough charge to get them on the road again to the next recharge station.
This new recovery vehicle is multi-purpose and is also equipped for other roadside breakdowns, including puncture changes, traditional jump-starts, and other small roadside repairs.
Clearly, a lot of thought goes into make-up of the fleet. "We have something here to do every job," Keith confirms. "Whatever calls come in, we have the equipment to get the job done and we have built that up over the years. Even in the service vans, we have so much equipment, that no truck could carry, and the inside lockers of the new DAF have been redesigned four times to maximise space.
"We've invested in the new VDZ lifting and recovery system from Holland, a system which comes with 20 different pieces and which has to be used to lift the new Scania S series. You have to use this system on all new Scanias and we needed it because we also work for Scania directly. We bought it in September and were the first operator in Ireland to have it."
It follows that the best equipment leads to the best results and response times. "When I go to a job on the M50, or anywhere else, I have to have the equipment to get that job cleared as effectively and quickly as possible because one lane closed for an extra five minutes could cause a one-hour tailback," Keith concludes.
"Obviously it's intense and stressful work but, once you know nobody is hurt, it's an enjoyable challenge to go out there and sort things out. Obviously, this isn't a job for everybody. It's demanding and you have to be able to deal with pressure on a daily basis and you could go three days in a row without your dinner.
"But we have years of experience and we know what we're doing at this stage. All the vehicles are tracked and the information is in the M50 Concession system so that they know where they are at any given time. We stand the vehicles in certain strategic places along the motorway to minimise our response times."
No stone left unturned to ensure the best possible response.
Taken from Irish Trucker & Light Commercials magazine, May/June 2019, Vol 22 No 3