Leading the way with Live View Safety Technology
12/07/2019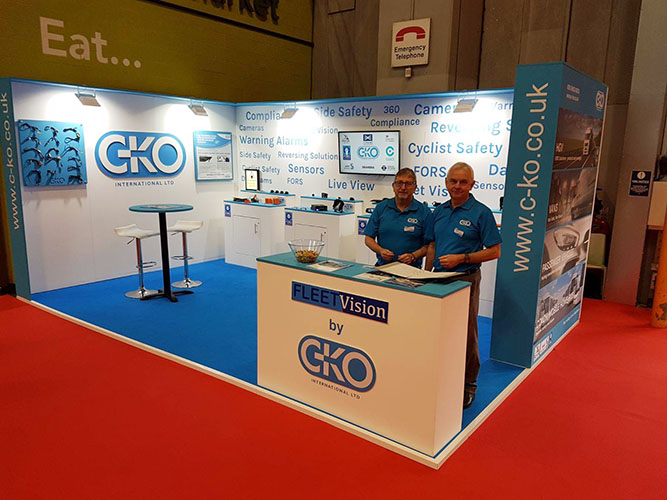 Leading technology and solutions supplier C-KO launched a full range of safety, compliance and efficiency systems for some of the newest truck and van models on the road, at this year's CV Show trade exhibition.
Irish owned with over 30 years unbroken service to the motor industry. The Middlesex-based company promoted its latest offerings for Digital Video Recording services, 1080p AHD Cameras and connectivity for articulated and trailers at the Commerical Vehicle Show, Birmingham NEC.
Sales Director Nick Turner says: "Recent times have seen cameras go from being seen as something of a luxury by many operators, to an absolute necessity for anyone trying to meet the highest safety standards.
"Leading the way with technology, our 4G capable DVR system gives users quick access to video and data via our PC software, Android and iOS. Contracts are competitively priced and available either UK only or Roaming on a monthly or annual basis. The latest system automates event alerts via email that can be customised to needs of the fleet operator. Examples of alerts are geo-fenced boundary braking & entering and camera or HDD failure, incident buttons can also be equipped for drivers to alert via email and upload footage to the secure server."
"Our range of products offers solutions to improve vision for drivers of anything from a family car to the heaviest trucks on our roads. Crucially they are simple to fit, reliable and cost-effective too, given that they can so easily protect against spurious insurance claims or – God forbid – more serious accidents."
Managing Director & Owner Eddie Collins gives his views: "4G is the latest offering, 5G is the future, C-KO are developing ways to integrate the faster, lower latency technology into their DVRs. 5G will give faster download speeds of video footage and data, with the faster speed more information can be sent and as such they are looking at integrating more with the vehicle systems. Based on how customisable the systems can be the wealth of information is fine tuned to give fleet operators only the most useful information for their needs."
C-KO meet increasing demands faced by operators of commercial vehicles plant and equipment – all of which easily exceed the minimum standards stipulated by bodies including TfL, Crossrail and the FORS, and are backed by a comprehensive warranty and technical support programme. C-KO are a total solution provider offering installation, training, maintenance and aftercare service.
Last month C-KO were able to assist in the defeat of a spurious claim from a coach company and its thirty passengers against a lorry driver who has C-KO DVR equipment fitted. A collision occurred between the coach and lorry where blame was being fully aimed at the lorry driver due to the amount of witnesses on the coach, who suffered from whiplash. As a result of the cameras and DVRs installed C-KO's technical team were able to retrieve the footage and prove it was the coach driver who was driving negligently. The DVR footage saved the driver and his company from the costs involved with a potential claim of thousands of pounds.
Jim Kelly – HGV Security – "One of the benefits of C-KO is the technical support and backup they give to drivers and companies when faced against potential claims"