Two in a row for ESB Networks
10/07/2019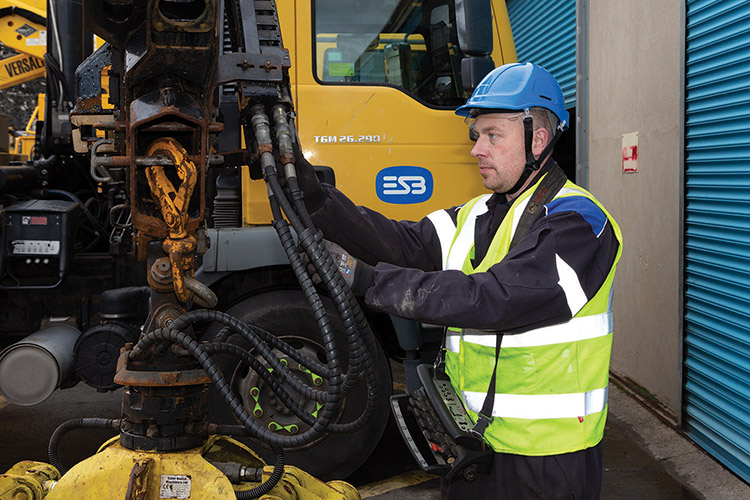 ESB Networks may be known for installing and maintaining the electricity supply to our homes and businesses, but the utility also offers many job opportunities. There are different sections to ESB Networks and one of these areas is the Fleet & Equipment Division, which for the second year running claimed the prestigious 'Technician of the Year' award at the annual Fleet Transport Awards Gala Banquet which was held at the Citywest Hotel, Dublin back in September.
Last year, Martin Convey from the Portlaoise Depot was the outright winner, which was a massive honour for the Fleet & Equipment Division. However, to win the award for a second consecutive time is a massive achievement as this year the Tralee Depot was represented by Mícheál Nagle who was nominated by ESB Networks to represent them at the 2018 awards. "It was great to be nominated in the first place, I wasn't sure what to expect. I went through the initial process of being interviewed and talking about the technical side of the work we do in ESB Networks," said Mícheál."I was then placed on the shortlist of four for the awards ceremony in City West and I was delighted when I heard my name called out. It is a great recognition of the work that we do here and indeed everyone here in Tralee played their part in this win."
Mícheál has been with ESB Networks for four years, based in the Tralee Fleet & Equipment Depot. The team of four look after 110 vehicles plus equipment of various sorts ensuring that all are kept in pristine condition. "We are very busy preparing vehicles for the CVRT tests at the moment, while all equipment is serviced on a regular basis. Health and Safety plays a massive part of our daily work, so everything has to be kept in order."
Garage Lead-Mechanic (Foreman) David Dillane admitted that Mícheál winning this award was a huge honour for the Tralee Depot and gives recognition to the work they are doing. "Everything that is done here is done properly. We start every day filling out GWSP (Garage Workshop Safety Plans) which set out our day's work, ensuring that daily safety checks are carried out and any issues recorded," said David.
"The standards of safety and work practices are very high and it is up to us to maintain them when it comes to the work that we all do. The fleet and equipment is upgraded on an on-going basis."David added that between himself, Mícheál, driver John Kelly and apprentice Tom Stack, the Depot is run very efficiently. "John maintains the premises and keeps it in pristine condition, while Tom is a very good Apprentice who was nominated for the Apprentice of the Year award. We work well as a team and that makes the job so much easier."
ESB Networks Fleet & Equipment team have an important role to play in operating their fleet and equipment in line with international standards and legislation. Fleet & Equipment Supervisor Martin Lynch who was also present at the awards night commented that there is a great emphasis placed on training technicians to the standards. "There are systems set in place that we must adhere too," stated Martin who oversees the Tralee and Cork garages. "I would split my time between the two depots. Tralee has about 110 vehicles, while Cork would have approximately twice that number of vehicles. "We are ISO 18001 certified and place a great deal of focus on occupational health and safety. There have been in-house training courses development, so all our staff are on the same wavelength and know what we expect of them."
Innovation is the key for the Fleet and Equipment Division and they are always looking at ways of improving the safety of their employees. So much so, that they have developed an overhead fall arrest system in the garages that protects the employees while working at height from the back of trucks. "We have had auditors take a look at the system and they have been impressed with it. Basically it is a harness worn by the mechanic which is attached to the overhead fall arrest system that ensures the employees' safety."We are always looking to improve on the small things and thankfully we have had no major accidents down through the years."
Now, the question on everyone's lips is can ESB Networks Fleet and Equipment Division make it three wins in a row in 2019. "We would encourage the technicians to enter. Not only is it a great experience for them, it is an honour for us to see them go so far. We only started entering two years ago, and we have won it both years, so it could be very hard to make it three in a row. We have six third year apprentices at different depots around the country and we are always looking to develop our employees and give them the opportunities to be the best they can be."
About ESB Networks
ESB Networks employs over 3,200 people, from specialist network technicians on the front line connecting, maintaining and repairing the electricity system for Ireland's homes and businesses, to engineers, data scientists and IT professionals utilising emerging technologies to create one of the world's smartest and most resilient energy networks.
For more information visit: www.esbnetworks.ie or follow us on www.twitter.com/esbnetworks and www.facebook.com/esbnetworks
ESB Networks is part of ESB. As a strong, diversified, vertically integrated utility, ESB operates right across the electricity market: from generation, through transmission and distribution to supply. In addition, ESB extracts further value at certain points along this chain: supplying gas, using our networks to carry fibre for telecommunications, developing electric vehicle public charging infrastructure and more.
Taken from Irish Trucker & Light Commercials magazine, March/April 2019, Vol 22 No 2