Recovery in adversity
03/07/2019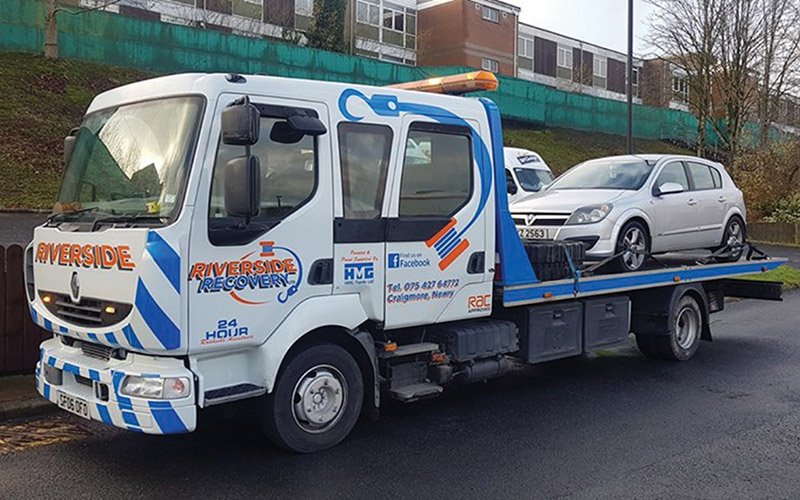 There are many trials and tribulations to deal with when running your own business with the main aim of any owner being to provide a quality service to their customers.
When setting up Riverside Recovery Ltd, Mark Cunningham had this in mind and he knew that it was going to take a lot of hard work to make the company a success.
However, one attribute that Mark had in abundance when starting the business was experience as he had worked in the recovery industry for a number of years. This along with the fact that it was a family run business with all five people working their being part of the Cunningham clan.
Riverside Recovery LTD offers roadside assistance and recovery services of the highest standards. Whether the client needs urgent repairs or want to transport their vehicle anywhere in Ireland, they are just a phone call away.
Mark admitted that it was difficult to get the company up and running, but when they did, they suffered a major setback that could have ended the business.
"In an industry like this, you have to develop relationships and earn the trust of others, which is not easy to do unless they give you that chance, but we persevered and the work started coming in then," said Mark.
"We offer a 24/7 service and lift anything from a motorbike to a light commercial and everything in between, we wouldn't turn down any work.
"We suffered a major setback in April last year when there was an arson attack on the premises and three of our trucks were burnt out."
Mark admitted that it looked as if this would be the end of the business, but he couldn't have foreseen what was about to happen in the aftermath of the attack.
"We were overwhelmed by the support that we got from businesses in the industry. We had companies offer us the lend of recovery trucks. People that we wouldn't have known personally offered us help and we even had a recovery company in Germany ring us up and ask us what would be the best way to ship a truck over to us as they wanted to help out after reading about what happened on social media.
"There is no doubt that we will be forever grateful for the support of everyone that helped us out and to be honest I'm not sure if we would have made it through without their support. Thankfully, we are back fully operational now and determined to push on. Business is going very well and hopefully we can build on that.
Based just off the A1 in Newry, Riverside Recovery Ltd are in a prime location to service the needs of their ever increasing customer base which sees them cover the 32 counties.
"The 32 counties are covered and if there were a few more counties, we would cover them as well," joked Mark. No matter where our customers are broke down, we will get to them."
Operating a fleet of five recovery trucks, Mark is looking to expand the business and he revealed that they are in the process of doing so.
"We actually scaled back on the fleet as we wanted to free up some funding for recovery trucks that can transport heavy goods vehicles and that is something we are aiming to do in the New Year.
"Another area that we have diversified into is car transporting and we have a truck on the road going from here to the mainland U.K on a weekly basis."
As an RAC and PAS43 approved recovery specialist, this family run business has aligned themselves with many insurance companies in the north and south, while Mark would love to expand their list of partnerships.
Mark revealed that they are in partnership with Dublin based WeTowU24/7 where they work with each other on certain jobs.
"It is a partnership that works well, if we have a job that we can't get too down south, then they will do it for us and vice versa if there is a job up here."
Riverside Recovery Ltd are just a phone call away and their professional and approachable team members will provide the customer with a suitable solution.
"We offer a prompt breakdown recovery service throughout Northern Ireland and the surrounding areas. Our specialist team will be there to assist you as soon as possible. We will collect your vehicle and transport it safely to the desired destination. We also have a wheelchair accessible minibus that allows us to transport disabled customers. No matter what time of the day, if you need a recovery service, we are always on hand to help."
Mark concluded by stating they approach every job in a professional manner and everything they do is in line with the legislation and regulations in place to guide the industry.
"The recovery trucks are basically emergency response units as they are kitted out with safety kits and the tools necessary to deal with an emergency. We are working hard to make the business a success and we feel we are heading in the right direction now."
Riverside Recovery LTD
Craigmore Mill Industrial Estate,
Craigmore road,
Bessbrook,
Newry, BT35 6JR
Mobile: 07542 764 772
Email: [email protected]
Taken from Irish Trucker & Light Commercials magazine, March/April 2019, Vol 22 No 2