Hire 45: the future of rental trailers
28/06/2019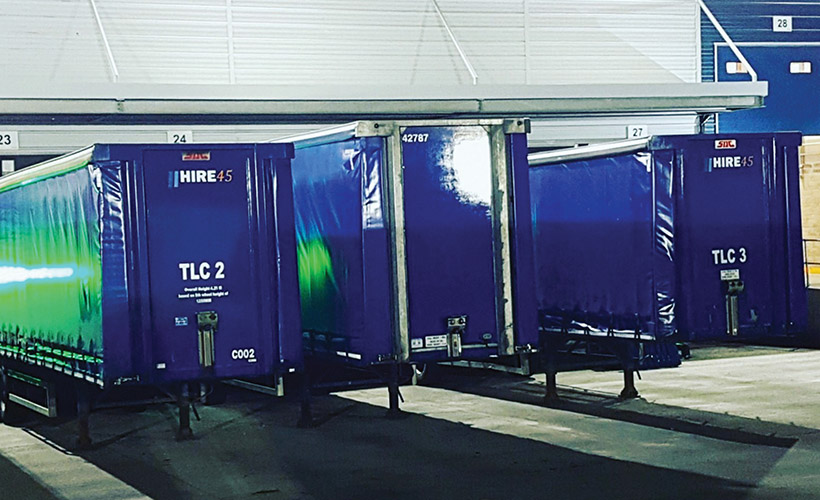 Starting up any form of business can be a daunting task even for those who have experience in this area, but for some it is a natural progression to take.
There are rare cases of those who start up businesses at a very young age and make a huge success of this. These are even rarer incidents in a sector like the haulage industry where it can take years to establish yourself on your own.
However, for this month's edition of Irish Trucker, we are delighted to profile a young man who has started to make waves in the trailer rental sector.
Adam Johnston was 18-years-old when he convinced the bank to give him a loan to buy a trailer so that he could rent it out. Five years later and Adam has fifteen trailers for rental including curtainsiders, box and skeletal.
Hire 45 is a major player in the trailer rental market with Primeline Logistics, Hendrick Transport and Coleman Transport amongst their customers.
"I always had a fascination with trailers," said Adam who still works his day as a mechanic with Renault. "I wanted to buy a trailer and I convinced my brother who has a haulage company to rent the trailer off me.
"That's how I got started. The trailers are stored at his yard in Ashbourne, Co Meath and I operate from out of there."
Adam admits that trailers take great care and attention as there is so much that can go wrong with them, which is why he tries to buy and upgrade as regular as possible.
"There is a lot that can go wrong with trailers, so I keep them well serviced. I do upgrade as often as I can. The newest trailer I would have would be 2014."
The now 23-year-old revealed that he shops around for the best deal when it comes to purchasing trailers and this often brings him over to the U.K.
"I would use mainly Montracon and SDC trailers. They are the most reliable in the market. From dealing in the U.K, the trailers seemed to be better minded over there and this is mainly down to a better road network then here. I've also bought trailers here and I have found people very good to deal with."
Adam added that one of the aims for 2019 was to put a business plan in place and take the business to the next level.
"Of course, I would love to be full time at this, but I just can't do that yet. I have to sit down in the New Year and put a business plan in place. I'm not looking too far ahead at the moment as you never know what can happen in this industry, but things are going well at present."
Adam is wise enough to know that despite being five years in business, he still has plenty to learn about the industry as a whole.
"Every day is a learning curve for me. I have had slow but steady growth over the last few years and the aim is to increase that growth and go to the next level."
Reputation is key to the success of any business and this is something that Adam is well aware of as he ensures that his trailers are kept in pristine condition.
"The trailers have to be kept in good working order. That is an essential part of the business. That is something which I have always worked on.
"I'm lucky that the customers I have take good care of the trailers, but they are always checked over when they come back into the yard."
When it comes to leasing the trailers, Adam revealed that whatever period of time suits the customer is catered for by him.
"Whether it be a day, week, month or year, I don't mind, the lease can be for any period. You have to be adaptable in this industry and cater for the customers needs."
From his depot in Ashbourne, Adam is in a prime location close to the M50 and M1 to ensure that his customers have little difficulty in getting their trailers when they need it.
"Most of my customers are in a few miles radius of here, which suits everyone. The aim going forward is to try and build the customer base which obviously includes increasing the fleet, but I won't be making any mad decision and getting bigger quicker than I should be doing."
Hire 45
Ashbourne
Co Meath
Tel: 087-6960967
Taken from Irish Trucker & Light Commercials magazine, March/April 2019, Vol 22 No 2