The plant hire specialists
21/06/2019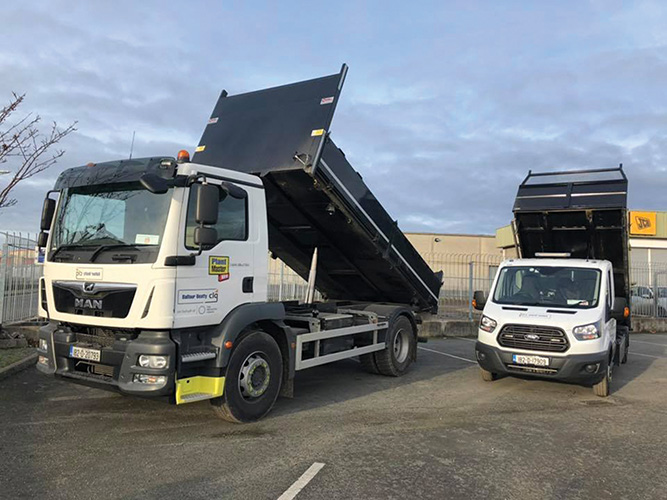 Established in March 2006, Plantmaster Hire Ltd is a leading supplier of self-drive construction machinery and equipment. Managing director Ronan Quinn explains more.
Based in John F Kennedy Drive just off Dublin's Naas Road, Plantmaster Hire offers a wide range of plant hire options, including tipper trucks, grab lorries, ready-mix concrete lorries, excavators, dumpers, telehandlers, site compressors, compacting equipment, traffic management equipment, crowd control barriers, access equipment as well as scissor and boom lifts to suit its clients' needs.
The company has over 40 construction vehicles on contract hire, including 11 new MAN trucks it took delivery of from MAN Truck & Bus Ireland in 2018. The new MANs are all on contract hire to Balfour Beatty, a multinational infrastructure group with a presence in Ireland since 2004 and with capabilities in construction services, support services and infrastructure investment.
"I spoke to Michael Hynes and Malcolm McKinstry of MAN Truck & Bus when we were awarded the contract," Ronan recalls.
"We needed trucks to match Balfour Beatty's exact specifications and Michael and Malcolm duly obliged. We ordered five MAN TGS 35 400s and six MAN TGM 18 tonners. The TGSs are all grab lorries, while four of the TGMs are three-way tippers and the other two are concrete bottles. Palfinger in Tullamore fitted the grabs and 10 of the 11 bodies were built by Griffith J Roberts in Ballycoolin. The other body was made by Gleeson Truck Bodies near Thurles.
"All of the new arrivals have since been put to work in construction by Balfour Beatty who are very happy with them."
Truck hire accounts for about 40% of Plantmaster Hire's business, with machinery and equipment hire making up the rest. The company prides itself on its modern fleet along with its professional, reliable, friendly and value-for-money service.
"We have forged an excellent relationship with our customers by ensuring that their downtime is kept to a minimum or eliminated completely," Ronan explains.
"Our objective is to keep the wheels of their business turning at all times and we achieve that by supplying them with top-quality plant and providing a 24-hour back-up service. We try to carry out maintenance after hours or at a time that is convenient to them. We can also supply replacement vehicles while the vehicle they have on hire from us is undergoing its annual CVRT test. In addition, our association with MAN, Hino and Advance Tyres gives us nationwide coverage in terms of their back-up service.
"We're constantly investing in and upgrading our fleet. Last year saw us undertake our biggest investment programme to date. The oldest truck in our fleet is 07-registered and it's still in great nick owing to the fact that it was hardly used during the downturn."
Plantmaster hires out everything from panel vans, 3.5 and 7.5 tonne tipper trucks to 18 tonne tippers, 18 tonne grab lorries, 4.5m and 7.5m concrete bottles, 8-wheel tipper and grab trucks. "We have something for everyone," Ronan adds.
The company has built up an impressive client-base which includes the likes of GSJ Maintenance Ltd, KN Networks, Richard Nolan Civil Engineering, Rossmore Developments Ltd, Citius Ltd, SAP Landscapes and Fingal County Council.
Ronan had worked as a plant and transport manager with CLG Builders, which was then one of the country's largest engineering companies, before deciding to go out on his own in 2006. Originally based in the Red Cow Business Park, Plantmaster Hire relocated to the former ECI building in John F Kennedy Drive in November 2014.
"We initially rented before buying it out last year. Everyone in the area knows the ECI building. It's right behind Harris Hino and is easy to access from all parts of the country, being close to the M7 and M50 motorways."
The affable managing director is full of praise for his 15-strong staff, which included his father PJ and is made up of mechanics, apprentice mechanics, sales and administration personnel. "It's real team effort," he points out.
"We came through the recession relatively unscathed and are looking to the future with renewed optimism."
Ronan is also well-known in GAA circles, having played at full back on the Kildare football team that won two Leinster championships in 1998 and 2000 under the legendary Kerry manager Mick O'Dwyer. He missed out on a starting place in the 1998 All-Ireland final defeat to Galway due to injury. As well as winning two Leinster senior medals with the Lilywhites, Ronan was twice nominated for an All-Star award, won one Leinster U21 medal and played county minor for a remarkable four years.
Since hanging up his boots, the Leixlip clubman has built a formidable reputation for himself in management, guiding Confey to a Kildare intermediate title in 2011 before narrowly losing the Leinster final that year. He later led Confey to a first-ever Kildare Division 1 league final appearance against Moorefield and served as a county selector under manager Jason Ryan in 2014.
Plantmaster Hire Ltd
John F Kennedy Drive,
Naas Road,
Dublin 12.
Telephone: +353 (0)1 4508188
Taken from Irish Trucker & Light Commercials magazine, March/April 2019, Vol 22 No 2