Full of the Pipe welcomes the hottest act in Irish County Music
07/06/2019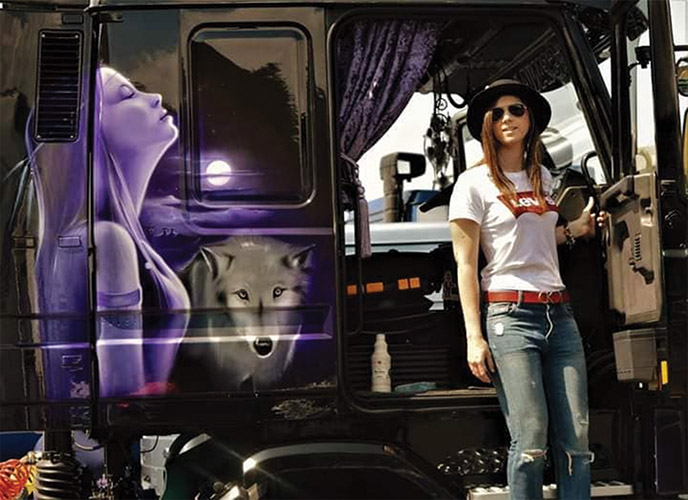 On April 29th, Sina Theil was presented with the prestigious "Hottest Act in Irish Country Music 2019" award at the high-profile Hot Country TV awards, so it's quite a coup for the organisers of Full of the Pipe to have booked this outstanding artist to perform at the tenth-anniversary edition of Ireland's premier truck show!
By bagging the coveted "Hottest Act in Irish Country Music 2019" accolade earlier this year, up-and-coming performer Sina Theil – who is on a mission to put Rock into Irish Country – is following in the footsteps of established Ireland-based big name country music stars such as Nathan Carter and Derek Ryan.
Chart-topping Sina is sure to be the star attraction entertainment-wise at this year's Full of the Pipe Truck Show and, true to form, the industrious singer has even gone to the lengths of recording a track specifically to coincide with her appearance in Punchestown in June – 'East Bound and Down', which was recorded at the Golden Egg Studios, Portlaoise with Brian O'Mahoney.
Indeed, the choice of song ties in very nicely with the 'Smokey and the Bandit' theme which is a reoccurring one at FOTP 2019!
Award-winning artist Sina Theil is certainly not your typical Irish Country music artist, her sound being a unique Country Rock / Americana / Alt-Country hybrid reminiscent of popular acts like Shania Twain, Sheryl Crow, Gretchen Wilson, but very much with her own identity and sound.
Originally from Germany, Sina Theil started playing piano and writing songs at the age of seven. Picking up the guitar at 18, she has since flourished into an accomplished recording artist.
Sina left Germany for Spain, where she played with a local Spanish band and recorded her first demos before finally arriving in Dublin. Here, she paved her way in the Irish music scene and became a student at the prestigious Music College BIMM.
Funding her musical education through busking on the streets of Dublin, she gained invaluable experience and developed her performance skills as the lead singer of a rock group.
In 2017, Sina was signed to Downda Road Productions, at which point she decided to pursue her music career full time. Since then, she has scored nine No.1 singles plus six other top three tracks - topping all this off with her debut album, 'Under Cover', charting at No. 1 in the Irish Country Download Charts and No. 5 in the Overall Irish Download Album Charts. This album encapsulates a collection of songs that have accompanied her and manager Mike Gleeson on the road whilst gigging relentlessly up and down the country.
Sina's music has achieved over 6 million radio listener impressions and 2,300 radio plays on the island of Ireland. Her debut album was voted one of the best albums of 2018 by the listeners of her local radio station, Kildare's KFM. Her songs have also been played internationally, on stations located in the USA, New Zealand, Canada, France, UK, Italy, Belgium and South Africa, to mention a few.
The aforementioned new single, 'East Bound and Down', a reworking of the Jerry Reed classic from 'Smokey and the Bandit', has being released in conjunction with this year's Full of the Pipe 2019 Truck Show, while her previous singles 'Rock and Roll to my Country Soul' and B-side 'Johnny B. Goode' were released late February and reached #1 and #2 respectively in the Irish Country Download charts.
Sina's music videos receive regular rotation on Keep It Country TV, Europe's largest Country Music TV station, where she has also been interviewed on several occasions. She has appeared in Ireland's leading celebrity magazine 'RSVP Magazine' as well as The Irish World, The Irish Mirror, Ireland's Eye and a number of other press publications.
Sina Theil & Downda Road Productions have a lot in the pipeline for 2019, including festival performances to the likes of 'Cowboys and Heroes' and further releases, which include a Keltic / Irish Folk album, as well as an original album, both of which are already well in the making.
For more information on Ireland's hottest country music artist, email [email protected], follow Sina Theil on social media (Facebook, Twitter, etc.) or check out her official website at www.sinatheil.com.