A very talented guy…
07/06/2019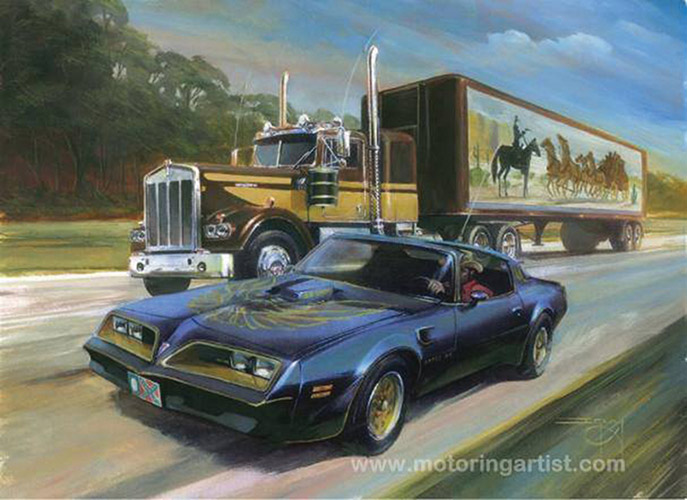 When it came to choosing artwork for promotional material for the tenth-anniversary edition of Full of the Pipe, the organisers were drawn to an utterly stunning depiction of the iconic Pontiac Firebird Trans Am and Kenworth 'Snowman' lorry from 'Smokey and the Bandit' – a truly majestic work of art meticulously brought to life by talented UK motoring artist Ian Guy.
Celebrated motoring artist Ian Guy has over the years forged a stellar reputation for himself as a true master of his craft. Ian's creations are absolutely breath-taking and have earned him a legion of followers all over the world.
From 'Bird on a Wire' to 'Christine', 'American Graffiti' to 'Zombie Diner' and 'General Lee - Hot Pursuit' to 'ZZ Top – Eliminator' - and let's not forget the classy 'Halfway Diner'! - Ian has conjured hundreds of motoring works of art of the very highest calibre.
All of his prints can be purchased for a reasonable price from Ian's website - motoringartist.com - where one can also commission a bespoke painting, if they so desire.
One things that is striking whilst perusing the artist's collection of paintings is the abundance of energy, enthusiasm and vitality that radiates from each and every one. For anybody with an interest in art and classic motors, these images are nothing short of mandatory.
Having been established for around 30 years, Ian Guy is one of the foremost automotive artists in the UK, his art being appreciated by numerous national and international collectors. As a full-time professional artist, Ian specialises in cars and bikes of every imaginable type. He paints from a depth of knowledge and passion, and each work is inspired and informed by countless hours of personal observation and research.
Ian has become widely known for his technical accuracy, intricate detail, dramatic lighting, and the little 'extras' found in most of his compositions.
Born and raised in Gloucestershire, Ian moved south after completing his education, to sell his art to tourists, something he'd been drawn to in his early teens whilst on holiday in Cornwall.
For many years he had his own public gallery in Saint Ives, Cornwall, a town known the world over for its artist colony. A love of all things automotive often featured in the paintings, which led him to try selling his work at car shows, historic racing festivals, etc. This was instantly successful and took Ian all around the country. He decided to sell up and move back 'home', where he'd be based more centrally for his expanding new venture.
Now from his home and studio, in a former Gothic Stable-block in rural Herefordshire, Ian does a lot of his business by mail order and online, using his website to reach out to car and vehicle lovers across the UK and overseas.
Through the summer months he and his partner Mandy can be found with their mobile gallery of Ian's original oil paintings and prints at many shows around the country, all with an automotive theme.
Most commissions are motoring based and will recall a favourite car, truck or bike or favourite motoring adventure or fantasy. Ian can also work from customers' photographs, but is equally happy to source material of his own. As well as producing one-off paintings for individual customers, he will take on corporate commissions.
He is happy to paint any subject based on customers' requirements, having received commissions for animal portraits, family portraits and favourite personal landscapes and seascapes. However, there's no getting away from his particular reputation for affordable paintings of British and American classics, as well as hot rods, custom cars, kit cars, trucks, chopper bikes and trikes, along with racing and competition cars and bikes.
For anyone wanting to capture a cherished possession, an Ian Guy original can be bought for less than £400, while prints start at a very reasonable £25.
Web: motoringartist.com
Facebook: facebook.com/IanGuyTheArtist