Diesel Dickson's wonderful Leyland Roadtrain
07/06/2019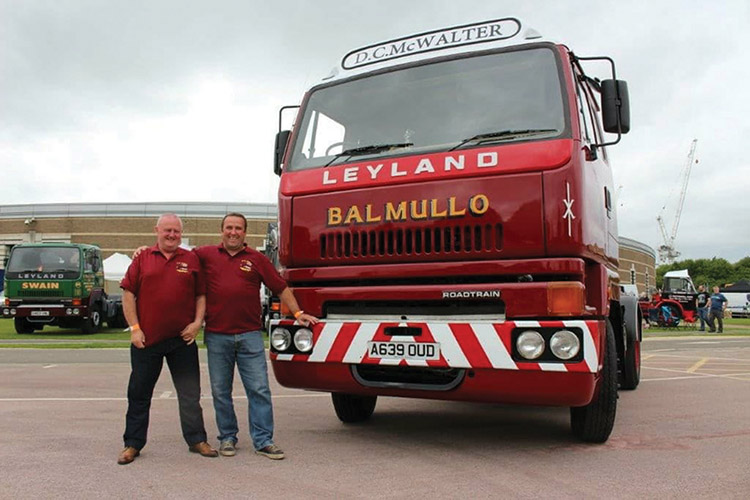 A first-time visitor last year, Scottish haulier and vintage truck aficionado Diesel Dickson is returning to Full of the Pipe 2019 with his beautiful Leyland Roadtrain – a scarce truck manned by a most wonderful character. We had a chat with the infectious Diesel during the countdown to his return to Punchestown.
From Tayport, near St Andrew's in Scotland, Diesel Dickson's 1984 Leyland Roadtrain was the only one at Full of the Pipe in 2018. He's returning this June with the lovely old-style truck (and trailer), which he painstakingly restored over three years.
Diesel is a friendly and instantly likeable working class lad – who does bulk haulage for WJ&J Green at Corskie Farm, Garmouth in the North of Scotland – with a real passion for classic lorries. From Monday through to Friday he gets behind the wheel of their Scania R580 … at the weekends he likes to take out his trusty, classic Leyland Roadtrain!
The Leyland Roadtrain was a range of heavy goods vehicle tractor units manufactured by Leyland Trucks between 1980 and 1990. The Roadtrain was available in day- and sleeper-cabbed form, in high and low datum versions.
Roadtrains were a common sight throughout most of the 1980s, with a great many of the major fleet users in the UK running them. However, production ended in 1990 with the sale of Leyland Trucks to Dutch firm DAF and, due partly to the cab's propensity to rust and also to the admittedly short life of commercial vehicles, any Roadtrain in commercial operation is now a very rare sight indeed.
This is one of the reasons why Diesel Dickson's was so well received at Full of the Pipe. "I'm not a fan of truck shows due to the amount of drunks and nasty people they can attract but when Kevin Mulqueen approached me before Christmas, 2017 and said he liked the look of the Roadtrain and would like me to attend, my son David said 'Dad, let's just go'. I was wary of a breakdown or something but he said 'it's only three hours to the boat and then a short spin to the venue'. We went and the lorry never missed a beat and it was the best show I was ever at. The ambiance, the mood of the people and the attention we got was unbelievable. It was an amazing weekend. Kevin is a great guy and I can't wait to go back.
"My brother, Andrew, has a blue and white F10 that he bought in Donegal and he's coming down, too.
"Between 1982 and '86, British Leyland sponsored a lot of motorsport teams and our lorry ended up in Sweden as they sponsored a Swedish rally team. It had only 80,000 original miles on it when we bought it.
"I wanted to have a lorry restored in the DC McWalter colours because my dad drove there for years. My friend, David Beatt, is DC's grandson. When I told David that I wanted to restore a lorry like my dad's, in the DC McWalter colours, he said he'd go halfers, which was an amazing gesture. He said 'people say you can't recreate history … let's do it!'
"He rang me out of the blue one night from Sweden, where he has a successful drilling business, and asked me what did I think of the Roadtrain. I told him they were rare but very nice and he said he had tracked one down in the North of Sweden. It was 800 miles from where he lived and it was 12,000 Swedish Kronas.
"I asked him where would we ever get that kind of money and he said 'don't worry, man, it's only £600 each'. He sent me pictures and I said 'buy it, buy it now'. The deal was done and it took a fortnight to get it to his yard and he rang me and said 'I think we've bought the biggest piece of shite in the world'.
"But we managed to restore it. I flew over every other weekend and worked on it in his workshop, which was a really amazing adventure," Diesel concludes. "We brought it back to the UK on his low loader and Ladybank Commercial Refurb blasted and painted it. They had never done anything like this before but wanted to take it further.
"It's been an amazing adventure and I'm looking forward to bringing it back to Ireland for another weekend."