The Famous Kenworth 'Snowman' lorry and Mini Movie Trucks
06/06/2019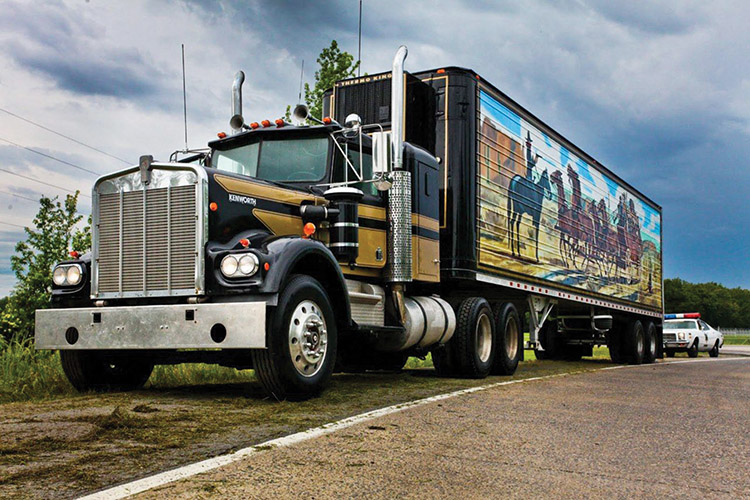 The Irish Bandit will be riding alongside the famous 'Snowman's rig from 'Smokey and the Bandit', which is being brought over to Punchestown by the team at Mini Movie Trucks.
As well as appearing at truck shows and events across Ireland and the UK, this 'Smokey And The Bandit' rig is available for hire for photo shoots, TV work, etc. A stunning tribute to the bandit rig driven by the late Jerry Reed, the 1976 Kenworth W900A, powered by a 8v92 475hp Detroit, was imported from the States in 2011 and purchased by UK-based Mini Movie Trucks in June, 2016.
The trailer, which is late 1970s, was purchased 15 months later and all the work on both truck and trailer was carried out by Mini Movie Trucks themselves, apart from the wonderful artwork on the trailer.
Work carried out on the truck includes: sleeper pod added with subframe under cab to make it walkthrough; inside cab stripped bare then new floot, seats, full lining, steering wheel, windows, etc. added; dashboard stripped and covered in wood vinyl, new gauges, speedo, tachometer, switches, etc.; outside fuel tanks moved and driver / passenger steps fabricated using original style diamond plate; new stainless 5-inch straight through exhaust stacks; and new 24.5-inch tyres all around.
As well as being on display at Full of the Pipe, the Bandit Rig – which is the flagship vehicle in the MMT fleet – is used to transport the mini trucks (a great attraction for all kids / aspiring young truckers) to events.
Mini movie trucks is the newest unique attraction touring large events around the UK and Ireland. These trucks are built and operated by Mini Movie Trucks, who have been professionally manufacturing and operating children's riding devices for many years.
The real full size replica of the 'Smokey and the Bandit' rig, which transports the mini movie trucks, is the latest addition to the Mini Movie Trucks attractions.
The only bandit rig in the UK, the famous Snowman's rig - sporting a few upgrades for the 2019 summer season - is a sight to behold.
Mini Movie Trucks is a novel children's driving experience that's perfect for large events, i.e. truck shows, American shows, retro events, steam rallies, country shows, festivals, etc. Children and small adults can try their hand at being a HGV driver in a real mini iconic movie truck (with a 6.5hp engine) around a fully themed inflatable course.
This summer, they'll be on site at the National Hot Rod Show in Coventry, Truckfest in Peterborough, Devon Truck Show, Herts Auto Show, Selwood Steam & Vintage Rally, Newbury Retro Festival and Kettering Steam Rally, to mention just a select few.
The trucks available are: the rubber duck, Oct prime, the 'Snowman's rig and the Porkchop Express. These trucks can operate on any type of ground as long as its reasonably flat.
Safety is a top priority and crash helmets are provided as standard. The trucks are fitted with a secondary rear pedal (in case a team member has to take control), radio-controlled cut-out switches (with a working range of 100 metres), rubber corner buffers, mechanical front collision sensor, hydrostatic gearbox for easy total control (push pedal to go; release it to stop), restricted speed to approx. 4mph.
Trained team members are on hand to minimise the chance of collision. In addition to the inflatable barrier, Mini Movie Trucks also erect a second safety fence around the entire attraction.
The iconic 'Smokey and the Bandit' rig provides a fitting backdrop for this wonderful fun attraction – the only one of its kind in the world.
That's a big 10-4 Rubber Duck, Over & Out.
Mini Movie Trucks,
London Corner,
Priors Leaze Lane,
Hambrook,
West Sussex.
Tel: 0(044)1243 931537
Mobile 07446 735704
Facebook: www.facebook.com/minimovietrucks