Matthew's pride and joy
05/06/2019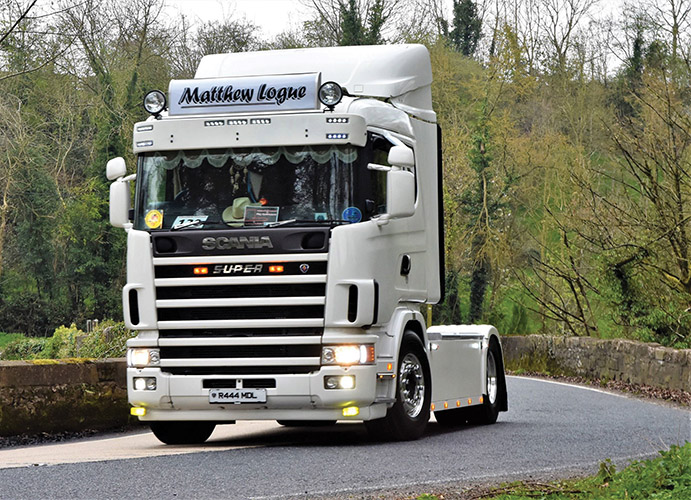 In June 2017, Matthew Logue bought his first truck two months shy of his 16th birthday. Irish Trucker caught up with the Omagh lad recently to learn all about the project he took on with his Scania 4-Series and his plans to return to the Full of the Pipe with it for the 10th anniversary show this summer.
It has been quite a story so far for Matthew Logue and, incredibly, the Tyrone teenager still has a couple of months to go before he turns 17 years old.
For this young entrepreneur, the past few years have flown by having bought a his first truck – a 2002 Scania 4-Series – after having nearly saved up the funds to do so for four years.
To no surprise, the work on his Scania Low Cab started practically straight away and he has been bringing it to truck shows all across the country ever since.
Come the weekend of June 8/9, Matt will be bringing it to the Full of the Pipe Truck Show Ireland at Punchestown Racecourse for the second time in as many years.
He took some time recently to fill Irish Trucker in on the details of what is very much a unique and an intriguing story.
"June two years ago I bought the lorry and it was very basic whenever I got it. I put everything on it - alloy wheels, Dutch headboards, lights, all of that kind of carry on," Matt outlined.
"It's an interest I've had for a long time and I saved up for quite a number of years to try and buy a lorry. Eventually I came across this one and I've been doing it up ever since.
"It's an on-going project and you're never done with them."
The origin of Matt's interest in trucks was born from his mother and father. Now, he's carried on the tradition fully and it's perhaps even safe enough to say that he's taken it to a whole new level.
There aren't many 15 year olds out there buying their own trucks and working on them week in, week out, but Matt clearly has the burning passion for it.
"My mother has always had a good interest in it. Her brother, my uncle, is a lorry mechanic so she sort of grew up in it and I think the interest has just rubbed off on me," he stated.
"I'm going to truck shows as a spectator from a very young age and always had a keen interest in it. My dad had a lorry for drawing horses as well, so that helped as well, and I always had the ambition to buy one when I could.
"Whenever the opportunity came along that I'd be able to get one, I just jumped at it."
He added: "I bought the truck off a fella just outside Ballymena. He was a mechanic and had done work on the lorry for quite a number of years.
"When I bought it was very basic in that there were no extras or anything on it – sort of Fleetspec and from there I done it all up."
Another innovation from the Tyrone teenager is his very own online design venture, ML Truck Designs.
Having created the business at the start of 2018, he's been busy again this year with it and has carried out work for some top transport companies around the mid-Ulster region.
"I do online digital designs so that you can see what way the truck would look before it was sent off to get painted or stickered. So you get a rough idea of what we it would look," he explained.
"I started that up back at the beginning of last year after a fella asked me would I be able to do something up online for him because he knew I was good with computers.
"So I done it for him and it turned out very well. It started from there and I've done work for Paul Morgan, G&J Derry, Kieran Donnelly and Shay Quinn since then as well."
With his school exams set to commence in May, Matt points out that his work with ML Designs will "have to go on hold for a while", but he's surely certain to have another busy summer between working on designs and attending truck shows across the country.
"Hopefully I do plenty of shows this year. We're into the horses as well so I have to juggle the whole lot there," he said.
"The shows are good because you meet some great characters along the way and meet new people and make new friends. You see people that you don't be talking to that regularly at those shows and, so it's good to catch up with them and it's great craic."
As for Full of the Pipe itself, Matt admits that it has been one of his favourite events to attend since he was a kid.
"I've been going since 2012/2013 when it was in Cavan, but last year was my first year at it with a lorry," he said.
"So my sort of ambition when I started going was to always have my own lorry because it was the biggest truck show in Ireland.
"I was very privileged to have a lorry at it (last year) and have it in the main hall and to win 'Best Up and Coming' was definitely a great privilege as well."
Needless to say, Matt will be attending the 10th edition again this June after so many enjoyable experiences.
The ambitious Omagh lad credited the event's organisers for the work they've put in to date in to make it a success year after year.
"It's a great show with a very good atmosphere and Kevin (Mulqueen) and Colin (Hegarty) are two lovely men that make you feel very welcome there," Matt enthused.
"All the committee that runs it are top class and put on a great show. There's plenty going on and it's definitely enjoyable."
He concluded: "I appreciate that last year was a great welcome in Punchestown. It's a very well-run show, going from strength to strength for them and I'd just like to wish them the best of luck this year with it again this year."