Only down the road…
05/06/2019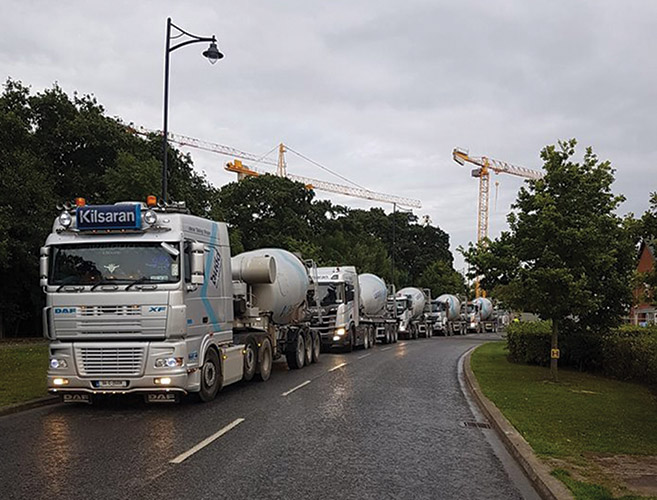 June 8th marks the 10-year anniversary of the Full of the Pipe Truck Show and one man who won't have to travel too far for another visit to Punchestown is Peter Sully of Sully Transport. Irish Trucker caught up with the head of the Kildare-based transport company to hear his thoughts on one of the most popular truck shows around.
Peter Sully has been to quite a few truck shows in his 35 years and hasn't quite seen anything like the rise in popularity which the Full of the Pipe truck show has experienced these last few years.
The Co Kildare native has been a regular show goer for "six or seven years" now and will once again be attending Punchestown Racecourse on the weekend of June 8-9th with his 142 DAF XF 106.
It is, after all, only down the road from Peter who hails from close to Brannockstown in Co Kildare.
The Sully home is a little over 10 kilometres from the event's excellent venue and it suits Peter down to the ground to pay another visit to one of his favourite annual shows.
"You can't argue with the location," he smiled. "It's about 20 minutes away from my house and since it has moved to Punchestown it's been great for me.
"I'd say I've been going six or seven years now on and off, with the recession and everything, and this year I'll be bringing my 142 DAF to it."
The history of Sully Transport dates back to a time when Peter's father, Peter Sully snr, began working in the haulage industry back in the 1970s.
In many ways, Peter jnr was born into the industry, sitting alongside his father in the cabs of trucks up until he was able to drive one himself.
Peter snr bought his first truck back in 1977 – a Hino 8-wheeler – and did a lot of work for Spollans thereafter. When Spollans was bought by Kilsarans in 1990, he began working for them and grew the business year on year, adding a new Hino truck to his fleet two years later.
The fleet would eventually swell up to 17 trucks in total and, as an 18-year-old, Peter jnr began working with his father's business at the turn of the millennium in what he describes as "the good times".
When the recession hit around 2007, the company was forced to sell off its trucks but still remained solvent having gained an excellent working relationship with Kilsaran Concrete down through the years.
"My father had 17 lorries here in the good times and, I'll tell ya, we were lucky to get rid of them all when the recession came in," Peter outlined.
"After that there were no more lorries going into the yard although we did add a 142 DAF last year, but we're very much a one-truck operation now."
That one truck will be on show at Punchestown Racecourse come June 8th, as Peter keeps with the tradition of bringing his DAF lorries to the event.
"I've been bringing DAFs with me down through the years," he stated.
"I bought this truck out of England last year. It's a 142 DAF XF 106 and I'll be bringing it to this year's show with me. Thankfully, it has been going great for me ever since I got it. I can have no complaints."
Peter can have no complaints either about the way business has been going for him in 2019 thus far.
It has been 12 years since his father handed over the reins of Sully Transport and, going by his tone, they seem to be operating fine with a single truck.
As for the long-standing relationship the Sullys have had with Kilsaran in Co Meath, it's one that close on stretching towards an even two decades soon.
"Business has been very good this year. I've quite been busy so far and can't complain," Peter beamed.
"I'd be working for Kilsaran Build and I'm with them for the 19 years now and I'm just busy with them all the time. Apart from say the recession years, other than those years I've been tipping away with them all the time with one truck."
He added: "I'm with them all the time. That's all. I just kept with them and it's a working relationship that has continued on since my father handed the company down to me."
Peter's father is still driving at 73 years young, running five small trucks for his company Peter Sully Truck Hire which concentrate on small deliveries and loads.
Indeed the Sullys have been truck men all of their working lives and, as far as Peter jnr is concerned, operating with one truck in his fleet for one company is what he's happiest doing from the base in Brannockstown.
He picked up his 142 Volvo XF 106 in Manchester after his brother-in-law had spotted it last year and told him he'd "be mad to leave it there."
That same truck will be making an appearance at this year's Full of the Pipe show and Peter counting down the days until what has become a hugely popular event since debuting an even decade ago.
"I suppose it has become so popular because the location of it is very good and it just keeps getting bigger and bigger ever year.
"They're bringing in more trucks now from across the pond and everything. They're getting crowd over as well and that's great to see.
"It's also great advertising for companies and drivers as well, I have to say," he concluded.