Worthy charities benefit from the generosity of Full of the Pipe
04/06/2019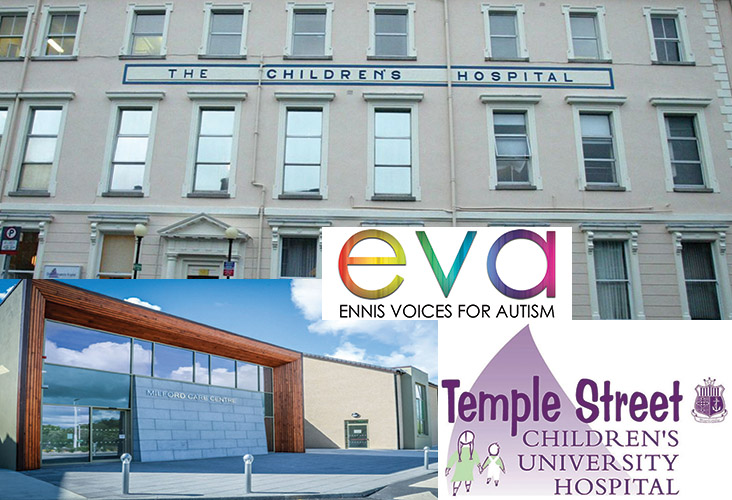 Not only does the Full of the Pipe Truck Show extravaganza provide truckers with a weekend of thrills and spills every June, the organisers always make sure to raise some funds which are kindly donated to deserving causes. This year is no different as FOTP is supporting four particularly-worthy charities – Ennis Voices for Autism, Milford Care Centre, Temple Street Children's Hospital Foundation and The Down Syndrome Centre Midlands.
The Down Syndrome Centre Midlands
One of the fabulous charities that's partnered with Full of the Pipe 2019 is The Down Syndrome Centre Midlands, which has been going strong for four years and provides invaluable support to people with Down syndrome and their families.
The Down Syndrome Centre Midlands is based in Portlaoise and serves a community encompassing six counties. The Centre aims to provide essential services, information and support to people with Down syndrome and their families in the Midlands Region.
David Murray is Director of Fundraising at The Down Syndrome Centre Midlands and also works in the trucking industry in his capacity as a CVRT tester. As one of Full of the Pipe's official charity partners this year, The Down Syndrome Centre Midlands will have an information tent in Punchestown over the weekend, where some of their members will be on hand to meet and greet visitors to the show.
At present, there are four independent Down Syndrome Centres – located in Dublin, Cork, the North East (Monaghan / Cavan) and the Midlands. The Down Syndrome Centre Midlands started off with eleven families in 2015 and now has 74 families involved. A fully registered charity, it is completely self-funded and none of the directors are paid – they are all parents and volunteers.
The goal of Down Syndrome Centre Midlands is to see all children with Down syndrome thrive and enjoy an independent and fulfilling life, where they are fully integrated and accepted in their communities.
The original Down Syndrome Centre was founded by Peter Gaw and his wife, Mary, as a result of their frustration at not being able to access relevant services for their two youngest children, both of whom have Down syndrome. In October 2014, they opened the doors to Ireland's first services-led centre for children with Down syndrome and their families.
Their main function is to provide vital early-intervention services to children with Down syndrome aged 12 and under. The Down Syndrome Centre receives no government support. As a direct result, all of their initiatives are dependent on goodwill and gifts from their supporters, corporate bodies and the public at large to continue their vital work.
These Centres are the only ones of their kind in Ireland and have become established as a place where families can come and be guaranteed support, a friendly welcome and a chance to chat with people who know exactly what they're going through.
Since the inception of this charity, the goals have remained the same: to generate a greater degree of professional expertise in the area of early intervention services for people with Down syndrome in this country; to provide a permanent home for the headquarters of The Down Syndrome Centre; to create a family-focused service which embraces the needs of the whole family unit, and not just those of the person in the family with Down syndrome; to establish a 'homeplace' of help, support and advice for the child and family throughout their lifetime; and to offer a first and last port of call to many parents, who are battling with the frustration of not having access to an adequate level of service in Ireland.
The Down Syndrome Centre Midlands,
27 Clonboyne Close,
Bellingham,
Portlaoise,
County Laois.
Tel: 087 173 4767
Email: [email protected]
Web: www.dscmidlands.ie
www.idonate.ie/dcsmidlands
Facebook: www.facebook.com/downsyndromecentremidlands
Ennis Voices for Autism
In the shape of Ennis Voices for Autism, Clare men Kevin Mulqueen and Colin Hegarty are once more supporting a wonderful charity located on their own doorstep. The work of EVA in providing support to children with autism – and their families – is quite simply immeasurable.
Ennis Voices for Autism (EVA) is a support group for parents and children with autism and related conditions.
The group was formed in Ennis in 2012 by a small number of parents who found themselves with children with an autism diagnosis, but little or no support.
EVA organises activities and events specifically for autistic children which include one-to-one swimming lessons, physical activity programmes, cycling, Lego workshops, gymnastics and various other fun activities.
EVA also invites guest speakers to come and talk to parent members on issues relevant to their childrens' conditions.
EVA takes part in Autism Awareness initiatives which focus on improving acceptance of autism at all levels of society and promoting the rights and well-being of autistic adults as well as children.
EVA encourages the celebration of autism and neuro-diversity to help our community become more accepting of people with autism. This is done through schools, workplaces and clubs.
EVA is open to all and has an active Facebook presence at www.facebook.com/eva.clare.5. EVA is greatly appreciative of the support they have received from Full of the Pipe and everybody associated with this excellent charity send their best wishes to the organisers of the truck show – and all those who attend.
For more information on Ennis Voices for Autism, contact EVA secretary Gearoid Mannion on 086 8120055 or email [email protected]
Milford Care Centre
Milford Care Centre (under the auspices of Little Company of Mary) in Castletroy, County Limerick, is another exceptional charity that will benefit from Full of the Pipe this year. Milford Care Centre is not just a Hospice Inpatient Unit - they provide multiple services to the community. These include Hospice at Home services, a Nursing Home and Day Care for both the older person and people with palliative care needs. They also offer bereavement support for families, their staff working in conjunction with other healthcare professionals in the community.
Palliative care is a practice directed towards improving quality of life for people living with advanced life-threatening illness. The focus of hospice care is person-centred, aimed at promoting comfort, autonomy and rehabilitation, affirming life while integrating the physical, psychological and spiritual aspects of care particular to individual needs.
The facility at Milford is spacious and purpose built and can accommodate 30 patients in single-bed rooms. Each bedroom has an en-suite bathroom, multi-channel TV and call bell facilities. A full range of clinical and holistic services is provided. Quiet rooms, sitting rooms and oratory are available to visiting family and friends. The restaurant is available between 8.30 –and 4.30 Monday to Sunday, with light refreshments available 24 hours a day, 7 days a week. There's also a chapel on site, with mass celebrated every morning.
Admission to the unit may be organised following an assessment from a GP, hospital consultant or senior nurse. An admission may be considered in order to: help get difficult symptoms under control enabling the patient to return home feeling more comfortable (pain management); provide rehabilitation to enable the patient to continue to live independently; offer respite care to allow those close to the patient to have a break; or to provide care as an illness progresses towards the end of life.
Milford Care Centre is a voluntary, not-for-profit organisation and registered charity. It was first established by the Little Company of Mary Sisters in 1928 and now provides specialist palliative care and older persons services in the Mid West. Its Board of Directors and Management Team oversee service delivery and fundraising activities.
The Little Company of Mary established the nursing home in 1928 and in 1977 they decided to dedicate nine of those beds as palliative care beds. In 1983, in response to growing demand, they built a 20-bed hospice unit on the campus.
Milford Care Centre became a Company Limited by Guarantee in 1998, with the appointment of a Board of Directors. Now, as then, the Sisters remained actively involved in the governance of the Centre.
With increasing regulation, it became obvious that the nursing home needed to be moved to more appropriate accommodation and a decision was taken in the mid-1990s to redevelop the Centre. In 1999, a 77-bed unit opened, with thirty beds for those with a palliative care diagnosis and 47 for the nursing home.
In 2000, the Day Care Centre was introduced covering palliative care (two days per week) and older person's care (three days per week). The first Consultant in Palliative Medicine was also appointed.
In 2003 / 2004, the Hospice at Home service was expanded on a pilot basis. Further growth in this service commenced in late 2006 and a consultant-led multi-disciplinary team is now in place. A second Consultant in Palliative Medicine was appointed in late 2005.
In 2007, the Centre was accredited by the Irish Health Services Accreditation Board and was the first facility to be accredited for both palliative care and nursing home care.
Building work took place during 2007 / 2009 and accommodation was provided for the medical, Hospice at Home and Education, Research and Professional Development services, assessment and treatment facilities as well as additional Day Care space.
Further development funding was made available in 2010 by the HSE which, among other things, allowed the Day Care Centres to extend their operations. Today, Older Persons Day Care runs five days a week and Palliative Day Care has opened for a third day. A third Consultant in Palliative Medicine was appointed in August, 2011.
Milford Care Centre is a voluntary, not-for-profit organisation and registered charity. It draws its funding from a number of sources. Funding for the Specialist Palliative Care service and Day Care Centre for Older Persons comes primarily from the Health Service Executive, which meets approximately 75% of costs. The balance comes from fundraising initiatives undertaken by the local community (now including Full of the Pipe), donations and bequests.
Milford Care Centre,
Castletroy,
County Limerick.
Tel: 061 485800
Fax: 061 331181
Email: [email protected]
Web: www.milfordcarecentre.ie
Temple Street Children's Hospital Foundation
The landmark tenth-anniversary Full of the Pipe Truck Show is also serving as a benefactor to Temple Street Children's Hospital Foundation. Temple Street Foundation exists to support the vital, life-saving work that happens in Temple Street - every minute of every day. Using the funds raised, they can continue to transform the lives of Ireland's sickest children. A total of €7,851,475 was raised by this incredible charity in 2017.
The foundation is incredibly proud to work with individuals, families, communities and companies across the country every single day to raise the funds needed to make Temple Street Children's University Hospital a better place.
Sick children need great care right now – and that's why Temple Street Foundation are committed to supporting the hospital so that it can continue to save little lives. Every single day, hundreds of sick children and their worried families come through the doors of Temple Street in need of world-class medical care. The foundation raises the funds needed to ensure that these children have access to the very best paediatric equipment, facilities and supports when they need it most.
Temple Street Foundation are proud to say that they have successfully raised more than €50 million, making Temple Street the world-class hospital it is today. However, their struggle is on-going as many of the hospital's sickest kids depend on machines donated and funded by the foundation.
The Temple Street Foundation raises money which enables Temple Street Children's University Hospital to provide world class care and to pioneer new treatments and cures for childhood illnesses. With around 148,000 patient visits every year, the foundation needs financial support to help them give hope to their young patients and their families.
Their mission statement is to provide every sick child in Ireland with the highest standard of medical care by ensuring they and their families have immediate access to the best facilities, the finest research and the most compassionate and loving support. Their vision is that every sick child in Ireland has immediate access to the highest standard of medical care so that they can be healthy, happy and free from pain.
Temple Street Children's University Hospital, originally founded in 1872, is an acute paediatric hospital which cares for children from across the country. With a staff of 95 consultants and over 950 others (comprising nursing, paramedical and support staff), it delivers excellent care. Over 55,000 of the children who attend Temple Street every year attend the Emergency Department every year, making it one of the busiest in Europe.
Every Euro counts, so the support of Full of the Pipe is vital and much-appreciated.
Temple Street Foundation,
Temple Street Children's University Hospital,
Temple Street,
Dublin 1.
Tel: 01 878 4344
Email: [email protected]
Web: www.templestreet.ie