"It's just a very well-organised show"
04/06/2019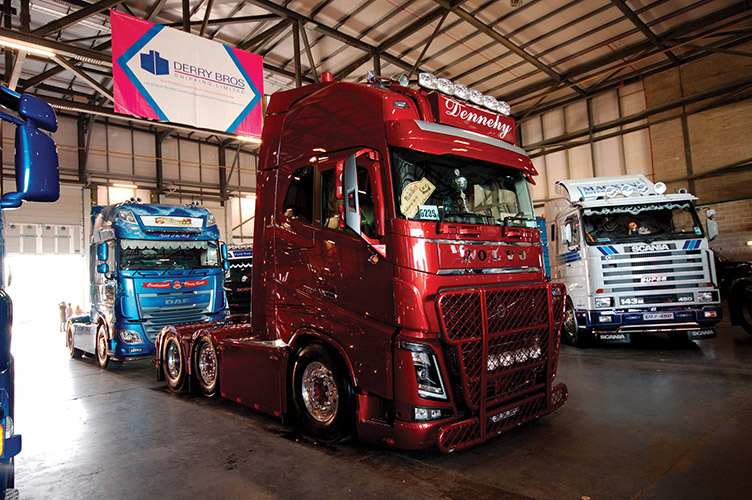 There aren't many better placed to judge the merits and values to a truck show than the trucker himself. So Irish Trucker caught up with Adrian Dennehy of Dennehy Transport – a regular at Full of the Pipe for nearly half a decade now – to hear what he thinks of one of the country's most popular trucks shows.
These are busy times for Adrian Dennehy at Dennehy Transport Ltd and the Co Kerry native is one of many looking forward to a well-earned break off the roads when he attends the 10th edition of the Full of the Pipe truck show at Punchestown Racecourse in June.
The show has grown and developed into one of Europe's top trucking extravaganzas and Adrian has been in regular attendance at the event for the past four years.
2019 will mark his fifth appearance at the show where drivers and operators spend some time together and celebrate their common identity while also forgetting about the troubles and strife that can often go hand in hand with running a company.
For an entire weekend, issues such as high diesel prices and soaring insurance costs can be forgotten about.
Indeed it's the social aspect of trucks shows that are often the main attraction and when you add to that the fact that the trucks on display at Full of the Pipe are second to none; it's set make it hard for many in this line of work to stay away from Punchestown come the second weekend in June.
"I've been going to it for the last four years now and I think the biggest attraction to it is that it's just a very well-organised show overall," said Adrian.
"There's also the social aspect and the fact that there's a lot of competition coming from all over and from fairly long distances to travel to it."
Adrian's father Neil Dennehy officially set-up the family company in 2002 and it's operated from a base in Farranfore, just outside the town of Killarney.
Today Dennehy Transport Ltd employs 14 full-time staff and last year saw the business adding two new trucks to its fleet.
Times are relatively busy for the company and Adrian is hopeful they'll stay the way right through to 2020, with an even dozen trucks to try and keep on the road.
"Business isn't too bad at all. We're kept going most days anyway," he beamed.
"Right now we're operating with 12 trucks altogether and they're kept busy with what we have on at the moment.
"My father Neil is the Managing Director, so I'd be sort of mixed between helping him and driving the trucks as well."
It is indeed a busy schedule for Adrian day in, day out but come June 8th he'll be able to let his hair down a bit when he rolls into Punchestown Racecourse.
Since its inception in '09, the Full of the Pipe truck show has always been a great spectacle with truckers coming from all over Ireland and beyond to show off their trucks looking their best.
Dennehy Transport Ltd brought two trucks to last year's show and Adrian admits that they're tempted to bring along a third from the fleet for the 10-year anniversary event.
"Last year we bought two new trucks for the fleet and I'll probably be bringing two or three trucks to the show this year," he said.
"I'm not really sure yet. They'd mainly be Volvos we have here but we have a couple of Scanias as well, so we'll see."
Of course, Full of the Pipe is the ideal place to showcase the trucks your company has on the road and this June will mark an even half decade since Dennehy Transport Ltd brought their first ones along.
Now Full of the Pipe has become one of Ireland biggest annual truck shows – if not the biggest – and truckers and operators are set to rush back to the Co Kildare venue this summer for its 10th edition.
For Adrian, one of the aspects of the show which has made it ideal for him and his father's company's truck to attend is the change in location in recent years.
Moving from the Cavan Equestrian Centre to Punchestown Racecourse has been a much more ideal fit for Dennehy Transport and many other companies like it.
"The show's in a good location now as well where before it was in Cavan and that's a good bit far from us," he said.
"It'd be a good four-and-a-half hour drive for us up to Cavan. Whereas we're always going past Naas a good bit, so Punchestown is a lot more handy for us.
"We'd be up in Cavan a bit too but not as much as Dublin, so this is a bit easier for us to be honest."
The Dennehys have never been too bothered by long hauls down through the years but on a weekend like this one, there's no doubt that convenience will be welcomed with open arms.
After all, Adrian himself recognises the huge effort that goes into making Full of the Pipe a success year in, year out.
"A show like this is obviously a lot of responsibility – a huge event to try and organise. I'd just like to wish them well with it for getting it this far," the Kerry man concluded.
Dennehy Transport Ltd
7-8 Fourpark Technology Park,
Farranfore,
Killarney,
Co Kerry
Tel: +353 (0)66 976 4423