The amazing, heart-rending story of the Goonies DAF
31/05/2019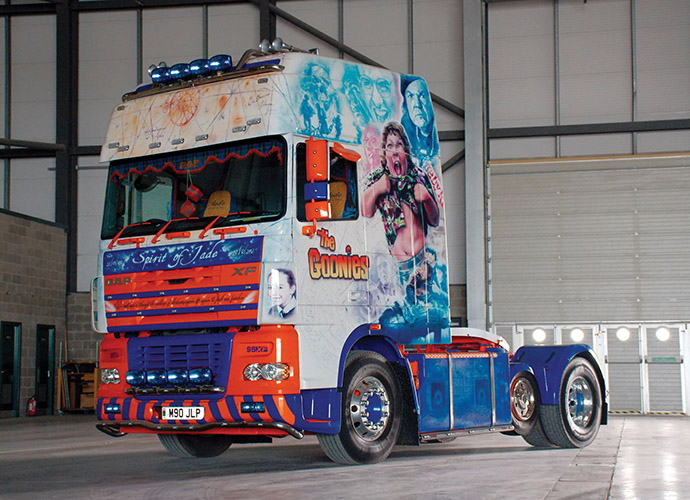 The Goonies DAF made a massive impression upon its maiden appearance at Full of the Pipe in 2018 and Kevin Mulqueen has invited owner John Perry and his stunning vehicle back to Punchestown as special guests for this year's landmark tenth-anniversary edition of Ireland's premier truck show. We take a look at the poignant, heart-breaking story behind this magnificent truck.
John Perry's Goonies DAF is a fitting tribute to his beloved daughter, Jade, who tragically lost her life in a road traffic accident on December 22nd, 2002.
The story behind this truck, which John has painstakingly developed over the past four years, dates back to the early 1990s. Jade became a big fan of The Goonies and it became the Perry family from North Wales' favourite movie, much loved by John and his wife Wendy as well as their four children, Jade, Connor, Paige and Chelsea.
The first child to John and Wendy, Jade Lea Parry was born on March 22nd, 1990. The Perrys were a very close-knit, happy, working class family but their lives were shattered by the events of Sunday, December 22nd, 2002 when Wendy and the four children were involved in a terrible accident on their way home from some last-minute Christmas shopping ahead of their first Christmas in their new family home.
The horror smash happened at 1pm and the occupants of the car were brought to Ysbyty Gwynedd Hospital in Bangor. Jade passed away, while Connor was taken to Walton Hospital in Liverpool with a head injury after suffering a serious bang to the head and a stroke on impact. Paige had been airlifted by the RAF Sea King Helicopter to Alder Hey Hospital in Liverpool with a broken neck and multiple broken bones and Chelsea was in a serious life threatening condition and was to be taken to Alder Hey immediately under police escort.
The three children were placed in induced comas for several weeks and underwent a series of life-threatening, life-saving operations.
Chelsea, who was four, suffered a spinal cord injury and would be confined to a wheelchair for the rest of her life. After years of rehabilitation and hardship and pain, all three surviving children have made remarkable progress - Connor is in Chester University doing his Masters Degree in Biology, Paige is in her first year in Buxton University doing an International Spa Management Degree after studying three years in college doing all her qualifications in beauty therapy and Chelsea is in her final year of sixth form doing her A Levels. Wendy is still a fantastic, loving, caring mother and wife.
John always had a childhood dream of being a HGV driver and having his own family haulage company. After Jade's death, he also had a dream of having a unit painted up in The Goonies theme in her memory. In September 2015, he purchased The Goonies DAF 95XF Super Space Cab unit in Huddersfield, from a couple who had started the theme on the truck but had to sell it with heavy hearts after running into difficult circumstances.
As John posted on The Goonies DAF Facebook page: "Me and my brother spent most of the day there and we left at 15:15pm to make our journey back to Anglesey, North Wales with my brother in the driver's seat of the truck and me in tow doing all the filming, etc. I know my brother was in his element driving her home.
"There were many a passenger and motorists leaning out of their car windows taking pictures on their mobile phones and drivers sounding their horns and my brother responding with the truck horns … it was all surreal … I was on a different planet and loving every second I spent in tow of our dream truck - and the fact that it was on my personal favourite unit it was even so much more unbelievable."
Since the purchase, John has set up a company in the name of their late daughter - Jade Transport Ltd. (Jade Lea Parry). He has secured his CPC Transport Management qualification and hopes to have his operator's licence soon.
As final preparation for Full of the Pipe, a new catwalk is going onto the truck – the final piece of the puzzle! – with a sensational, bespoke interior having been installed by the talented team at Riley's Interiors in Peterborough, who are also going to be at Full of the Pipe on June 8th and 9th.
John is immensely proud of the fact that the truck has put smiles on so many faces and of the manner in which it has touched so many people's lives in a special way over the years. At last year's FOTP, for example, he was approached by two men to whom the truck had a deeply special and personal meaning. The kind of stuff you couldn't dream of or make up…
John admits that attending Full of the Pipe and winning a trophy last year was a dream come true for him and he's so looking forward to returning as one of Kevin Mulqueen's guests – with the Goonies DAF looking even better than ever, too!
"It's my favourite cab and the previous owners had already started putting The Goonies on it," John reflects. "I took it home and always wanted to get my licence and run my own haulage company. I slowly started to take it to pieces on my driveway, labelling everything piece by piece, and I went out and bought every piece band new – every nut, washer, bolt and screw and every panel on the truck is brand new. Even two new wiring looms, with help from Holyhead Trucks, who have helped a lot over the years. I built up a brand-new truck. Apart from the chassis and the cab, everything else is new.
"After the initial investment, money was tight and I decided to save some money to transform the interior. I started putting in the new interior in late 2018 and I had it finished in March this year by Riley's Interiors, who did an unbelievable job."
The time and money that has gone into the Goonies DAF to get it to where it is today has been staggering. "I've spent a lot of money on it but it was our favourite family film and Jade's favourite film, and that's why I've done it.
"Jade Transport is the company I've set up. I've been driving the truck for three or four years now and I'm hoping to get my operator's licence and put it on the road as a working truck one day, perhaps doing subcontract work as an owner operator."
For John, Full of the Pipe 2018 was an almost magical experience: "The response the truck got from people in Ireland last year was unbelievable," he states. "It was like a dream come true. At one point on the Saturday, I couldn't get out of the cab because 150 people had gathered around the truck taking photos and I didn't know what to say or do, so I just sat there stunned."
The Goonies DAF touched a lot of people at Full of the Pipe. "I was amazed by the stories I heard from people. It just goes to show what The Goonies – and movies in general – means to people. I'm absolutely overwhelmed to have been invited back by Kevin as a guest this year and I will be judging the Goonies DAF Lights At Night Category.
"I'd been to other truck shows before and had many invites to go to shows but, to be honest, I don't think I'll ever go to a show again apart from Ireland. It's unbelievable and the passion you see there from people is life-affirming."
As for winning the Achievement and Recognition prize, John continues: "I was in polishing the truck when I heard that I'd won a trophy. I couldn't believe it. I cried all the way home with that trophy in the cab. I was crying leaving Punchestown, I was crying when I got to Holyhead and I was still crying when I got onto the drive at home. I was so emotional I wasn't even able to phone home.
"I always said that if ever an air ambulance came to North Wales that I'd support it with any money we raised because there wasn't one here at the time of the accident and an RAF helicopter was used.
"At Christmas, we used the truck to bring some presents to children in Ysbyty Gwynedd and it was hard because that was the first time being back in the hospital since the time of the accident. Seeing the hospital as a visitor was a lot different to seeing it as a parent, but it brought back memories. I know the presents were very small and weren't going to change much, knowing how unwell all those kids were, but I hoped that it might bring even a small smile to their faces.
"As I'm returning to Full of the Pipe this year as a guest, with everything paid for me, I'll make a contribution to the official charities of the event. It's a lovely gesture from Kevin and he even went to far as to extend an invitation to Riley's Interiors to come over as well. He has offered them a free pitch for the weekend and it's a great opportunity for them to introduce themselves to the Irish market. Their work is superb."
John is looking forward to another memorable weekend in Ireland. "I've had the full catwalk done and had it painted and washed and polished. We'll give it a good wash and polish before we leave and then, when we get to Punchestown, the polishing starts again…"
For more information on the Goonies DAF, visit their dedicated Facebook page: https://www.facebook.com/JLP-The-Goonies-DAF-1680904258801162