Full of the Pipe: It's party time
30/05/2019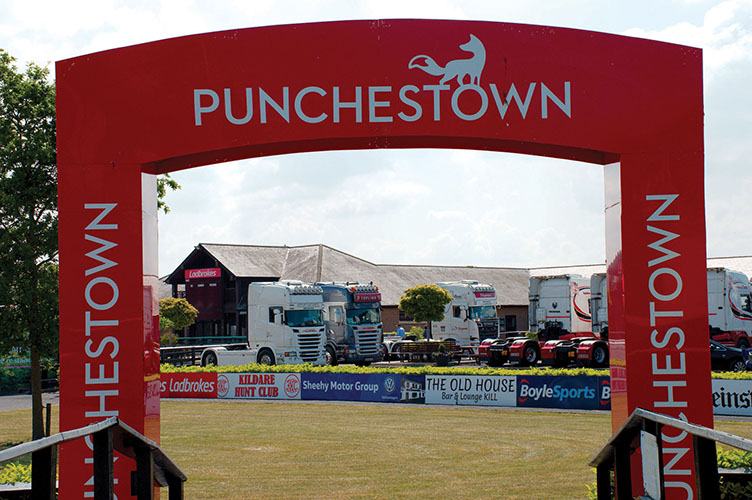 "There's a party goin' on right here
A celebration to last throughout the years
So bring your good times, and your laughter too
We gonna celebrate your party with you" is part of the lyrics to Kool and the Gang's 1980 hit and don't be surprised if you hear it belted out at this year's Full of the Pipe Truck Show Ireland.
The reason that it may be played at some stage over the course of the weekend is that this event is celebrating its tenth anniversary and boy what a rollercoaster ride the last ten years have been.
From humble beginnings when it was first launched in Athlone IT to its move to the Cavan Equestrian Centre to eventually settling in its spiritual home at Punchestown Racecourse, Full of the Pipe has certainly grown bigger and better year on year.
The 2019 Full of the Pipe Truck Show will be held on the weekend of June 8th-9th with trucks allowed to register from the previous day, starting at 2pm.
To say it is an accomplishment to be going after ten years would not only be an understatement, it would be an insult as the event has now turned into not only one of the major trucks shows in the country, but across the UK and Europe as well as more and more trucks flood in from across the Irish Sea.
Organisers Kevin Mulqueen and Colin Hegarty have been meticulous in their planning of this event and their ability to take something from each of the previous shows and improve on certain areas has helped them get to where they are today.
Surrounded by an energetic and committed team that includes their wives Barbara and Trisha, the duo have worked incredibly hard to make a success of the show and anyone that has ever attended will agree that they have certainly achieved their goal.
Not ones to rest on their laurels, Kevin and Colin continue to strive to make the show bigger and better with each year that passes with the focus on this year's event being a celebration.
"This year is our tenth anniversary and really we want to thank everyone that has supported us over the last ten years," said Kevin. "The aim of this year's event is to celebrate the last decade and focus on a party atmosphere even more than before."
The big attraction this year will be worldwide known Smokey and the Bandit Truck which will be the focal point of the weekend and asides from the customary awards on offer, there will be more added this year as the guys honour those who have supported them down through the years.
There will be live music throughout the weekend with Sin Theil headlining the acts, while the fun fair will be bigger than previous years as Kevin revealed that they want to make the weekend even more family orientated that it already has been.
"As I said, the focus is on a celebration and having a party feel for all and that includes the kids, so the fun fair will be a lot bigger and there will be more for the kids to do over the weekend.
"We will have all our trade stands there too and there is going to be more there than in previous years, while on show we will have vintage to full blown custom trucks on the site. There will be American muscle cars also to bring a U.S appeal to the show. Moffatt will be there doing a demonstration on the Saturday and Sunday."
Kevin expects a large number of trucks to come from the U.K and Europe as the show's reputation grows beyond these shores.
"Yeah I think there will be more trucks from abroad alright. There is one guy in Scotland who has attended the show in the past and he has been promoting it for us over there. His name is 'Diesel' Dickinson and he is some character and a great supporter of the show."
Of course, the show wouldn't be able to function without the support of its sponsors including Derry Bros Shipping, Cargobull Ireland, Brisgestone, Moffett/Hiab, Applegreen, Reflect Autocare, Irish Trucker, Moran Signs, Portlaoise Springs, D Kennedy Steel, Cummins Tarmac and Clare Environmental Services.
"We've been very fortunate with the sponsors we have had over the years and there are a few more coming on board this year. Without their support, the show just wouldn't be possible."
As always, Full of the Pipe will be supporting a number of charities and this year's event will see Milford Hospice, EVA (Ennis Voices for Autism) and Temple Street Children's Hospital Foundation will be the recipients of financial support.
Kevin admits that the last ten years have flown by, but what has been the secret to success? "I think the fact that we realise every year, we are on a learning curve and that goes from the first show until this one and hopefully if we continue for many years to come.
"You have to look at each show and see where you can improve for the following year and that is what we have always tried to do. Of course, we have made mistakes, but the important thing is to learn from those mistakes and make improvements the following year."
For this year though, the aim is to have one big party and ensure that everyone goes away having thoroughly enjoyed themselves.
"Yes, this year is all about being a party and to celebrate what we have achieved, so why not come down and bring the family to what is sure to be a great weekend."
Contact Details:
Kevin Mulqueen 086 0850015
Colin Hegarty 086 8051222