"It's all about service" at McAtee Recycling
29/05/2019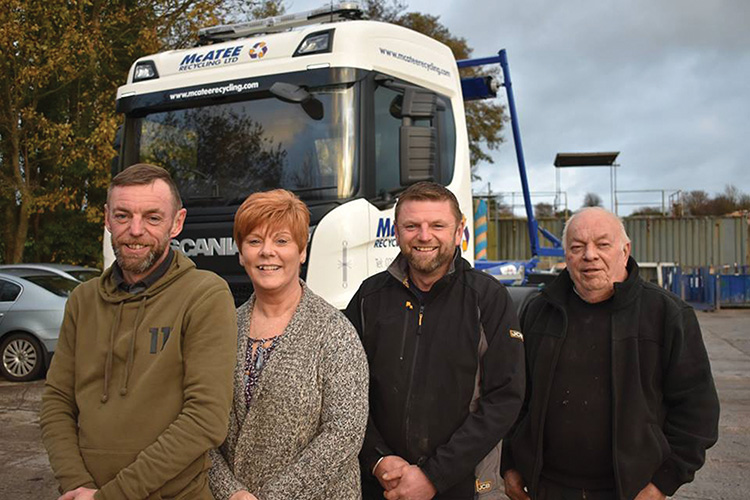 Based in Portadown, McAtee Recycling Ltd is one of the premier recycling facilities in Northern Ireland and has been providing its services for over 30 years. Irish Trucker heard more from Tony McAtee, who is Transport Manager of the family-run company.
It's set to be business as usual in 2019 for McAtee Recycling Ltd as they strive to provide an efficient and reasonably priced service for all of their customers.
Run by the McAtee family – Gerald, Tony, Johnny and Jacqueline (McKeown) – the company operates from Gilford, Co Armagh and currently employs 22 full-time staff.
Tony McAtee's title is Transport and Communications Manager and has been working with the company his father Gerald founded a total of 27 years now.
Irish Trucker caught up with the Orchard County native to learn all about the business which experienced a busy year in 2018 and is heading into the New Year full of optimism.
"We started off specialising in cardboard and different kind of paper and then, slowly but surely, we started to diversify to timber, plastic and scrap metal," Tony outlined.
"We do all types of plastics, timber and general rubbish as well, so we do a complete range of recycling and try and still make cardboard are main core of business."
Having been founded in 1981, Gerald McAtee built the business from the ground up and grew it from strength to strength after starting with just one man and a single vehicle.
Now McAtee Recycling Ltd employs a large number of people from the local area and has an excellent fleet of recycling vehicles off the back of rapid and consistent growth.
In 1988, the company was moved to a 6-acre site near Gilford by Gerald and, with its major expansion over the years, the site has been transformed into a state-of-the-art recycling facility.
The services which McAtee Recycling Ltd today offers its customers are as follows; cardboard and paper recycling including compactors and roll on roll off skips for industrial and commercial usage, plastic packaging recycling, scrap pallet recycling, timber and metal recycling, office and confidential waste shredding and disposal, manufacturing corrugated boxes and recycling of cardboard cores or reel ends.
The McAtees have already helped many companies and government bodies to comply with EC regulations and in some cases to surpass their recycling targets.
It has been beneficial to all parties in by reducing the carbon footprints of large and small companies, government bodies and associations.
McAtee Recycling Ltd treats waste material as a resource and can help any client to reduce their waste.
Is it any wonder why so many customers across the country are choosing them first ahead of other competitors?
"Our clients are everywhere and anywhere and we give the same service whether it be for a 'big player' or a small business like a shop," Tony stated.
"Really we've built this business up through word of mouth over the years and while it's quite a tough business at times, it is a good business."
Good business brings its rewards as well as this past November saw McAtee Recycling Ltd bringing in a brand new Scania Nextgen Hook Loader into its yard.
The P410 B8x4 HZ is fitted with Hyva Hook Gear and the 13 litre 410 bhp SCR engine is matched to Scania 12 Speed 3 Pedal Opticruise Gearbox which has the new 'Clutch on Demand' feature if the driver needs to feed the torque in through the clutch pedal.
To say that Tony is happy with the new purchase from Road Trucks would be somewhat of an understatement, as he went on to give it a ringing endorsement.
"We got it on November 9th and it has been going excellent for us so far," said the Transport Manager.
"It's unreal. It's not even like a truck, it's like a bloody car! The technology is unreal. Everybody has rang me about it. A guy with two brand new Renaults is asking me about it the whole time.
"I can tell you, it's going to be all Scania from now on. It's top of the line. I think the lorry itself is getting attraction just when you drive it. It's doing the job for you and doing the advertising job as well."
It seems McAtee Recycling Ltd has found another avenue for getting its name out there, having built its reputation from word of mouth.
Rapid and continued growth to the point where it is now a one-stop shop for all recycling needs, it leaves one to wonder what the secret to the company's success has been down through years.
According to Tony, clients are coming back to McAtee Recycling Ltd because of the consistency of its service.
"One of the big ones we're working for is Thompson Aero Seating in Portadown – they're company which make aeroplane seats – and then we do a good bit of work for Smurtfit as well," he said.
"We've had some of those customers for 30 years now and Avondale Foods would be another.
"For us, service is top of the heap and I think we do our best for the client. Service is a massive thing for us and then, of course, price and quality as well but it's all about service."
What more could you ask for than that?
McAtee Recycling Ltd
Old Brickworks,
49 Plantation Road,
Gilford,
Co Armagh
BT66 7AS
Head Office Tel: 028 3883 1816
Fax: 028 3883 2727
E-mail: [email protected]
Taken from Irish Trucker & Light Commercials magazine, March/April 2019, Vol 22 No 2