Kearys renault Pro+ - a one stop shop for all your commercial needs
24/05/2019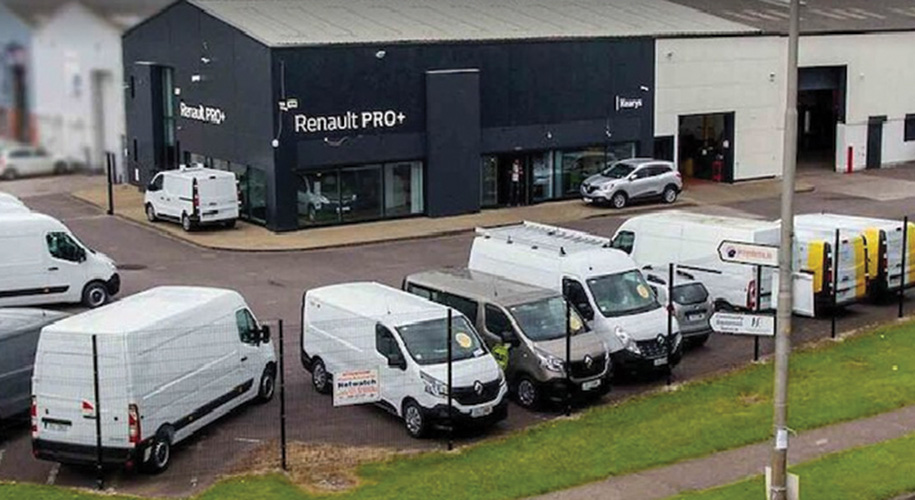 Totally dedicated to LCV customers, the experts at Kearys Renault Pro+ Cork can help you choose the right vehicle for you and boasts an after-sales department that guarantees to keep you moving. Irish Trucker & Light Commercials met up with General Manager Jim O'Keeffe who revealed that the dealership is a one stop shop for all your commercial needs.
Representing Renault, Hyundai, BMW, Nissan, Dacia and Mini, Kearys was founded in 1981 and has developed into one of Ireland's largest motor groups with twelve dealerships in Cork and one based in Dublin.
In 2016, Kearys opened Ireland's first dedicated van fleet dealership – Kearys Renault Pro+, ideally situated at Doughcloyne Industrial Estate, Sarsfield Rd, Cork city.
As General Manager Jim O'Keeffe explained, the relatively new venture does exactly what it says on the tin.
"Our sole focus is on the commercial and fleet business as opposed to other dealerships which combine car and van sales," he remarked. "A person who walks into a garage looking to buy a car and a person who walks in looking to buy a van are two totally different customers.
"For example, in the back of the van is a tradesperson's tool box and everything they need to carry out their duties. The most important thing that the customer needs is to stay mobile and get back on the road as quick as possible. All of our sales and after-sales advisors specialise in vans, are fully trained up and can assist customers to get the van that meets their needs."
A significant rise in sales figures has justified Kearys' decision to go down the Renault Pro+ route.
"We're the only dedicated Renault Pro+ dealership in the country and one of only a handful across Europe," Jim revealed. "To date, Renault Pro+ has proven to be very successful. If you go back to 2011, we were selling 100 vans and that has now jumped to 300 new vans per year. And the start to 2019 has been very encouraging in Kearys PRO+ to say the least with our new van sales up 30% on last year's so far."
Kearys' credentials in the LCV market were recognised when they were crowned Ireland's Semi-State Van Dealer of the Year 2016 and Renault PRO+ LCV Dealer of the Year for 2017.
Sales, low finance rates, service, parts and contract hire are the ingredients of Kearys' winning formula. And, suffice to say, the reliable and trustworthy Renault brand is another key selling point.
Renault perform strongly in the European LCV sector due to the strong performances of the Kangoo, the Master and the multiple award-winning Trafic. Each model has the ability to adapt to your business and with hundreds of possible configurations, they meet all of your business needs.
They can also offer the customer converted vehicles tailored to their needs and thanks to the support of Renault's conversion partners they can offer very specific vehicles such as ambulances, fridge units, box bodies and crew cabs.
"The Trafic is very popular while the Master is the van of choice for couriers throughout the county because of its larger capacity.
"There is also a 5-year 200,000 km warranty that comes with Renault's fleet of vans and, in my opinion, this is the best warranty available on the market for commercial vehicles. In addition, our Renault finance rate is very good and very competitive compared to what's out there."
In order to innovate and diversify their range, Renault also offer an electric van: the Renault Kangoo Z.E., with zero emission version of their best-selling van.
"Everyone is talking about electric vehicles at the moment and the new Kangoo,, which comes in a variety of types, is selling fairly well. The early signs are very encouraging for that."
The Kearys name is synonymous with high quality vehicles in Ireland and offering the highest standard of sales and after-sales is at the core of the business, according to Jim.
With award-winning sales staff, dedicated financial advisors, superb aftersales and parts departments, not to mention a wide and varied range of vehicles in stock, Kearys have your motoring needs covered. They are passionate about customer care and working as a team strive to achieve exceptional standards
"We take great pride in looking after the customer and offering a one stop shop for our commercial customer. Sales, parts, accessories, service, finance are all available on site and, as I said, our main objective is getting them mobile again as quickly as possible."
For demonstrations and test drives, call into Jim O'Keeffe, Julian Boylan and Rob Jermyn in the Kearys PRO+ Sales team. Open Monday to Friday (9am-5.30pm) and Saturday (9am-1pm), they can offer unrivalled expertise and advice when choosing the right LCV for you and your business.
Kearys Renault Pro+
Doughcloyne Industrial Estate
Sarsfield Rd
Wilton
Cork
Tel: 021-2340400
Taken from Irish Trucker & Light Commercials magazine, March/April 2019, Vol 22 No 2