Standing the test of time
23/05/2019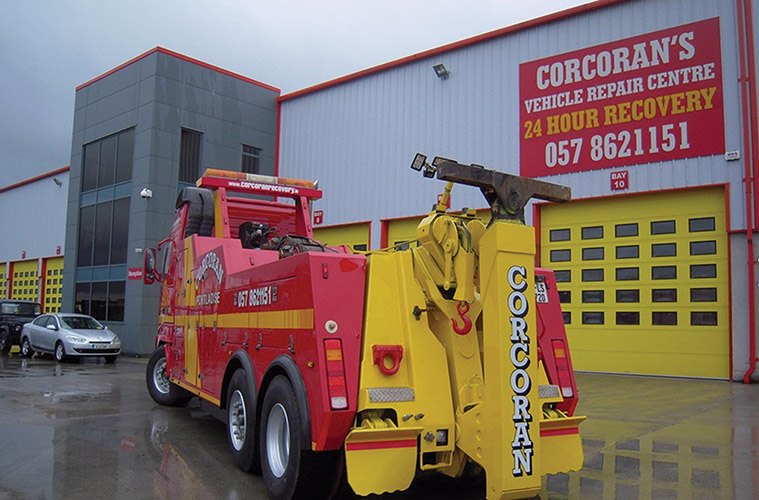 Portlaoise based Corcoran's Vehicle Repair Centre have been in business for the past 42 years and their ability to move with the times has certainly stood them in good stead.
As the leading commercial vehicle, car recovery operator as well as providing a state of the art repair centre to their long standing customers, this family run business is not one to rest on their laurels as they continue to look at ways of improving the business.
Located off junction 17 on the M7 in Portlaoise Co. Laois. Their services include passenger accident repair and commercial crash repair bodyshop, 24 hour light & heavy vehicle recovery and mechanical repairs. With their team of qualified technicians which include Body Repair / Spray Painting Technicians, Mechanics, Vehicle Tow Truck Operators and Estimators, Corcoran's Vehicle Repair Centre are able to offer their customers a quality vehicle repair service which is cost and time efficient.
Husband and wife team Gerry and Ann Corcoran have worked hard to develop the business over the years and they now employ 30 people in the business, while their son Gerard is an integral part of the company as well.
The simple fact is that Corcoran's is a one-stop shop for all your motoring needs as their reputation for providing a quality and efficient service precedes them.
Their 30,000 sq ft premises is a state of the art facility stocked with the latest technology to help their technicians carry out their work more efficiently.
The move to these premises almost ten years ago has helped the business grow and stake its claim as the country's leader in their field of expertise.
"We are very busy. It has always been a case of moving with the times and we have not been afraid to invest in the business and I think that is one of our greatest strengths," said Gerry.
"It is important to keep up to date with all the latest technology and not only that but we ensure that all our technicians are trained to the highest standard, which we place a huge emphasis on."
A new addition to the recovery fleet is a new tow truck and trailer that can tow buses and this means the company can recover anything from a motorbike to a HGV.
"Our recovery is very busy and we operate a 24/7 service, 365 days a year. We can do anything in the small to large vehicle range."
Corcoran's offer a wide range of service as mentioned. Heavy & Light Vehicle Recovery, Mechanical Servicing & Repairs, Passenger Bodyshop, Truck & Bus Diagnostic Repairs, Commercial Anti-Corrosion Treatment, Commercial Bodyshop, Commercial Spray Painting, Commercial Chassis Repair, while car, trucks and bus wheel alignment is also available.
"There are not many of our competitors that offer as many services as we do. We cater for all as our customer base ranges from the motorists to state bodies like the ESB and Bus Eireann."
The spray booths are let's be honest, the most technologically advanced in the country and meet all the latest regulations that are in place.
The best of products are used with painting materials being supplied by renowned manufacturer Glasurit. This has led to the company being the choice of many private hauliers, Bus Eireann, Dublin Bus and the Department of Defence for their spraying needs.
In the 42 years, the business has been in operation, customer satisfaction has always been the number one priority and Gerry stressed that will not change anytime soon.
"The customer is the most important person at the end of the day. Without them, we wouldn't be in business, so we are very grateful for their business, but we also know that if we let our standards drop and they are not happy with our work, then they will go elsewhere, so it is up to us to maintain and try to improve on the standards that they have become accustomed too over the years."
The company also operate as an end of life facility, which is just another string to their ever-increasing bow.
The future looks very bright and Gerry was keen to pay tribute to the hard working staff, many of who have been with the company for decades.
"We are fortunate that we have a very dedicated staff. A lot of the people would be here many years and there wouldn't be a big turnover of people at all."
Corcoran's are open 8am to 6pm from Monday to Friday and from 10am to 1pm on Saturdays, which allows them to cater for all their customers' needs.
There is no doubt that Corcoran's Vehicle Repairs has been at the forefront of the industry for many years now and it is hard to see that changing in the near future.
Corcoran's Vehicle
Repair Centre
Clonminam Business park
Portlaoise
Co.Laois
Tel: 057 862 1151
Taken from Irish Trucker & Light Commercials magazine, March/April 2019, Vol 22 No 2