Providing the highest industry standards
21/05/2019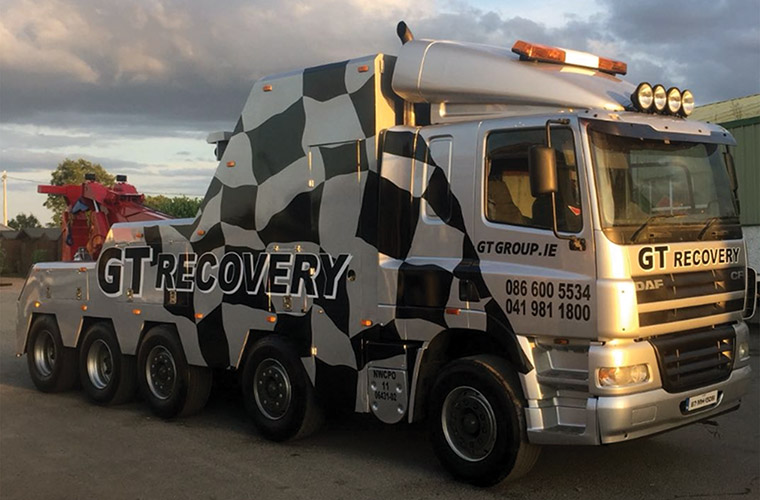 With an excellent reputation earned, GT Group continues to provide its customers with a one stop shop for all motoring needs from its bases in Julianstown, Co Meath and Dundalk, Co Louth. Irish Trucker found out more about the company from Bryan Teeling, who has been Service/Transport Manager of the business for over a decade now.
Next year is set to see GT Group celebrating 30 years since its inception and business is still very much booming at the Co Meath-based recovery, repair and service centre.
Now renowned as a 'one-stop shop' for its clients, the Company has come a long way from when the late Mike Ferguson and his wife Martina bought what was then a run-down petrol station in Gormanston back in 1990.
Mike had always been an advocate of the personal touch and, over the next decade-and-a-half, he and his family built up a solid and loyal customer base.
At the time they also carried out puncture repairs and sold tyres on a small scale. Mike's youngest son Darren took a keen interest in the family business and joined its payroll as an 18-year-old in 2001.
Four years later, the Ferguson family sold the petrol station and, straight away, Darren set up a tyre repair and sales centre in Julianstown.
Today, GT Group employs 22 staff and operates with 19 breakdown vehicles on the road.
Brian Keeling is the Transport Manager of GT Group and has been working with the Company since 2008. He recently took time from his hectic schedule to tell Irish Trucker all about the business.
"We're growing all the time here and would strive to be at the top of our game. We constantly invest in the fleet and machinery that we have here," Brian outlined.
"The fleet we have now includes four heavy tow trucks, two tyre call-out vans, a motorcycle recovery vehicle and a mis-fuel unit."
GT Group is made up of three separate divisions - GT Recovery, GT Crash Repair Centre and GT Tyre & Service Centre - and combined they bring their clients a complete range of motoring repair and maintenance services all under the one roof.
The recovery end of the business provides customers with 24-hour recovery and breakdown service 365 days a year.
Some of the company's clients include the likes of An Garda Siochana, Insurance Companies, main dealers, motorway maintenance Companies, as well as their own customer base built up through years of service.
From a flat tyre to a flat battery, many motoring mishaps occur before you even leave the driveway. GT Recovery can get you started and on your journey quickly with their Home Rescue service.
They also specialise in recovering and transporting all types of commercial vehicles, heavy goods vehicles and agricultural vehicles and equipment. Regardless of size, weight or location, they can fulfil all of their customers' heavy towing requirements.
As for GT Group's Crash Repair Centre, it is very much a market leader in providing collision damage repairs to all types of vehicles.
GT Crash Repair Centre provides a comprehensive range of crash repair services using the latest equipment. Their body repair specialists are qualified to the highest industry standards and are committed to producing the highest quality repairs and finishes.
They provide the highest standard in crash repair and carry out all types of body repair, restorations, and much more and specialise in chassis alignment and major body component repair and replacement.
Something else which the companies repair centre specialises in is full body re-sprays and complete vehicle colour changes, using the very latest technology in oven bake finishing and employ a state of the art colour matching system to ensure a high quality showroom finish, every time.
GT Tyre & Service Centre supplies and fits all top quality brands of tyres including Semperit, Pirelli, Bridgestone Dunlop and many more premium brand tyres to suit all budgets and all types of vehicle.
Their professional tyre fitters are always on hand to advise on tyre choice to suit your vehicle, budget and driving conditions. They also provide computerised balancing and 3D computerised wheel alignment services.
Servicing, routine maintenance and all types of mechanical repairs are catered for at GT Tyres & Servicing. From diagnosis of minor faults to full engine rebuilds, the service department is fully equipped for all of a car's servicing needs.
It seems GT Group have all bases covered when it comes to the needs of their customers, so it's little wonder why they've turned into the success story they are today – almost three decades after first opening the doors.
"We're consistently busy all year here and I suppose the winter would be our busiest period," said Brian.
"Our customers service has been key to us and we've been consistently winning new contracts, so as long as that's happening we're always going to be growing and our fleet will continue to grow as well."
He continued: "Another key difference for us too is the fleet and the machinery we're operating with. We have two heavy under lifts – one we bought five years ago and the other at the start of 2018 – and I have to say we're getting very busy with the heavy stuff now.
"We also bought a Boniface sliding axle low-loader trailer at the end of 2017 which is very good for coach recovery. We specialise in covered transport as well with an Iveco seven-and-a-half tonne curtain sider."
In addition, GT Group provides a full pre-test service to ensure your car passes the National Car Test first time. They operate a dedicated NCT test lane for pre-testing of all vehicles prior to the test to ensure accurate pre-testing and remedy of any defects.
Open Monday to Friday (9am to 7pm) and Saturday (9am to 6pm), be sure to call into GT Group today for all your service, crash repair and recovery needs.
GT Group
U1 Keenogue Business Pk,
Julianstown,
Co Meath
Email: [email protected]
Phone: (041) 981 1800
Fax: (041) 981 1008
Mobile: (086) 600 5534
Web: www.gtgroup.ie
Taken from Irish Trucker & Light Commercials magazine, March/April 2019, Vol 22 No 2