Commercial vehicle dismantlers par excellence
07/05/2019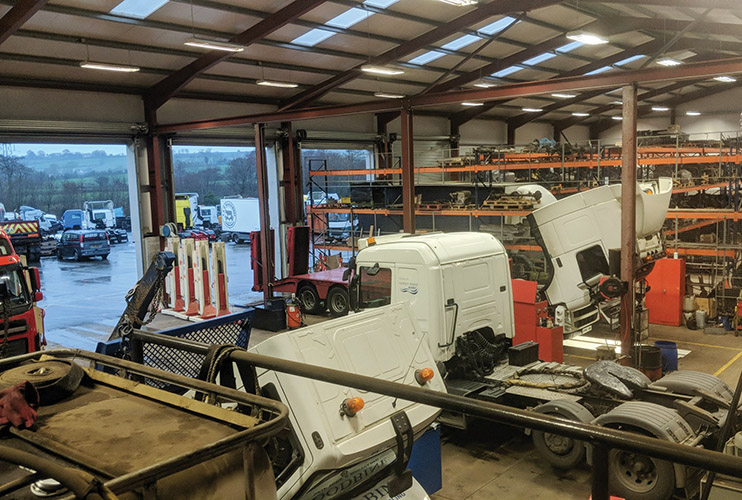 Not only is James Kernohan & Sons in Randalstown, Co. Antrim a leading commercial vehicle breaker, it also supplies a huge range of spare parts, provides a top-class repair and maintenance service and offers a 24-hour recovery service for trucks and commercials.
From humble beginnings over three decades ago, James Kernohan & Sons has grown into a successful family business that prides itself on skill, reliability and value-for-money. If you're looking for an expert vehicle dismantling service, repairs, servicing or PSV preparation, you've come to the right place.
While James Kernohan & Sons dismantles all types of vehicles, the breaker specialises in DAF, Volvo and Scania. From these dismantled trucks, quality spare parts are salvaged and sold to customers throughout Ireland and the UK. As part of its dismantling services, the company offers commercial vehicle dismantling, vehicle collection, end-of-life vehicle disposal and a depollution station.
"We provide professional vehicle dismantling and spare parts supply services to scores of satisfied customers," explains Glenn Kernohan, who runs the business along with his father and founder James, brother Neil and 22 staff comprising highly-trained mechanics, yardmen and administration personnel.
"The vast majority of the trucks we break come in from England. We have the biggest selection of used parts in Ireland with engines and gearboxes being the most in-demand. Our main customers are the repair garages and truck owners, but also some of the big fleets like Quinn Cement. We use a network of couriers to ensure that all parts are delivered on a next-day basis. We have a wealth of experience and expertise in commercial vehicle dismantling and are always at the end of the phone to deal with any queries that our customers may have."
The well-appointed premises in Randalstown consists of three buildings, one which houses a state-of-the-art workshop and engine store and two which are for storage. The facilities are fully licenced to deal with the handling and processing of end-of-life commercial vehicles. Unlike many breakers' yards, Kernohan's is tidy and well-organised with parts meticulously stored away and readily available for the customer.
James Kernohan & Sons takes environmental issues very seriously and is in the process of achieving ISO 9001 accreditation. The company strives for compliance with the requirements of EPA Annex 1 which includes: minimum technical requirements for storage and treatment in accordance with Article 6 (1) and (3); sites for storage (including temporary storage) of end-of-life vehicles prior to their treatment; impermeable surfaces for appropriate areas with the provision of spillage collections facilities, decanters and cleanser-degreasers and equipment for treatment of water, including rainwater, in compliance with health and environmental regulations.
Treatment operations for depollution of end-of-life vehicles include: removal of batteries and liquefied gas tanks; removal or naturalisation of potential explosive components (e.g. air bags); removal and separation collection and storage of fuel, motor oil, transmission oil, gear box oil, hydraulic oil, cooling liquids, anti-freeze, brake fluids, air conditioning system fluids and other fluids contained in the end-of-life vehicle, unless they are necessary for reuse of the parts concerned.
Treatment operations in order to promote recycling include: removal of catalysts; removal of metal components containing copper, aluminium and magnesium if these metals are not segregated in the shredding process; removal of tyres and large plastic components (bumpers, dashboard, fluid containers etc) and removal of glass. Storage operations are carried out avoiding damage to components containing fluids or to recoverable components and spare parts.
In addition, James Kernohan & Sons can carry out all necessary maintenance and repairs to your truck or commercial at its workshop, which boasts a full range of diagnostics for all makes and models. Among the services provided are PSV preparation, vehicle servicing, engine diagnostics, brake and clutch repair fitting, tyre fitting, engine and gearbox replacement and exhaust repair and fitting. The workshop also carries a wide range of spare parts and offers an under-lift damage free recovery service. The family-run business operates two recovery vehicles, two low loaders as well as tilt and slide, beaver tail and under-lift trailers.
"We aim to service and repair your vehicle to a standard that will exceed your expectations," Glenn continues.
"We pride ourselves on our quick turnaround time and being a reliable, efficient service that you can count on. Our workshop caters for heavy and light goods vehicles and is stocked with all the latest equipment to carry out servicing, repairs and maintenance to the highest standards. We are here to keep the wheels of your fleet turning with routine maintenance, servicing and repairs."
Preparing your vehicle for PSV testing is all part of the service provided by the Kernohan team, who will answer any queries before and after the test. Their objective is to prepare the vehicle efficiently and assist the vehicle owner in getting a pass certificate.
James Kernohan & Sons continues to go from strength to strength by providing an unrivalled service. The strategically-located premises have undergone major expansion in recent years to cater for a growing client-base. The company would like to take this opportunity to thank its customers for their continued support.
James Kernohan & Sons
18a Tamlough Road,
Randalstown,
Co. Antrim BT41 3DP.
Telephone: 028 9447 8228
Mobile: 077 10 613399
Email: [email protected]
Web: www.jameskernohanandsons.com
Taken from Irish Trucker & Light Commercials magazine, Jan/Feb 2019, Vol 22 No 1